Marlins Park gets a winning lineup: beer!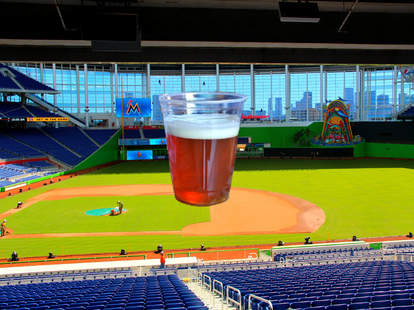 Come this Saturday, the home of the Marlins will host the first-ever Miami Beer Festival, housing no less than 20 local breweries, 30 nationals (not the Jayson Werth kind), and roughly 120 different beers, also known as the most impressive stats the venue has ever seen. Some local standouts you've gotta try
Trophy Wife: Along with a Panther Coffee-infused imperial stout, Gravity Brewbar's got this sour blonde that's loaded with a pilsner malt to make it smoother, plus citrus to add a mild tartness
Black Santa: This one's from the home-brewers at Misfit, who'll have seven beers on hand (and on-shirt, if you're Ted Striker) including this chocolate mint stout that's been aged in a barrel with a buttload of candy canes
White Star India Pale Ale: After drinking this "American interpretation of a classic English ale" brewed with domestic and imported malts (plus Northwest Cascade hops) by the peeps over at Titanic, you won't even mind when your girlfriend doesn't let you onto the plank in the freezing ocean
The Nothing: J Wakefield Brewing's imperial stout has been aged with Johnnie Walker Blue-soaked oak chips to help you forget the terrifying image of that crazy evil wolf from Neverending Story.