It's South Florida Beer Week (!), which you could observe by... um, drinking a shton of beer like you always do, or you could hit one of South Florida's four newest craft brew spots -- all of which have opened in recent months -- for some sweet local suds or even a few growlers full, so that every week can be Beer Week. Before you do, here's what you need to know about (and drink at) each one: 

SaltWater Brewery
Delray Beach
What you're getting: Don't Get Confused Belgian Tripel, 11% ABV
Keeping it realer than Trick Daddy by opening in an old barn (and realer than Rick Ross by just existing), SaltWater's decked out their entire tasting room in Dade County Pine that was ripped up from said old barn, and classified/named their suds after Floridian salt-water creatures using a complex system involving proximity to the shoreline and ABV, which they clearly came up with while drinking the above 11% ABV beer that's... um, not named after a salt-water creature.
Funky Buddha Brewery
Ft. Lauderdale
What you're getting: Floridian Hefeweizen IPA, 5.6% ABV
The big dogs of South Florida brewing not only got off the porch, but opened up a 20000sqft brewery in Oakland Park with a 3000sqft tasting room. They've got a pretty sizable porch where you can play bocce ball/cornhole and pound incredibly inventive suds like their "Don't Tell Reese Peanut Butter Cup Ale", or the Novak Djokovic of beers (aka the #2 rated brew in the world), the "Maple Bacon Porter", all while scarfing eats from one of the food trucks always posted up outside.

M.I.A Brewing Co.
Doral
What you're getting: Cubano Coffee Stout, 8.1% ABV
Even though the beer names like "Crimin-ale" and "Hops and Robbers" might seem totally relevant for a brewery in South Florida (or owned by Trick Daddy), the names actually come from this Doral suds-slinger's old name, "Most Wanted". But after a way-too-complicated-to-explain legal battle with some guys from Kansas, they changed it to M.I.A. and started work on some massive office park digs with a stage for live bands, a tasting room, and an outdoor beer garden where you can take a shton of Instagram pictures to let your friends up North know you're drinking craft beers outside in February.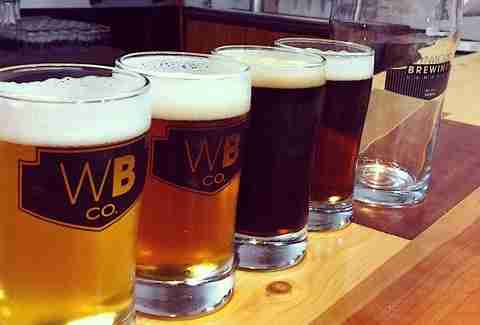 Wynwood Brewing Company
Wynwood
What you're getting: La Rubia Blonde Ale, 5.0% ABV
If Frank Lopez had opted to make delicious craft beers instead of selling cars and importing cocaine, A) he'd probably still be alive, and B) his office would look a lot like the inside of Wynwood Brewing Company. The City of Miami's only operating brewery has tropical, colorful city scenes on the walls of its tasting room with taps that flow with their Wynwood IPA, Pops Porter, and La Rubia – a beer you'll probably start calling "Bubblehead" in a really bad Cuban accent while pretending to smoke cigars in a bathtub.
Want to spend the afternoon brewery-crawling with 20 of your closest friends without the risk of spending the night eating cold bologna sandwiches? Hit up the Miami Brew Bus, which offers daily tours of at least three of these spots, including M.I.A. (which you can currently only visit on this tour!), and then drops you at Lokal so you can swill even more... um, local suds.