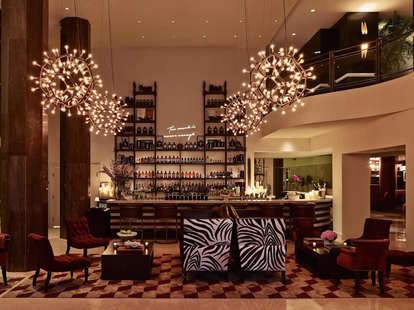 Courtesy of Drawing Room Bar & Lounge
Courtesy of Drawing Room Bar & Lounge
While I firmly believe that drinking with your dog in your living room counts as a social activity, society tells us we should do it with other people... usually in places like bars. So if you're going to leave your apartment anyway, you might as well go to a place that -- like your apartment -- also has a bed you can walk to directly from the lounge. And because all hotel bars are not created equal, we've broken down what you need to know before checking in -- and checking out.

The Shelborne Wyndham Grand
When to go: "Prescription Hour," weekdays from 5-7 pm, when drinks are $10 and appetizers are 50% off
What you need to know: In Miami, going to South Beach for a "prescription" is usually a poor life choice, unless you're at this Albert Trummer bar. Choose a "house medicine" from their rolling cocktail cart, or belly up to the lobby bar and get a Stress Reliever, Pain Killer, or Aphrodisiac -- all are made with special elixirs and Japanese botanicals, and come with a handwritten prescription from the "pharmacist"... aka your bartender.
Freehand Miami
When to go: It's packed Saturday nights if you're into people watching, but has happy hour every weekday from 5-7pm.
What you need to know: While going to drink at a hostel in Miami might sound like the start of a horror film, this one's bar made it a James Beard Award semi-finalist. The place also has a pool, attracts in-the-know locals, and uses herbs from its own garden to create new menus of craft cocktails every week... aka it's totally worth the risk.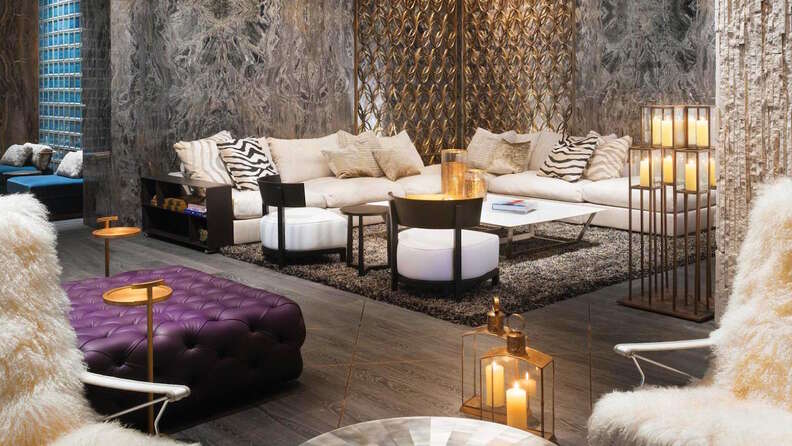 W South Beach
When to go: Friday and Saturday nights -- it's open 'til 2am.
What you need to know: Also one of our favorite bars to make out in, this is one of Miami's sexiest hangouts. Made to look like an apothecary you'll want to do sex in, its $16 cocktails are divided into categories like "Infundo" (infused) and "Laboratorium" (molecular mixology). Sidenote: do not do the sex in here. They will kick you out.
Circa 39
When to go: Go on Fridays 5pm-10pm for "Cocktail Conjuring Fridays." It's $6-$8 drinks, $5 bites, and magic tricks by the guy they call "the Cocktail Conjuror."
What you need to know: Packed with shameless plugs and all things "wunderful," this rum-based lobby bar offers weekly yoga in a hidden "WunderGarden" courtyard, makes "WunderDrinks" like mixologist Leo Holtzman's signature Brazilian Lemonade, and comes with -- now listen closely -- an entire wall of rum.
Delano South Beach
When to go: Well we put it on our list of best makeout spots in Miami, so...
What you need to know: Aside from being in one of Miami's most iconic hotels, this intimate South Beach bar was designed by Ian Schrager (so it's beautiful), serves $20 cocktails (so it's fancy), and has lots of rich old men with women who are either their daughters or women their daughters went to school with.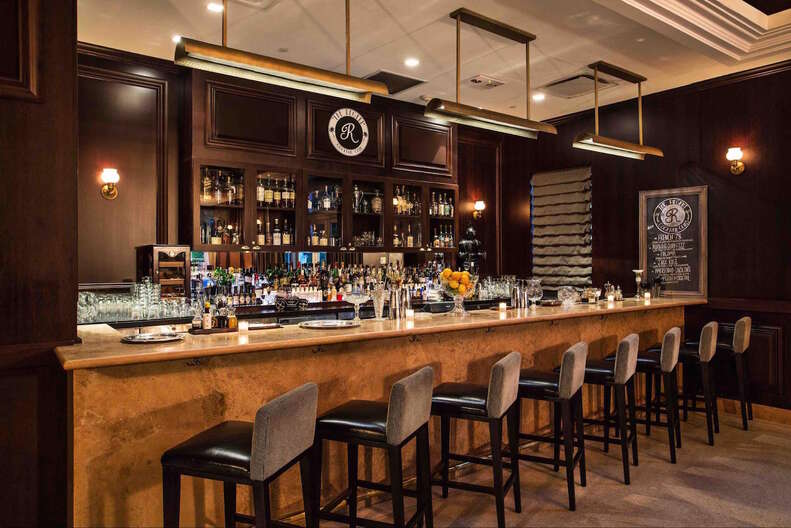 The Gale Hotel
When to go: After 10pm, Monday-Thursday, for live music and sexy people-watching
What you need to know: We named this spot both the best place for a first date and one of the most important bars in Miami for a reason. Led by world-famous bartender Julio Cabrera (he was on the cover of GQ… ), it's straight out of the 1940s, has dim lighting, serves classic cocktails like The Regent Old Fashioned, and also has a rotating menu of daily rum drinks that are sometimes lit on fire.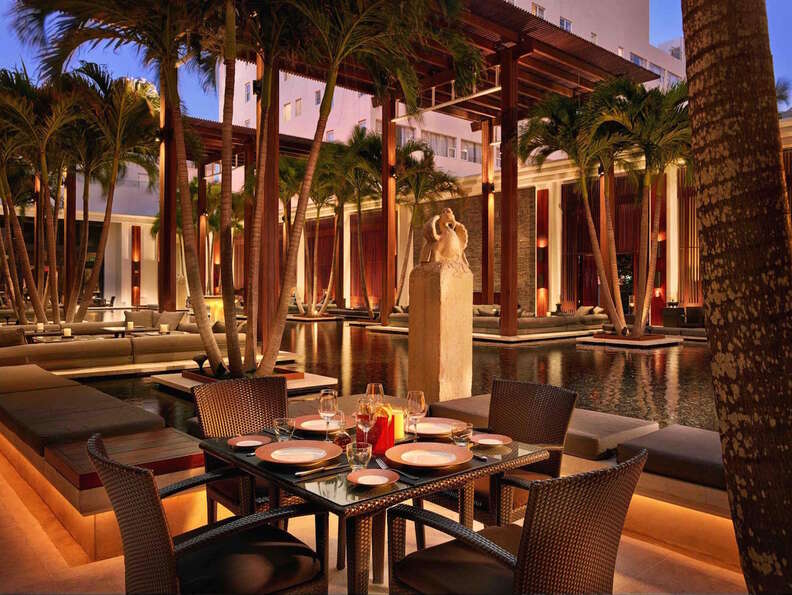 The Setai
When to go: Always. But they might only let you in when they're open, from 12pm-Midnight (Sunday-Thursday) and 12pm-1am (Friday-Saturday).
What you need to know: This is where you go when you want to leave Miami without actually leaving. Grab a couch by the serenity pond, down a house-infused liquor cocktail, soak in the zen vibes, and then proceed to make out with whoever is lucky enough to be sitting next to you. But you know, ask them first.
Loews Miami Beach Hotel
When to go: From Thursdays to Sundays
What you need to know: Led by award-winning mixologist Rob Ferrara and sitting on the terrace of the Loews' St. Moritz Tower, this tropical outdoor bar looks like it would be a better fit in the Keys -- which is probably why everyone keeps going there. As the name implies, it serves all things rum: from classics like mojitos and caipirinhas, to Zombie No. 305's and $50 Trader Vic 1968 Scorpion Bowls made with Remy 1738, Bacardi Superior, and Orgeat.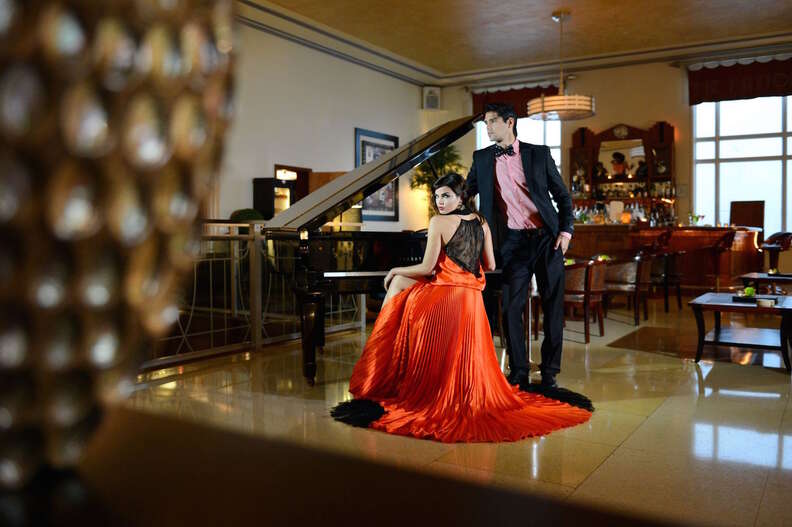 The National Hotel
When to go: During happy hour, when you'll get free appetizers from 5-7pm everyday.
What you need to know: An art deco staple, this throwback lounge has jazz fans ordering "1939 National Hemingways" and croquetas (really, Miami?) from the same bar that's been there since the hotel's 1940 opening.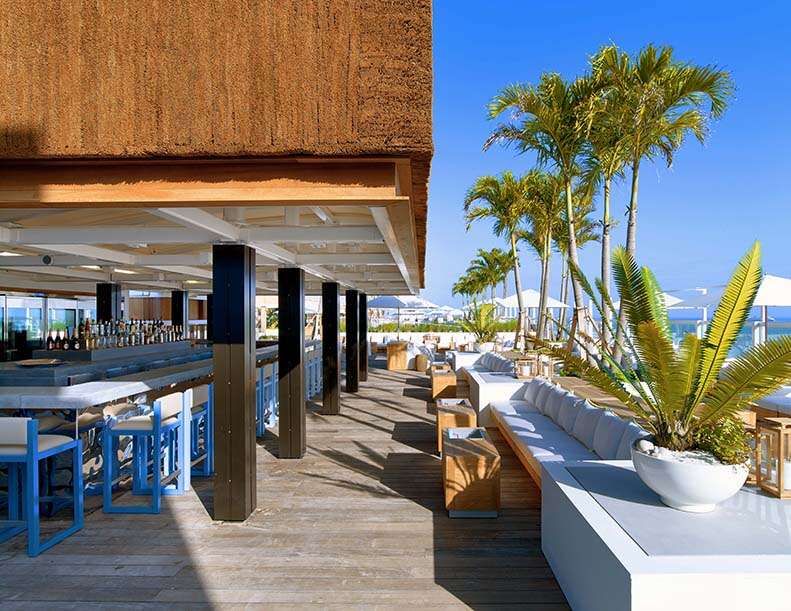 1 Hotel South Beach
When to go: When you wake up
What you need to know: While its name makes it really hard to find (it's on the roof of that 1 Hotel), this secluded bar is your own personal staycation. Come for the 360-degree views, and stay for the sexy white couches, the adults-only crowd, the organic wine list, and 7am Patrón. (Seriously. It opens at sunrise.)
Thompson Miami Beach
When to go: Anytime except Monday and Tuesday, but only because they're closed and won't let you in
What you need to know: Also bearing a super discreet name, this bar is an apartment that was built in the 1980s. Just kidding. Go on the weekends for live music and people-watching, and do as the pretty people do: drink Anejo old fashioneds around the pool and head inside for chorizo and chocolate tapas from Chef Michelle Bernstein's Sra Martinez.
Sign up here for our daily Miami email and be the first to get all the food/drink/fun in town.
Jennifer Agress is a Miami-based food and travel writer who spends a lot of time in bars and hotels. Follow her on Instagram to the next one: @jenniferagress.