Miami's Bartenders of the Year Are Ready to Pour You a Drink Tonight!
We turn to our favorite bartenders for lots of things, good and bad -- birthdays, promotions, breakups, that time you backed your car into your boss' Mercedes -- but most of all, for their magic touch behind the bar. The best bartenders are artists, therapists, and scientists all in one. They have illustrious walls of liquor and know how to take one simple spirit and turn it into the best cocktail you'll ever have. Lucky for us, Miami has tons of these cocktail geniuses. But taking into account their knowledge of the craft, mixology skills, creativity, likeability, and the obvious contender, their drinks, we've proudly named four as our top picks.
If you haven't tried one of their drinks, do so ASAP.
Eleftherios "Lef" Kraounakis
Coral Gables
After making a name for himself in Greece, Eleftherios "Lef" brought his talents to Miami four years ago. And Magic City drinkers rejoiced. Since then, he's helmed top spots like Bâoli, La Mar, and the Mandarin Oriental, and has competed in Bacardi Legacy, Bombay Sapphire, and other cocktail competitions throughout Miami. Most recently, he helped launch Copper 29, Coral Gables' new, chic speakeasy that (in true Miami-speakeasy fashion) everyone knew about before it even opened. As Copper 29's lead mixologist, he works with molecular compounds, distinct drinking vessels, and odd elixirs -- like mango-infused tequila, red cabbage syrup, 24K edible golden power, and mystery perfumes -- to make potent drinks like the Bitter Truth that turn whatever you thought would be a "quick after-work drink" into a full sensory experience. That said, if all you want is a classic, ask him to make an Old Fashioned. "It's my favorite. It's so simple, but so flavorful," he says. "You can use lots of spirits, house-made syrups, and bitters, and there are so many combinations that it's a guaranteed crowd-pleaser."
Courtesy of Workshop Collective (PR Agency)
Derek Stillman
Downtown Miami
Having teamed up with the holy trinity of Miami cocktail spots -- The Broken Shaker, 27 Restaurant, and now the Pubbelly Boys' latest concept, the Prohibition-era-inspired Pawn Broker -- Derek Stillman making our list of bartenders of the year is no surprise. As celebrated bar chef of Downtown Miami's hottest rooftop spot, Derek always keeps it interesting. He makes a mean Last Word, uses out-of-the-box ingredients (aloe and chorizo salt, anyone?) to make goblets of Furiosa cocktails, and serves bubbly gin & tonics called "Giggle Water" in mini bathtubs. And like a good bartender, just as much as he loves making the drinks, he loves talking about them. "I'll never forget the first day of training with my current bar team. We broke down all the cocktails I came up with and put our creative minds together," Derek says. "We have a lot of passion on this team, so we spent the day arguing over something as small as quarter-ounce specifics. It sounds ridiculous, but to us, that's how much we love what we're making."
Courtesy of William J. Thompson
William J. Thompson
Coral Gables/Brickell
After he got back from the Air Force, Will Thompson -- who's go-to drink is a PBR and a shot of Jameson -- needed a job. So he worked his way up to bartender at P.F. Chang's in The Falls, and discovered a passion for mixology... and for having fun behind the bar. Having since gained a reputation for handcrafted cocktails at top spots like The Broken Shaker, Ball & Chain, and The Local, Will teamed up with long-time friend and fellow bartender David Perez to form The Bridge Cocktail Bar, a company designed to bring the cocktail culture of Miami Beach to mainland Miami. Today, Will divides his time between Better Days and The Local, where The Bridge Cocktail Bar has become a permanent fixture, and credits his bar knowledge to the mistakes he made along the way. During his first few months at The Local, his now-mentor bellied up to the bar and asked for a Negroni, which Will had no idea how to make. "He saw me Google the recipe and totally called me out on it, which only got worse when I ended up doubling it and serving it to him in a pint glass," Will jokes. "I was a 'baby bartender' then." Turning that experience into a lesson, Will now asks every new bartender for a Negroni. "It's like a test," he says. "I figure I'll either pay it forward or get a good drink. Either way, I can't lose."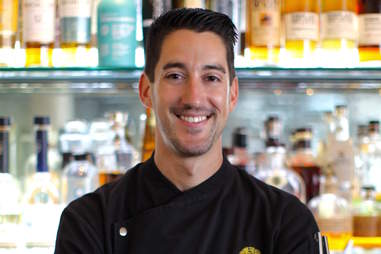 Courtesy of Seth Weinberg
Seth Weinberg
Miami Beach
Seth Weinberg is the best thing Missouri gave Miami since… wait, did Missouri give Miami anything actually? Anyways, he started his career as a busboy at Chevys Fresh Mex when he was just a teenager, earned a bachelor's degree in Hotel and Restaurant Management from the University of Missouri, and when he got sick of the Show Me State, moved to Key West in 2007. Hopping from Missouri to South Florida to Vegas to Mississippi to South Florida (again), Seth has opened and tended bar at hotspots like Bourbon Steak, The City Grocery, Karu & Y, and Mangoes (in Key West) under top James Beard names like Paul Orchard, John Currence, Vishwesh Bhatt, and Michael Mina. He is the South Florida brand representative for New York-based Widow Jane whiskey, represented Miami at Diageo's prestigious 2015 World Class competition, and most recently, became Miami's "Master of the Mule" in 2016. Now the brains behind the bar at StripSteak by Michael Mina at the Fontainebleau Miami Beach, Seth regularly whips up drinks like the MacArthur Causeway, with Tanqueray Old Tom gin and lemon preserve velvet falernum, and The Chairman of the Board with Sinatra Select Jack Daniel's, Aperol, and sweet vermouth. That said, his favorite cocktail to drink... er, make... is a Sazerac. "It hails from the Big Easy, and when done right, you get a refreshing drink with an amazing balance of spice, citrus, sweet, floral, bitter, and aromatic components," Seth says. "It's the perfect aperitif before dinner."
Sign up here for our daily Miami email and be the first to get all the food/drink/fun in town.