Miami's 11 best Bloody Marys
Now that you can get chicken & waffles pretty much anytime around here, Bloody Marys are one of the main reasons reason anyone goes to brunch in Miami, but you can't let just anybody with a bottle of vodka and some tomato juice make you one. No, you need one of the 11 best Bloody Marys in the 305...
Mandy Baca
South Beach
Oolite is all about the healthy eating, but that doesn't mean alcohol is off limits, they just pair it with fresh red tomato peppers, horseradish, and a yellow tomato juice floater.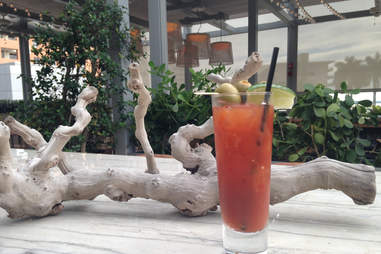 EDGE Steak & Bar
Brickell
You've got two options at EDGE Steak & Bar: pay $20 for bottomless Bloody Marys, or round up a group and order a pitcher or two. Crafted by the restaurant's resident Bloody Mary expert, the extra spicy rim is the main draw thanks to EDGE's own spice rub. Either way, you're spending all day here.
The Federal Food, Drink & Provisions
MiMo
It starts with Southwestern-style chipotle, cilantro, horseradish and, instead of vodka, agave wine, then gets a large stalk of celery & cornichons upon olives upon cornichons upon olives. You get the idea.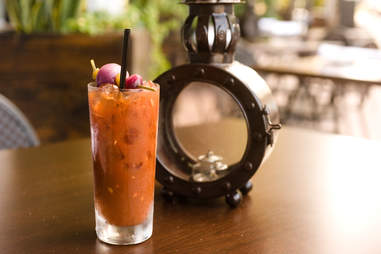 Tongue & Cheek
Miami Beach
After Clarke's closed, Miami Beach experienced a bit of a Bloody Mary lull. Thankfully Tongue & Cheek is bringing it back with not just one, but three versions, including their hot sauce-heavy signature drink the True Blood, the Green Envy w/ tomatillos, and the Fire in the Hole, which is even hotter than the first one.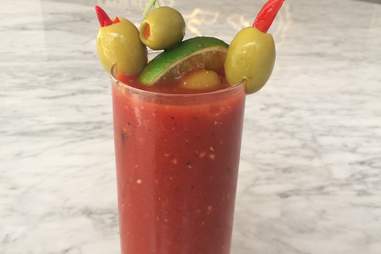 Toro Toro
Downtown
Toro Toro may not be the obvious choice for Bloody Marys, but Joey Scorza adds unexpected ingredients to the mix, such as cocktail sauce, Sriracha, and Cajun seasoning, that provide a bull's kick to the head of your hangover.
Mandy Baca
South Beach
Served in a Mason jar, Yardbird's Bloody Mary is the only one on the list that uses bacon-infused bourbon instead of plain old vodka, and it has hardcore followers. Garnishes include pickled green beans, olives soaked in vermouth and stuffed with a baby pickle, pickle okra, and crispy bacon.
Jessica Cain
Miami Beach
This Bloody Mary is laid-back and bespoke at its best. Sometimes, it will come in a high boy, other times in a mug, your choice. It's not about the presentation here; it's all about the drink. Try it with pepper vodka for an extra spice. Garnished with chorizo, olives, and cornichons.
The Broken Shaker
Miami Beach
The Broken Shaker's Bloody Mary may not always be on the menu, but the Bar Lab team is always ready to make one for you. Just ask for this vibrant green beverage made with fresh pressed cucumber and garnished with house-pickled vegetables, filthy pepper stuffed olive, a spicy salt rim, and a cocktail umbrella.
Mandy Baca
South Beach
Robert Ferrara's Bloody Mary was recently crowned as the best in town at The Broken Shaker's Bloody Mary Competition, probably 'cause of the way this grainy, spicy number combines Grey Goose with Lure Bloody Mary Mix, tops it with a filthy pickle, a deviled egg, and shrimp, then serves it with a Peroni back.
Mandy Baca
Coconut Grove
Megan Bardoe is the master of the Bloody Mary domain at Lulu in the Grove, presumably because of her Wake 'N Bacon Blood Mary, which boasts both... waitforit!... bacon and bacon-infused vodka, plus house Bloody Mary mix. It's served in a glass w/ a bacon powder, togarashi, and has a celery salt rim. For brunch, order this instead of the regular old side of bacon with your eggs.
Mandy Baca
Midtown
You don't often associate Blood Marys with Asia, but MAYBE YOU SHOULD (!), because this one blows even the most traditional out of the water by incorporating house bitters, olive and onion juice, chili, a secret MSG rim, a shrimp wonton topper, and a splash of Wynwood's La Rubia beer. As if you need another reason to go to Blackbrick.
Sign up here for our daily Miami email and be the first to get all the food/drink/fun in town.