Much like New Yorkers claim you can't find a good deli (WRONG!), and women claim you can't find a good guy (a lot less wrong, honestly), those of us who enjoy our drinks machine-crafted and non-muddled complain that there's nowhere to find a good dive bar. Oh, sure, Wynwood's got plenty of "laid back" places where your feet stick to the floor and the bartenders ignore you. But they also charge $7 for a beer. And no, PBR doesn't count.
And since Miami has about as much regard for history as it does for punctuality, two of our greatest landmark dives -- Tobacco Road and Fox's -- will get torn down for what will likely be more condos and a CVS. So where is there left to drink for folks who just want to sip on some bottled domestics and be left alone whilst listening to Jimmy Buffet b-sides? Look long and hard around this city, and we've still got some gems.
South Beach
The Beach's original dive bar, still serving drink specials at 8am
Ironic, that a place called "The Deuce" is unquestionably #1 when you talk about Miami dive bars. The place where Miami Vice had its wrap party also boasts a happy hour that starts at 8am. That's not a typo. The beauty of the Deuce, though, is that nobody judges you, because whether you're a foreign billionaire or a beach-dwelling destitute, when we walk out of the deuce, we all smell the same.
SoFi
A South-of-Fifth collection of club-goers, off-duty bartenders, and late-night pool sharks
Don't let the attractive, all-girl bar staff, new paint job, and plasma screens fool you, this is still SoFi's answer to the Deuce, a place popular amongst those Beach locals who never seem to have an answer for what they do for a living, but always seem to have enough money to drink here for four-five hours at a time. At one time Ted's was the spot in SoFi to see "that guy" about "that stuff," but Theodore's has cleaned up its act in the past few years and now, much to the chagrin of some longtime regulars, has added a craft cocktail menu and food you're not afraid to eat.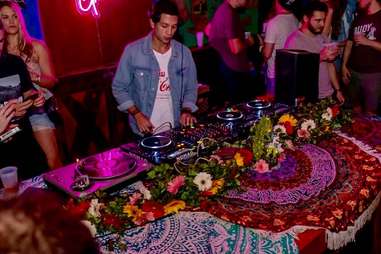 Coconut Grove
The place salty Grove locals go to forget it's now a "dining destination"
The crown for Coconut Grove's pre-eminent dive bar belongs to 'Cudas. Here, on any given night, you can converse (or at least attempt to converse) with salty old locals who'll happily tell you how great Miami was 30 years ago. Or, on a Thursday, run into some guys from the finest mid-tier ACC football team in all the land, who at least have some pull in a dive bar.
Palmetto Bay
An iconic dive for anyone from south of Sunset
Funny thing about people who grew up in South Dade -- despite the booming restaurant and bar scene going on along the I-95 corridor they still stay loyal to their local haunts. Take this spot for example. Hole is such a popular dive it spawned three spinoffs, all south of Sunset Dr. The original, though, is still the best, where the locals that Miami forgot gather to drink and remember the old days. And sometimes get treated to a live performance from the Gypsy Kings.
Miami Beach
You can't call it a strip club because they leave the suits on
In any other city you might expect this to be some tiki-themed bar with fruity drinks and pretty, bikini-clad bartenders. But not Miami! Oh no. OUR bikini bar could qualify as a strip club in like, seven different states, where young ladies parade on the bar in nothing but g-string bikinis and you thank them with your hard earned dollar bills. But before you get all excited and plan your next big group outing in North Beach, remember: This made our list of dive bars for a reason. And we'll just leave it at that.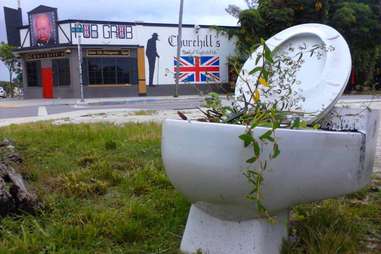 Little Haiti
Miami's best live music bar, 40 years running
Winston Churchill once said, "We have nothing to fear but... the people on synthetic marijuana trying to park your car outside this bar." However, if you can manage to avoid their harassment, this Little Haiti spot is ground zero for the Miami live rock music scene, has cool retro events like an '80s T-shirt swap meet, and serves up what is possibly the best curry in Miami. That's probably why, in a city where bars seem to last about as long as Marlins starting pitchers, it's been going strong for four decades.
South Beach
A British-style pub plastered in old tabloids
If you find yourself sitting alone at the bar (pro tip: alone is the best way to go to this Collins Park boozer), you'll never be hard up for reading material; the almost-British pub is completely papered in old London tabloids, so you can catch the "latest" on Becks and Posh and whatever it is the queen does.
South Beach
Where South Beach bartenders go to drink
If you're ever looking to meet a new-in-town server, or the rare out of town lady-tourist who's more about beer and pool than high heels and bottle service, this two-story service industry hangout is the place to go for that... and the two-for-one drink specials.
Coral Way
Live music, cold beer, and no windows
There are locals' bars, and then there are hyper-locals' bars where you're hard pressed to find a patron who lives more than six blocks away. Jada Coles falls into this second category where the fine people of Coral Way gather to drink and listen to live music, and not much else. The windowless spot from a couple of Bougainvillea's alums has no food, furniture we're pretty sure we saw in that "Couches of Calle Ocho" exhibit, and lighting that says "if you go home with anyone from this place, make sure you're out before dawn."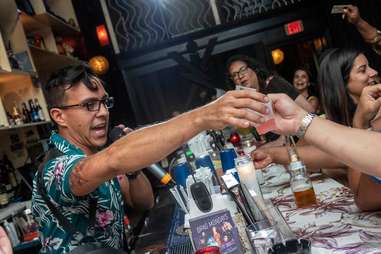 South Beach
Live music and cheap drinks: A South Beach unicorn
The narrow passage between the bar and the wall ensure this bar literally always feels packed, even if it's only got a smattering of thirsty locals on hand to escape the tourists. That said, when a live band hits the stage it feels like a Lamb of God mosh pit, with a substantially nastier crowd. Nonetheless, it's a breath of unpretentious air in South Beach, and if you're looking for a place to drink with folks who'd rather not be seen, this is a winner.
Coconut Grove
Miami's most famous college bar still packs 'em in
Once upon a time, when Miami ruled college football, The Tavern was rated by none other than Playboy magazine as one of the top college bars in the nation. Since then, the Tavern has done stuff like "pour craft beer" and "unclog the bathroom toilets," and the Hurricanes are, well, the Hurricanes. But that doesn't mean you can't roll in here on a Thursday night, order a pitcher of domestic light beer, and play beer pong with someone born in the second Bush administration. Just make sure you don't wear anything dry-cleanable.
Alapattah
Perhaps the newest dive to join the ranks
While we hesitate, strongly, to put the label "dive" on any bar that opened in the past ten years, this graffiti on the walls at this Allapattah boozer reminds us a little too much of Gainesville's Balls. And that alone is enough to land it on the list. Add in a back "patio" that doesn't offer much but metal folding chairs and a hazy neon interior that makes you feel more intoxicated than you already are, and you've got a genuine dive bar prodigy.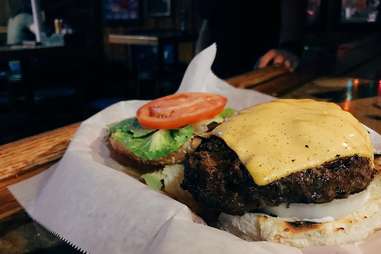 Pinecrest
The best bar burger in Miami, hands down
All you need to know about Keg South is that while it is, technically, in the upscale Village of Pinecrest, it still claims Kendall in the name. Despite that very un-Miami move it's still home to the Keg South Burger, a char-grilled masterpiece that, despite an onslaught of restaurants plating $18 "gourmet" burgers, still can lay claim to being the best in the city. Keg South also serves some of Miami's best wings, so while you may not spend the afternoon sampling 110 craft beers, you will still leave full.
West Miami
Where every Miamian has, at some point, sung karaoke
If you have not, at some point, wiped the dust off a cheap beer bottle, swigged back some liquid courage, and given the crowd at Seven Seas your best rendition of "Blaze of Glory," get rid of your Miami cell phone number immediately. This Red Road institution isn't much for looks or fancy drinks, but it's been drawing slightly-tipsy people for its all-night karaoke three nights a week for decades. And if you're new in town, consider a late-night trip here your Dade County initiation.
Sign up here for our daily Miami email and be the first to get all the food/drink/fun in town.