Seasons are overrated, and that's why we live in South Florida where Fall is basically Summer with football and school-zone traffic. So while the leaves on our tress are still, uh, totally green, and it's thrice-daily-shower hot, at least you can cool off with suds hand-picked by South Florida's top beer experts.
Recommended Video
This Massive Bacon Festival Takes Over an Entire Stadium
Brett Hubbard, craft and specialty import manager at Gold Coast Beverage & host of By the Glass radio show
Harpoon UFO Pumpkin (Pumpkin Ale, 5.9%)
Brett says: "Imagine a pumpkin vine wound its way into a field of barley, and a brewer harvested it all to make a beer. Add Northwestern hops and a blend of spices, and you've got UFO Pumpkin. The malt combination provides a smooth body and slightly sweet flavor, which balances perfectly with the earthy notes derived from the pure pumpkin. And like all UFO beers, UFO Pumpkin is unfiltered."

Abita Pecan Harvest (American Brown Ale, 5.2%)
Brett says: "This one's made with real Louisiana pecans that have been toasted to perfection. That makes it something really special, because most beers with a nutty flavor or aroma aren't made with real nuts. The natural oils from the Louisiana pecans give the ale a light pecan finish and aroma."
Josh Levitt, Capt'n of What's Tappening, Brown Distributing Specialty Division
Dogfish Head Red & White (Witbier, 10%)
Josh says: "Red & White is a Belgian wheat beer that's brewed with Pinot Noir juice, 11% aged in Pinot Noir barrels and 89% aged in giant oak staves, then blended together to make a truly unique and amazing beer that drinks almost like a wine. At 10% ABV, it truly is incredible."

Victory Festbier (Märzen/Oktoberfest, 5.6%)
Josh says: "This is an amazing example of the Marzen, festbier, or Octoberfest-style. They brew this beer using a Decoction-style mash, which gives this beer a subtle malt character that is extremely well-balanced. It has excellent body and they use all Whole Cone hops in the brewing process. This beer is a throwback to earlier days of traditional German brewing and really shines in this category." 
Adam Fine, founder of Native Brewing Co and Fresh Beer Inc
Shipyard Pumpkinhead (Pumpkin Ale, 4.7%)
Adam says: "This is 'pumpkin pie in a glass... or, um, a can'. A light, crisp, and refreshing wheat ale with hints of pumpkin, cinnamon, and nutmeg aromas. This beer may not have been the first pumpkin beer to be brewed, but it sets the bar for all the rest."

Dogfish Head Punkin Ale (Pumpkin Ale, 7%)
Adam says: "A brown ale made with real pumpkins, brown sugar, allspice, cinnamon, and nutmeg. This beer is rich, full of flavor, and pairs well with Fall foods like turkey, roasted duck, stuffing, and dumplings."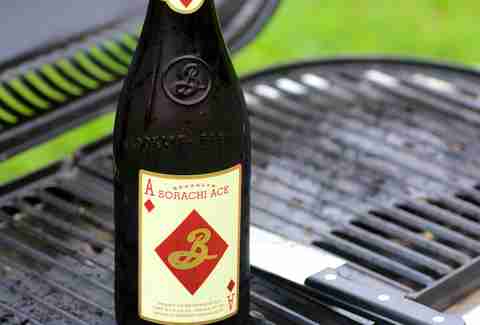 Evan Benn, Miami Herald staff writer and Esquire.com beer columnist 
Brooklyn Sorachi Ace (Saison/Farmhouse Ale, 7.6%)
Evan says: "It's a farmhouse-style saison, brewed with a variety of hops that provide a really lemony flavor I love. Brooklyn also uses Belgian and Champagne yeasts in this beer, giving it an extra dimension of aroma and flavor. Sorachi Ace comes in a 750mL bottle, perfect for sharing."

Anchor Brewing BigLeaf Autumn Amber (American Amber/Red Ale, 6%)
Evan says: "It's a brand-new Fall seasonal for them, brewed with a dash of maple syrup. You'd expect it to be sweet, but it's actually a very balanced red ale. A nice departure from the patches of pumpkin beers we see this time of year."
John Linn, brand director at Funky Buddha
Funky Buddha Sweet Potato Casserole (Vegetable Beer, 10%)
John says: "This is a homer pick, but instead of doing yet another pumpkin beer, we decided to create a beer made after the eponymous Thanksgiving dish. We actually brew it in the Fall as well, around October, so you can drink it around the same time you're tucking into your Thanksgiving feast. It's a big, rich, sticky beer full of sweet potatoes and marshmallow."

Left Hand Oktoberfest (Märzen/Oktoberfest, 6.6%)
John says: "Just about every American brewery makes a Marzen now for Oktoberfest, but Left Hand's version is a step above the rest. It's stronger than most beers of its kind, but that extra malt body lends itself perfectly to Fall meals or just a festive atmosphere."