Pride Month heats up across the country in earnest come June, but in the 305, we celebrate Pride in Miami Beach every April. Of course, Miami's LGBTQ+ locals take every opportunity to live loud and proud all year, with a climate that allows you to wear basically whatever you want, whenever you want.
Beyond being a warm weather hotspot, South Florida has a long and storied history as a tropical haven for the queer community. That history has led to Miami's status today as an undiscovered gem for LGBTQ+ folks. Whether you're looking for drag, dancing, Mr. Right, or Miss. Right Now -- you know you're in the right place.
"What makes Miami's queer life so great is that it's very mixed and diverse," says local drag queen and Wigwood festival creator Queef Latina. "We don't feel the need to be exclusive and, instead, try to be as inclusive as possible."
Miami Beach still retains its crown as the epicenter of gay nightlife in South Florida, but a number of neighborhoods -- like Wilton Manors to the north and Wynwood arts district -- have started giving South Beach a run for its money. Whatever you're in search of, you're guaranteed to find it somewhere in the Magic City.
Silver Bluff
Rowdy Latin nightclub known for its DJ, dancing, and drag
It's no secret that Miami's Latino population has made the city the cultural capital that it is today. While nearly every gay club in South Florida features a Latin night (or in some cases, dedicated Latin rooms), Azucar Nightclub is the only LGBTQ+ venue in Miami that caters exclusively to Latin crowds. Ever wanted to hear a "Suavemente" and Madonna mash-up? Now's your chance.
South Beach
Massive music haven for go-go boys and drag queens
Twist has been a longtime South Beach institution, becoming the de facto Mecca for gay nightlife in Miami after the closing of Score in 2018. With seven bars, three dance floors, and the guarantee of go-go boys and drag queens, there's something for everyone here. The twist? No cover. Ever.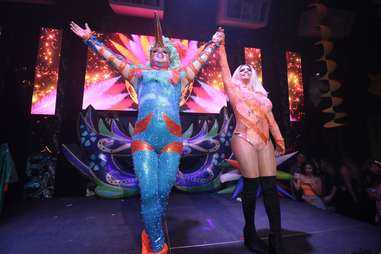 Wilton Manors
This giant gay-friendly complex is worth the trip up north
Wilton Manors has gained a reputation as one of the most gay-friendly areas in the country, making the trip north from Miami worth it for any visitors looking for a wild night out. Known officially as The Manor Complex, this multi-level nightclub has multiple bars and dance floors as well as a dedicated performance space, where gay-friendly artists like Brooke Candy and queens from RuPaul's Drag Race put on a show for all their adoring South Florida fans.
Wilton Manors
A variety of music all under one lit-up roof
The stretch of Wilton Drive where Georgie's Alibi Monkey Bar is located might just be the gayest three-block radius in the South Florida area -- and Georgie's Alibi always attracts the most clubgoers. Not feeling the techno of the main room? Head next door to the adjacent Monkey Bar and dance to as much pop, hip-hop, and reggaeton as your heart desires.
Miami Shores
Full-nude strip club with some of the sexiest dancers in Dade County
The name says it all. Weekends are the wildest at this sexy Miami Shores venue, with drink and table specials available to keep visitors entertained all night long. Make sure to bring plenty of dollar bills. Sundays mean legendary hip-hop and R&B dance party Club Boi.
South Beach
Weekly Miami Beach night features cheap drinks and drag shows
Miami Beach's newest gay bar WaterLoo has quickly become a must-go destination in South Beach queer nightlife. Well drinks are $3 all night on Mondays, with drag shows to keep you entertained the whole time.
MiMo
Understated dive to grab cheap beer or wine
With so many high-energy club options for LGBTQ+ locals to choose from, there are few places for those who just want to grab a drink and chat with someone at a normal volume. Jamboree Lounge is a no-frills dive bar on the edge of Miami's up-and-coming Little Haiti neighborhood, making it an ideal casual nightlife experience away from the hustle and bustle of South Beach.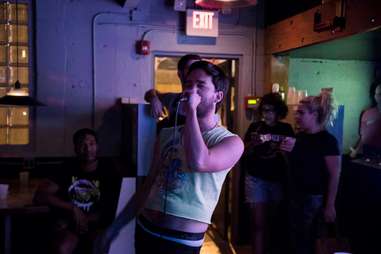 Wynwood
Elevated dive bar experience with reliable cocktails and a great playlist
With RuPaul's DragRace watch parties and drag shows galore, Gramps might be Miami's most LGBTQ-friendly straight bar. Their drag bingo every Wednesday night is the best place to unwind and play some bingo over drinks and pizza with friends -- and even win some merch from the hosting queen. Thursday nights mean Double Stubble, where drag queens shatter wine glasses and shotgun beers.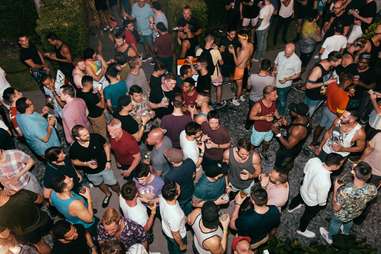 South Beach
Weekly karaoke and amazing spa at an upscale boutique hotel
Karla Croqueta, Miami's Ultimate Miami Drag Queen of 2019, hosts karaoke at Hôtel Gaythering's bar every Monday night, and sometimes even shows off her own vocals for those lucky enough to be there. Don't miss Bears & Hares on Fridays -- where there's some for everyone no matter what member of the animal kingdom you identify with -- and Supposably Saturdays for a dance party hosted by drag DJ Juanita LaBanjee. Besides the bar, the sauna is the Gaythering's headline attraction, with private rooms and amenities available to all.
South Beach
Beachfront spot for all-day breakfast, cheap happy hour, and drag shows
After roasting in the South Beach sun all day, chances are you'll be looking to quench your thirst as the sun starts to set. With Palace being directly across the street from the beach, it's a quick and easy stop for a half-off happy hour drink. Plus, if you've ever wanted to see a drag queen jump off a table into a split on the sidewalk and then strut into the street to direct traffic, look no further than Palace.
Silver Bluff
Clothing-optional tropical gym with sauna and outdoor pool
Located just outside of downtown Miami, Club Aqua is the best place to decompress after a long day of work. Sweat out your stress in the sauna, or check out the full gym if that's more your speed. If you'd rather cool off instead, go for a dip in the pool outside.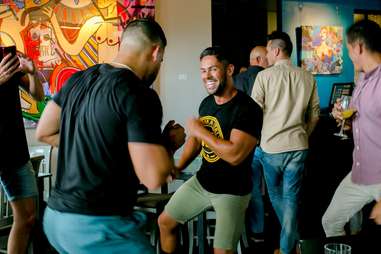 Wynwood
Family-friendly drag brunch with art gallery and globally inspired food
If you blink, you might miss Wynwood's journey to becoming Miami's newest queer hotspot. The weekend drag brunches at R House restaurant have become locals' new favorite place for tableside entertainment this side of the MacArthur Causeway.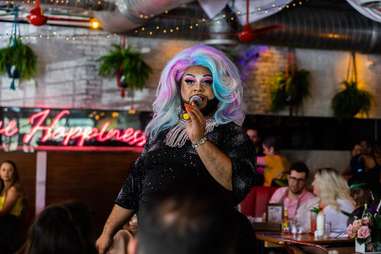 South Beach
Monthly drag brunch at a hip cocktail joint
Named after the fictional drag club from the beloved Robin Williams comedy, Birdcage Brunch is a monthly drag revue that takes over Sweet Liberty on the second Sunday of every month. Where else can you watch a sexy burlesque performance, a sickening dance routine, and an emotional ballad all before your appetizer arrives?
Miami Shores
Biweekly lesbian party that takes over Floppy Rooster
It's unfortunate that the days of Miami's longtime lesbian institutions like Cheers and Cherry Grove are over, with very few dedicated nightlife options available for South Florida's women-loving women. Lezchic is dedicated to giving Miami's lesbians that space, with its signature biweekly party taking over the 777 Complex at Floppy Rooster every other Thursday.
Coral Gables
Queer networking event aimed at bringing together Miami community
The cleverly named Coral Gaybles is a monthly social event aimed at bringing together LGBTQ+ residents of Miami's sprawling suburbs. It's less of a party and more of a place to make friends -- friends who you'll then be able to go out on the town with.
Downtown Miami
Most diverse and unique drag show in all of South Florida
Don't come to The Corner's Counter Corner party with any expectations. The weird and the beautiful have all been celebrated here every month for over five years, making Counter Corner the place to go to experience all the creativity and diversity of Miami drag.
Allapattah
Cozy live music venue with a drag queen punk party
Sure, Miami is home to plenty of alternative drag performers. But at this Las Rosas' Gender Blender party, the freakier, the better. Drag shows and live music make this monthly function a can't-miss event.
Sign up here for our daily Miami email and be the first to get all the food/drink/fun in town.
Chris Malone is a native of Miami, where he spends much of his time as an arts and entertainment reporter for the Miami New Times. He has a weakness for a sea breeze and a cold drink -- preferably at the same time -- and never forgets the importance of sunscreen.