Given our propensity for sunny weather and working as little as possible, it's surprising it took so long for the craft beer scene to get to South Florida. Because, really, what better place is there to sit outside, enjoy the sunshine, and sip on more beers than you probably should on a Tuesday at noon?
But our beer scene has finally hit its stride, and where once we were an arid craft beer desert, we now have dozens of places in Dade and Broward County to enjoy the warm breezes with a nice, cold pint. From Pompano Beach to Homestead, here are the 12 best breweries in Miami.
Recommended Video
Thrillist's Best (and the Rest): What's the Perfect Fast Food Meal?
Doral
Over 50 taps, 150 beers, and fantastic food
Perhaps the most recognizable can in the South Florida brewing world comes from M.I.A., an art-deco, Miami Vice-inspired number covered in pinks, blues, and bright golds. But unlike a great many things in Miami, the beer here is about a lot more than aesthetics. The cornerstone Miami Weiss and 305 Golden Ale are the ones you'll find in stores, but at the bruhaus you'll find over 50 beers on draft including limited-release stuff like the Neon White IPA and Big in Japan Sake Beer. M.I.A. also has a full food menu with everything from croquetas and burgers to lomo saltado to soak up the booze.
Key beers: Neon White IPA, Big in Japan Sake Beer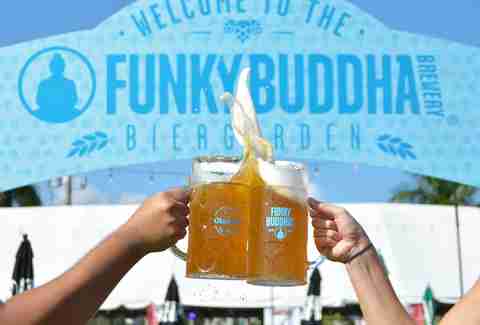 Oakland Park
South Florida's Disneyland of beer
The mega-brewery-as-a-destination concept isn't as huge in South Florida as in, say, Denver. But Funky Buddha does it as well -- if not better -- than anywhere in the country, turning its massive brewing facility into an all-day destination with a lengthy beer bar, games on the patio, hundreds of seats, and food in the back. Funky Buddha beers are staples in grocery stores and restaurants, whether the hoppy Hop Gun IPA or the Floridian Wheat, which tastes like someone put a citrus grove in a keg. The highlight of the year here is the Maple Bacon Porter release party, when seemingly all of Broward County shows up to try the latest version of a beer that won a gold medal at the World Beer Cup in 2016.
Key beers: Maple Bacon Porter, Hop Gun IPA, Floridian Wheat
Wynwood
Tropical flavors in a Star Wars-themed taproom
The only thing better than the beer at J Wakefield is the story behind it. Jonathan Wakefield was a massively talented home brewer a few years ago. So talented he managed to crowdfund $110,000 to get his commercial operation off the ground. Since then, he's been wowing Miami beer drinkers with fruity concoctions like the Dragon Fruit Passion Fruit (DFBF) Berliner Weisse. But Wakefield hasn't rested on his success, and the Star Wars-themed taproom is always worth stopping in to see what kind of new creation -- like the Five Days in Dade Gose or the Ludicrous Speed IPA -- might be on tap.
Key beers: Dragon Fruit Passion Fruit (DFBF) Berliner Weisse, Ludicrous Speed IPA
Downtown Ft. Lauderdale
The guys behind South Florida's best beer bar make their own stuff
The Riverside Market made a name for itself as one of the best beer bars in America, where rows of craft beers filled old convenience-store shelves, each one masterfully explained by owner and beer savant Julian Siegel. After years of hawking other people's beers, Siegel teamed with Adam Fine from Native Brewing and restaurant mogul Tim Petrillo to open this space in Downtown Lauderdale. Here you'll find an old stable converted into a brewery, with a 1,000-square-foot house built inside that doubles as the taproom. Sit down in the living room and enjoy a Hopsta la Vista Double New England IPA, or a Shark Lady Pale Ale, and ask how it got its name.
Key beers: Hopsta la Vista Double New England IPA, Shark Lady Pale Ale
Wynwood
Miami's first brewery with spray-can tap handles
Much like Wynwood itself, the Miami craft beer scene was once a desolate wasteland that no tourist would even think about venturing into. Flash forward to 2018, and the colorful arts district is on every visitor's must-do list, as is a trip to venerable Wynwood Brewing. Inside you'll find a narrow taproom filled with Miami-centric murals, and beers that're available everywhere from sports stadiums to cruise ships. The standards are the La Rubia Blonde Ale, a light beer that still has enough flavor to make it interesting, and the Pops Porter, which won a gold medal at the Great American Beer Festival.
Key beers: La Rubia Blonde Ale, Pops Porter
Doral
No nonsense beers from the Biscayne Aquifer
Where most beers in South Florida pay homage to their tropical roots, the folks behind this friendly, wood-lined Doral taproom don't get too crazy with their flavors. You won't find any passionfruit- or pineapple-infused beers here, rather clean, crisp creations made with water from the Biscayne Aquifer. Go for the Kaptain's Kolsch for something that truly exemplifies the fresh taste of the beers here, or try the Colada if you like dark beers that remind you a little of Cuban coffee.
Key beers: Kaptain's Kolsch, Colada
Wynwood
A giant social hall with flawless beer
Cruising Wynwood breweries is as great a way to spend any Miami Sunday, and most of the time those days end at behemoth Concrete Beach. Even if the brewery isn't throwing one of its famous block parties for Mardi Gras or Oktoberfest, the spacious taproom lends itself to lazy afternoons sipping the Stiltsville Pilsner or the Havana Lager around the circular indoor-outdoor bar. The brewery is owned by an offshoot of Boston Brewing, but don't let the big money deter you: Like so many craft breweries owned by the big boys Concrete Beach doesn't taste even a little mass produced.
Key beers: Stiltsville Pilsner, Havana Lager
Homestead
Beer on a far-flung farm, with a winery next door
Some people might not appreciate the subtle nuances of avocado wine. So if you find yourself tasting at the Schnebly Winery in Homestead and want something a little less… exotic... head across the tropical courtyard to Miami Brewing Company, where tropical fruits from Homestead farms are incorporated into their 20 beers. It was Dade County's first production brewery, and has been making craft beers long before anyone in the city caught up to the trend. The best among them is the Big Rod Coconut Blonde, which tastes a little like drinking a day at the beach, complete with the aroma of sunscreen.
Key beer: Big Rod Coconut Blonde
Ft. Lauderdale
Clean, crisp beer made according to strict German beer laws
In Germany, there are a strict set of beer laws called Reinheitsgebot. In true German style they ensure precision and quality in the brewing process, though they're rarely followed to a T in America. Not the case at Khoffner, where third-generation brewer Rauf Khoffner makes all his beers in accordance with Reinheitsgebot, creating the cleanest, freshest-tasting beers in South Florida. His little taproom is tucked between some warehouses north of Sunrise Boulevard, a subtle space more concerned with great beer than big parties. But try the Flagler Citra Citrus IPA or the Noble Breakfast Oatmeal Coffee Stout, and you won't really mind if they don't have cornhole.
Key beers: Flagler Citra Citrus IPA, Noble Breakfast Oatmeal Coffee Stout
Wynwood
Latin American-inspired beer with a Peruvian food truck
The brewery is a collaborative effort between the Bogota Beer Company and 10 Barrel Brewing in Oregon (owned down the line by AB InBev), and masterfully reproduces the light, warm-weather flavors you'll find in Latin America. The most culturally reflective is the Chopp, a Brazilian lager served below freezing with a 3-inch head, meant for consumption three or four at a time. The 4.2% Latin Lager will also bring you back to a trip south of the border, with a sharp, almost-bitter flavor that cuts through the courtyard's humidity. The food at Veza Sur is also worth checking out: The folks behind SuViche just opened Chi-Fa, a food truck where you'll find Chino-Peruvian-inspired stuff like lomo udon noodles and all varieties of anticuchos.
Key beers: Chopp, Latin Lager
Pompano Beach
An old grocery store becomes a Pompano Beach hangout
Winn Dixie used to say it was getting better every day, and there's no better example than the store that closed and reopened as 26 Degree. Walk through the automatic sliding doors in this shopping plaza off Atlantic Boulevard and belly up to the bar, where you'll find giant TVs standing over a wall of taps with stuff like Sesh on the Beach Session IPA for fans of lighter beers. And a series of porters aged in everything from Cabernet to bourbon barrels for fans of the darker stuff. The brewery takes advantage of its grocery store-sized space, too, with everything from yoga classes to sports watch parties filling its events calendar almost every weekend.
Key beers: Sesh on the Beach Session IPA
Westchester
A quirky neighborhood brewery anchoring the Bird Road Arts District
Outsiders who open up shop in Dade County often ignore the good people living west of the Palmetto Expressway, opting for cooler neighborhoods with higher rents and transient populations. But give folks out in Kendall and Weh-cheh-tuh something cool, like a big brewery with penny-lined bar tops and live music, and you'll be packed every night of the week. This west-county hangout has become a social hub for young people living out this way, and aside from a serious lack of parking, has opened one of the best new businesses of the last few years. Its bizarre-yet-endearing marketing of weird people being weird has helped it gain a loyal following, and if you're out west it's worth a look. If you can find a place to park.
Key beer: Lincoln's Best Sparkling Ale
Sign up here for our daily Miami email and be the first to get all the food/drink/fun in town.