In case the bone-chilling 62 degrees didn't announce it for you, winter is here. And along with giving you a chance to finally bust out that overpriced peacoat you bought in 2015, it also means you're prepping for the annual influx of visitors from the north. And with those visitors come the inevitable requests to "hit the cool new spots," which, of course, you can name about as well as you can name the Heat starting five. And while we can't really tell you anyone other than Hassan Whiteside to answer that second part, here are 11 brand-new bars that are sure to impress you and your guests.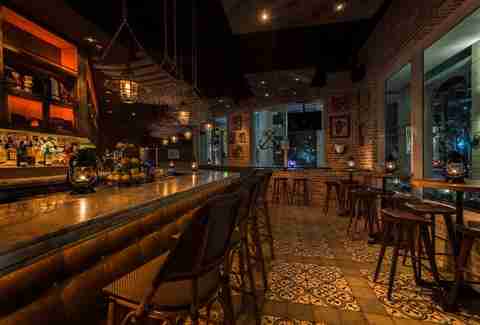 SoFi
Anything described as a "locals" bar in SoFi is typically a high-price beach club full of dudes with long hair and tight pants, or a place where you may or may not go to buy illicit substances. That's all changed with this new spot on South Pointe Dr, where a nautical-themed interior creates a welcoming place for So-Fites to relax and enjoy its expansive whiskey and tequila collection. The smooth outdoor seating has flat-screen TVs, so while the weather is still tolerable stop by to watch a game and enjoy a tomato-cheese flatbread, fresh crudo, or an artisanal charcuterie plate.
South Beach
OK, so perhaps combining a ride-along motorcycle arcade game and a collection of 150 whiskeys doesn't sound like the shrewdest idea. But it's 2017, we gotta start giving illogical ideas a chance. This new spot from the Bodega team boasts a flurry of arcade games, like the aforementioned bike race, a Terminator shooting game, and Pac-Man. It's also got a beer-pong table in the back, mini beer pong for your table, and live-band karaoke every Monday night. Not to mention carnival-themed food like funnel cakes and Nashville hot chicken and waffles, all combining to make Ricky's the most pure fun you'll have at a new bar this year.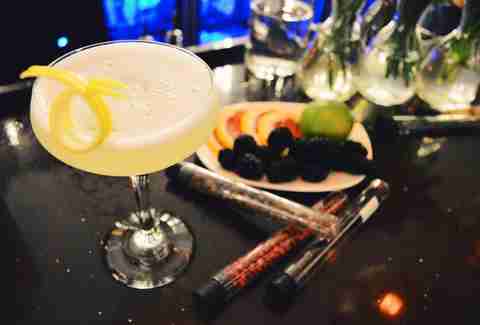 Mid-Beach
Tucked away across from the massive EDITION, you'll find a little neon sign on the ground floor of the AC Hotel announcing the best new gin bar in the city. This hidden gem is helmed by Nikos Mantzaridis (of Beaker and Gray fame) and boasts six different twists on the traditional gin & tonic, including one made with a custom tonic for AC Hotels. You'll also find an impressive menu of original drinks, like the Smoked Last Word, with smoky mescal, green chartreuse, maraschino liqueur, and lime. It all pairs nicely with a menu long on spicy small plates, like chicken tinga sopes, ropa vieja, and carnitas tacos.
Brickell
Those bars in Mexican caves are pretty nifty, but given Miami's relative lack of cenotes, getting to one usually involves a plane flight. Or a trip to Brickell, where the team behind Tucandela has decked itself out to look like a real-live Mexican cave bar, though it's decidedly above the ground. Inside you'll find the same top-notch collection of tequilas you'd find at Tucandela, as well as high-energy Latin music, lucha libres, and live mariachi bands.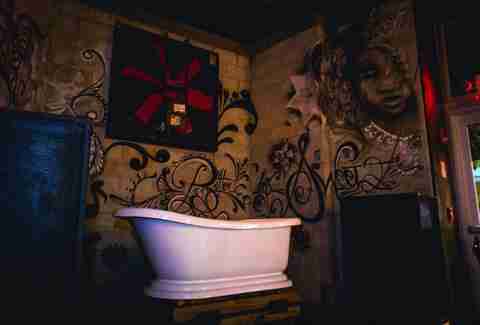 Midtown
Since the towers of Midtown rose from... whatever was there 10 years ago, it's always struggled to find an identity. A big step towards that is having a genuine local hangout. This year it has arrived with Bitter Truth. This big space feels like it would be more at home somewhere Southwest, with live local bands playing nightly, a simple beer and cocktail menu, pool and foosball tables, and throngs of nearby residents. On pleasant nights, the walls open up and the bar becomes a big, outdoor café. And because it stays open late it's the ideal spot for Midtowners, or anyone, to end a big night out.
South Beach
If whiskey bars truly are the barometer of a neighborhood on the rise, that sketchy middle section of South Beach appears to be well on its way to recovery. Across from the blocks of empty stores, this beautiful new bar has sprung up in the old Automatic Slims space, replacing the notorious stripper pole with 150 whiskeys, a wall made of bourbon barrels, and food from the Matador Room chef. The décor feels a little like your neighbor's rec room, with alternating wood-and-stone walls, plus a semi-private back room where whiskey brands hold intimate tastings. And the big banquettes are the perfect place to snack on duck fat fries, or on Tuesdays the $2 specialty tacos.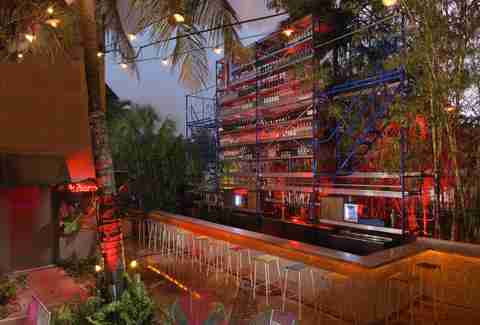 MiMo
So maybe the novelty of Cuban-themed anything isn't quite what it was when that big island to the south was a forbidden fruit. But at least you don't need an educational visa to visit this MiMo bar that opened over the summer. Inside you'll find Miami's cheapest mojitos ($1 at happy hour!) and a décor inspired by Cuba's rich boxing history. It's also got a giant scaffolding made of dominoes and painted with the Cuban flag. The food's along the lines of what you'll find in your favorite Little Havana cafeteria (minus the questionable sanitation). And it's also got 20 different beers and drinks out of "punch bowls," ranked lightweight, middleweight, and heavyweight.
Coral Gables
Don't let that calming greenery on the walls at this narrow Gables bar fool you: There is nothing tranquil about Copper 29. The craft-cocktail den uses the plants in its drinks, which are served nightly to a boisterous crowd with pulsating music and a frenetic vibe. The drinks are crafted according to their molecular compounds (see? High school chemistry WAS useful), and are best experienced via the Lost in Japan with Kai shochu, Mastiha FOS, coconut matcha powder tea, fennel seed, yuzu juice, and 24K edible gold powder, served in a tea mug. And while the food isn't quite so Heisenberg-heavy, you'll never go wrong ordering the New Orleans duck nachos.
Mid-Beach
As the Confidante takes over the old Thompson hotel, its signature new opening is the Boho-chic 1930s guest house converted into a cozy, fun, new drinking den. The house once stood across the street, was moved poolside some years back, and is now a place to sip on fruity drinks without feeling too much like a tourist. Try the Seahorse with mango, strawberry, Luxardo maraschino, and silver tequila, as you munch on hand-torn masa chips served with Gator pibil. Nina's also has nightly performances by local artists and, yes, DJs, ensuring a trip here is about as local-feeling as one gets while drinking at a hotel on Collins Ave.
Brickell
If one thing is consistent in Miami, it's change. And so as we bid a long-overdue farewell to the Viceroy Hotel and its rooftop bar FIFTY, we welcome the new W Miami and its trademark WET deck pool lounge. It's got the same swanky poolside vibe, and same sweeping views of all of Miami. But it's added the delicious craft cocktails that make W bars so inviting, like so Sobe Picante with jalapeño, tequila, cilantro, and fresh orange.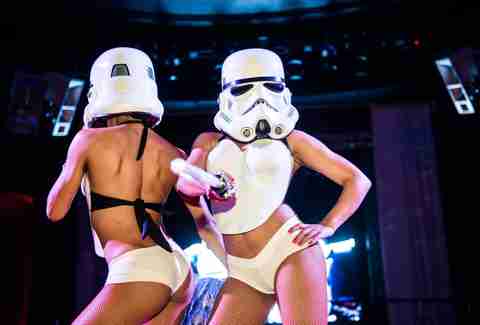 South Beach
In that rarest of Miami nightlife moves, the team that brought you Wynwood's Prohibition is offering some real value at this new all-inclusive, live entertainment venue. For $80-$100 you not only get a full-night's entertainment of acrobats, dancers, and cabaret singers, you get all you can drink LIQUOR. That's right, for what you'd pay for maybe five drinks on most nights in the beach, you can drink all night long here, with the added bonus of entertainment that doesn't include the words "photo hunt." If you're not typically into these kinds of shows, this is your time to give it a try. Because even if you don't like it, well, you're still getting your money's worth.
Sign up here for our daily Miami email and be the first to get all the food/drink/fun in town.