The Best New Breweries in Florida You Need to Know About
Hopefully, your taste in beer has matured since you thought pouring Big Flats over Cheerios was a legitimate breakfast back in college. It's hard not to appreciate better beer with the onslaught of delicious craft breweries South Florida's seen open in the past few years. And while we still lag behind most cities our size when it comes to selection, we're making up ground fast with new breweries opening almost every month. We teamed up with Julian Siegel -- owner of one of America's best beer bars at Riverside Market in Ft. Lauderdale -- and Adam Fine, owner of Native Brewing, to find the best new breweries that have opened in the past year. And if you're looking for a fun road trip this weekend, visiting one of these eight spots is well worth your time.
Jupiter
"This is a super-small, grass-roots kinda brewery where they sell the beer directly from the brewery and come up with some absolutely amazing stuff," says Seigal. The family-run brewery in Jupiter has a taproom adorned in family heirlooms, and its high-ABV brews range from a 7.5% Belgian pale ale to a 6.3% American wheat. And though it's recently been picked up by Cavalier Distributing, more of its beer actually gets bought and traded abroad than consumed locally.
Miami
Lincoln's Beard is probably best known for owner John Falco's infamous offer to buy Anheuser-Busch InBev for $26,000. Somehow that offer wasn't accepted, so Falco has continued to brew his own stuff at this gallery space on Bird Rd. "He's is an absolutely great personality," says Seigal "but past that the beer is fantastic. He won our home brew competition last year and he's already got this place opened up." The taproom serves up a lot of other local favorites, and the overall experience at the brewery was enough to make it one of the best new bars of 2016. Our favorite? The Nunchuk Skills House Ale.
Lynn Hernandez
West Palm Beach
Before you scoff at a cider and pass it off as something only people who invent their own gluten allergies would drink, head up to this section of West Palm and give Accomplice's ciders a chance. While the strawberry cider is the classic, owner-brewer Matt Stetson is playing around with some crazy fruit infusions, giving everything here a distinctly Floridian flavor. The styles are constantly changing, so no two visits will ever be the same, aside from the fact that you'll always leave happy.
Ft. Lauderdale
While the beers here -- made adhering to the German purity law -- are possibly the cleanest-tasting craft brews you'll find in South Florida, the story behind this place is even more impressive. Owner and brewer Rauf Khoffner comes from a long line of German brewers who emigrated to Turkey, and as alcohol laws there became increasingly restrictive, he moved to the United States and brought his family recipes with him. Adding a modern spin on traditions -- like the seasonal pumpkin ale -- Khoffner merges old and new styles for a truly unique beer-drinking experience. For an incredibly unique pilsner, grab the La Boheme Bohemian Style Pilsner.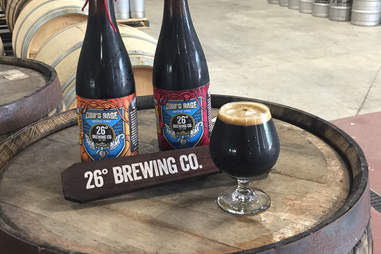 Courtesy of 26 Degree Brewing Co.
Pompano Beach
Winn-Dixie might be getting better every day, but by far the one that's most improved is the one on Atlantic Blvd that was converted to the 26 Degree brewery a year ago. "These are some home brewers who got together, one's sister was an architect and their buddy was a fireman/carpenter, so they just re-purposed the old store with some really creative beers," says Seigel. The selection here is pretty vast, and if you're not into stuff like Ziko's Rage Imperial Stout, be sure to try the IPA1A, a Floridian twist on the traditional American IPA.
Michelle Mulak
Titusville
"This just opened a few weeks ago," says Seigel. "But whatever, if Ron Raike puts it out, it's going to be amazing." Raike -- the former head brewer for Shipyard in Orlando who also cut his teeth at Cask and Larder -- has been brewing Titusville's best beer at Playalinda's original hardware store location for a while now. But this 16,000sqft space represents a new era in the city's beer culture. At the Brix Project, Raike will be making even more of his incredible small-batch beers (this location has a 30-barrel system, up from the old 3.5), and pairing them alongside bites from executive chef Justin Medina like corned beef poutine and burger con pad Thai.
Naples
Jonathan "Jack" Jackman knows a little bit about South Florida beer. He's an alumnus of both 26 Degree and Funky Buddha, and even worked a stint at Riverside Market's Craft Beer Cartel. So when he teamed with three home brewers to start this spot in Naples, we knew big things were coming. "They're out in Naples, but the beer is great," says Fine. "Also, they assembled the entire brewery." The taproom here feels more like a bar, with a big wooden horseshoe, plenty of TVs, and a steady lineup of IPAs like the 10% Kraken Double and the standard Shorebreak, as well as the super-smooth Mr. Watson's Wit.
Boynton Beach
Chip and Trish Breighner are literally the new kids on the Boynton Beach brewing block, setting up shop just around the corner from heavyweight Due South, and just a few blocks from Copperpoint. These former home brewers make beers that are unmistakably Floridian, using orange peel in the SoBo Wit and mango in the IPA. But perhaps the most unique creation is the Fruity Loops Blonde Ale, which uses fruits of the forest tea to make something that tastes as close to pouring beer into breakfast cereal as you should ever get after moving out of the frat house.
Sign up here for our daily Miami email and be the first to get all the food/drink/fun in town.