6 hot new outdoor drinking spots to try right now
Miami By now, you've probably hit up all the best outdoor drinking spots we were nice enough to power-rank for you last year, and, like any good Miamian, you're totally over it and looking for something new. Well, right in time for Summer, here're six new spots to hit up where you can drink outside, and then run for cover at 4:30 when the thunderstorm starts.
LOL Resto Bar, Brickell
Wanna drink as close to the water as humanly possible but don't know anyone with a boat? Then head out to the back of the Four Ambassadors, where their lobby's Argentine/Italian/American bistro is bringing gourmet flatbreads, parrilla sandwiches, and all sorts of wines and craft beers right up to the edge of Biscayne Bay.  Continue Reading
Brick House, Wynwood
Because nothing screams "Wynwood" like a 90-year-old house, local indie bands, and small-batch whiskey, this brand-new outdoor space built around a 1923 brick home (that's now the indoor lounge area) is bringing Miami's best bands to its built-out back patio, where you'll sip $2.50 craft beers from 5-8pm every Friday, plus whiskey-snob favorites like Booker's, Blanton's, and Basil Hayden.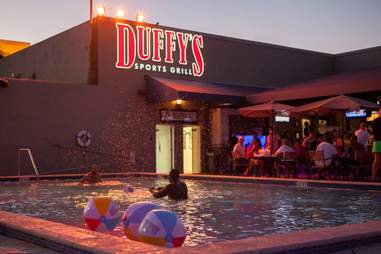 Duffy's, North Miami
Those cruel, cruel folks at Duffy's gave us a waterfront patio full of flat-screens and a pool full of cool water to jump in when the Dolphins became unwatchable, then took it away right in time for Winter. But after a massive renovation, it's reopened just in time for you to get your two-for-one all-day, every-day drink on, then jump in the pool when the Marlins also become unwatchable.
Porcao Farm to Grill, Brickell
Since it's on the quiet, non traffic-y side of Mary Brickell Village, and shielded by giant banana plants under which you can enjoy $5 bites and sip on half-off drinks, you could say the patio at Porcao is kinda like being in Bora Bora. Ya know, if Bora Bora had a Metromover.
Grille 401, Fort Lauderdale
Downtown Lauderdale's steak stalwarts have just taken their operation outside, opening up a brand-new indoor/outdoor bar patio where the area's fine office workers can mingle after work, enjoying the extra hours of sunlight all Summer while sipping on craft beers, eating short rib sushi, and laughing at all those people driving an hour home in rush hour.