When the traffic, humidity, daily rainstorms, and shady people start getting you down about Miami life, sometimes you've gotta experience it like a tourist. You gotta get up above the fracas and look out over the gorgeous beaches and impressive skyline, with a warm tropical breeze in your face and a cold tropical drink in your hand. For years, the best places to do it were tourist-filled hotel rooftops on the beach, but these days we've got world-class rooftop bars from Brickell to the Grove. Here are the ones to hit this summer, to get you out of your sticky, humid rut.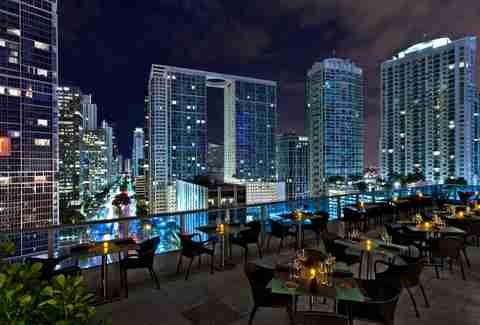 Downtown
Own Miami with a drink in your hand
Nothing makes you feel like the nebulous King of Miami quite like standing at the edge of this bar on the 31st floor of the EPIC. Of course, going here on a Friday night means you're sharing that "King of Miami" feeling with about 200 other people, all of whom probably have the same thought. That's nothing new in this city, so check your ego, grab a Jade Blade -- Herradura blanco, cucumber, habanero tincture, lime, and ginger beer -- sit by the pool, and appreciate the fact that you can do all of this in February.
South Beach
When your pool is tabbed as having one of the best hotel pool views on the planet by the worldwide leaders in pool viewology (a very real, meticulous science), of course you need to be slinging some serious drinks to go along with it. Though this spot -- which in a previous life was home to one of Miami's craziest Sunday pool parties -- has calmed down as part of the eco-friendly 1, the bar is still the most scenic on the beach. In one direction, you can see clear out into the Atlantic, and in the other you'll see the expansive Miami skyline, combining the feel of urban rooftop, ocean view, and trendy pool bar in one sun-soaked patio.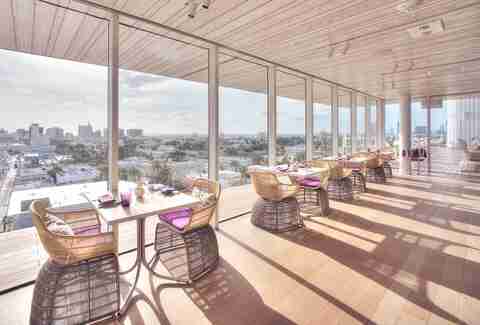 South Beach
The best happy hour bang for your rooftop bar buck
The restaurant on the top of the 1111 garage in South Beach might be THE best date-with-a-view spot in Miami. That said, it'll also put a bigger dent in your wallet than an unexpected FPL bill. For all the romance and a much lower bill, hit this place for drinks. Try a Purple Juvia -- Belvedere, chambord, blackberry, and lemon juice -- relax by the ivy-covered wall outside, and enjoy the award-winning design and views of the ocean.
Downtown
The best rooftop bar you may never remember being at
Nothing is quite as relaxing after dropping all your money at E11even than a retreat to the bar upstairs. You can stare out towards Downtown, feel the cool breeze blowing down NW 11th Street, and enjoy an ice-cold beer. Then, once you've taken in the sights and regained your composure, you can either enjoy some food, or go back downstairs and continue with your bad decision making.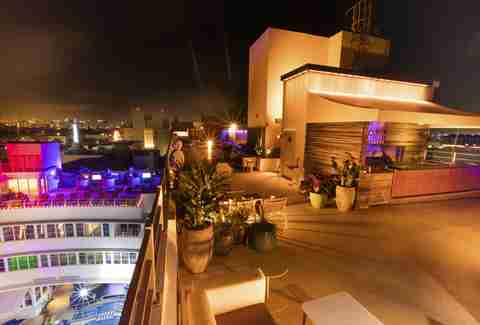 South Beach
Feeling like a tourist is okay once in a while
Sometimes, you just need to live like a tourist to remember why you live here. And while it may be embarrassing for a salty local like yourself to voluntarily go anywhere on Ocean Drive, an afternoon spent at the Clevelander's rooftop bar is like a mini staycation. As you gaze out at the turquoise waters of the Atlantic Ocean, the Art Deco hotels along Ocean Drive, and the city behind you, you remember the magic that first brought you to this weird beach city. And for those few hours you spend enjoying the Miami you often forget, it almost makes the traffic, humidity, and undependable people with jobs that make no sense seem worth it.
Brickell
An Asian garden in the sky with views of all of Miami
High atop Brickell's swanky East hotel sits the city's premier rooftop bar, with views far out across Biscayne Bay to the east, north to Downtown, and south to the shiny glass and bright lights of Brickell. Simply sitting in this Balinese garden is one of those magical Miami moments that makes you glad you live here. But when you wash down some of their spicy boneless Korean wings or chicken makhanwala satay with a lychee blossom -- Russian standard with sake and lychee -- you'll realize why people still manage to fill all the condos that surround you. And if it's raining, the party's not ruined: head inside to the not-so-secret tea room and get all the views without the rain.
Downtown
The old Pawnbroker pushes on with the same great space
The bar atop the Langford Hotel boasts a panoramic view from the middle of the Miami skyline, serving up spectacular drinks in inventive containers. Best example: the Giggle Water; a gin, champagne, syrup, tonic, and lavender foam mixture served in a mini bathtub. It tastes like drinking a bubble bath, in the best possible way that would taste.
Wynwood
Wynwood's very first rooftop bar might be Miami's most laid back
With Wynwood building codes being what they are, a second-floor bar qualifies as a bona fide rooftop establishment. So instead of waiting for an elevator you'll just ascend a flight of stairs amongst tropical plants and arrive at this big, purple-hued space where a big script mural reminds you to "Socialize." This might prove difficult, as you'll want to be on your phone sending pics of the sunset over the warehouse district, or enjoying bar food crafted by OG celebrity chef Norman Van Aken.
Wynwood
Mediterranean bites high above Wynwood
Though it wasn't the first rooftop lounge in Wynwood, Astra is the first to bring the garden-with-a-view feel to Miami's art district. This Mykonos-inspired spot has a west-facing patio, so the sunsets are spectacular any night it's not raining. You'll also find trippy pink walls and pink butterflies on the ground, which still aren't as photogenic as the hanging plants and wood beams that make up decor. Those sunsets seem especially divine when paired quite possibly the best selection of Greek wines in the city on a comfy day bed.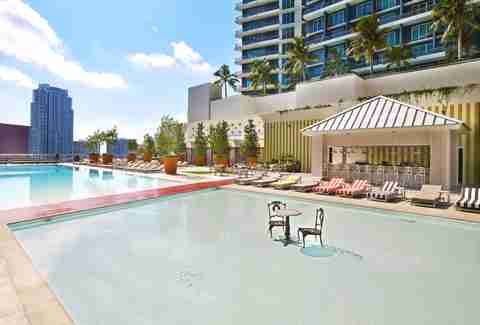 Brickell
All the fun of an SLS pool, a little closer to the sun
You're not finding the poolside ragers here that you might at the SLS South Beach. But that's kind of the idea behind this 20,000 square foot pool deck and bar. Here you can take copious pictures of the sightlines to Miami Beach and Key Biscayne, while sipping on a jasmine margarita and debating a dip in one of the plunge pools. The deck is open to the public -- with the purchase of a day pass or cabana rental -- so you don't need to shell out for a room to spend an afternoon here.
Coconut Grove
The birthplace of the bellini lands on top of the Grove
While you're gulping down prosecco and peaches with your Sunday brunch, there's a pretty good chance you didn't know that drink was invented at a spot called Harry's Bar in Venice, Italy. Well, Harry's has grown a little since then, spinning off a worldwide chain of Mr. C's bars, named after the drink's inventor, Giuseppe Cipriani. The latest sits atop the Mr. C hotel in Coconut Grove, where the nautical Cipriani décor gives way to a sprawling patio with views out over the lush, tropical landscape.
Buena Vista
Upper Buena Vista gets its destination bar
Interestingly, the Buena Vista neighborhood was so-named long before there were rooftop bars from which to take in said "vista." The prophetic naming finally comes to fruition with this terrace on the second floor of Vista Italian restaurant. Here you can survey the neighborhood, or appreciate Upper Buena Vista's iconic ancient oak tree, then enjoy tapas and a menu with live music and 11 original cocktails. Try the Pinga Loca with Leblon cachaca, mango, chile
de arbol, and lime.
Sign up here for our daily Miami email and be the first to get all the food/drink/fun in town.