It's true. We like places where we can host our huge, very-Miami dinners. But we also like places where we can do the complete opposite: hide. When the hot Miami sun makes it just that much more unbearable to tolerate its equally burdening tourists, duck into one of these secret spots (that we've also told you how to properly enter!). 
Miami
If your date wants to go to dinner at a gas station, you should probably hang up the phone, delete Tinder, and possibly re-evaluate your life choices... unless they're talking about the BP on 17th and US1, because behind the cigarette counter, there's an intimate Spanish tapas and wine bar with long wooden tables, Mediterranean-style arches, five-star service, 2,000 vintage wines, plus sharing plates of "tables de carne," Spanish chorizo, bacon-wrapped dates, and more.
How to get in: Enter the gas station quickie-mart, walk past the cashier and head straight to the hostess stand in the back.
Miami Beach
Marked by nothing but a single red light in a sketchy alleyway behind a random Dominoes, Miami's most popular speakeasy is known for its strong drinks, dim lighting, swank vibes, and (because when no one can find you, why not?) glass cases full of bazookas, handguns, and assault rifles. Casual.
How to get in: From Alton Road, walk down 14th Court and look for a red streetlight hanging over a grey door.
Miami Beach
When it comes to tacos, there's rarely something more authentic (and unnerving) than getting them from an old, graffiti-covered garage with cardboard food signs, a tiny taco truck, and a battered, indoor porta-potty scribbled with "BAÑOS." But, go through that bright-blue crapper door and you'll step right into the 305 version of Narnia: a swanky, two-story speakeasy-lounge with vintage couches, a long wooden bar, mas tequila, and lit wall-messages that are just so... Miami.
How to get in: Seriously, look for the porta-potty door marked "Baños."

Miami Beach
When a dark storefront in a less-than-desirable strip mall serves as a portal to a risqué, bondage-themed Korean gastropub, it might be the best grocery store... ever. Step through its dark double-doors and you'll find a dim-sum-cart-turned-hostess-stand, framed photos of Asian erotica, dim lighting, a wrap-around bar area, wooden tables, and knotted ropes suspended from the ceiling. If that's not enough, the food and drinks alone are worth the discovery -- it has a menu of Tiki-themed cocktails, Peking bao, crispy bok choi, tableside-grilled short rib, pork shoulder boards, and more so good that you may never want to enter the "real world" again.
How to get in: Head down Alton Road, and when you get to 14th Street, look for the "MARKET" sign in a small strip mall.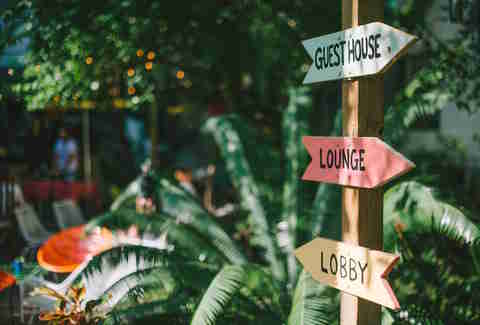 Miami Beach
You should totally stay away from hostels (haven't you seen that movie??), except for the one with Miami's best outdoor drinking spot hidden in the courtyard: though the bocce courts and ping pong table are gone, they've still got the pool and the herb garden they use to craft some of the best cocktails in the city. In other words, everything you need to have a great afternoon.
How to get in: Go through the Freehand Miami, out to the hostel's patio/pool area.
Wynwood & Brickell
With its wooden picnic tables, laid-back vibes, and made-to-order charred octopus, quinoa, gulf shrimp, crispy duck, and Angus steak tacos, this tiny taco shop is well-known for having long lines and the best Mexican street food east of, well... Mexico. But just past the factory line of made-to-order guac and high-top tables is its lesser-known, equally awesome hideout: a retro garage bar with an impressive number of tequilas and mezcals, in-the-know hipsters, craft beers and "paletaritas" -- popsicle-based margarita cocktails you'll probably want at least five of.
How to get in: Walk past the bathrooms and through the teal, unmarked door.
Downtown Miami
Hidden in what looks like the edge of a construction zone, this one-size-fits-all hangout might as well be called "anything goes." Its long hallway entrance -- decked in chicken wire, glass, and raw steel -- is a portal to an old-parlor-meets-nightclub, where 150-year-old mirrors, low chandeliers, an old baby grand piano, poker tables, green velvet curtains, and painted faux-wall bookcases take you back decades; but new wave music reminds you it's still 2015. And because the point of any bar is, you know, the drinks, we suggest trying the "Libertine Moonshine." We also wish your liver luck.
How to get in: Head down 11th Street, and just past Space, look for the blue awning above an unmarked blue door.
Brickell
Different from the bougieness that covers most of Brickell, Better Days is part thrift store, part bar. The inside is straight out of the 1970s and looks like your grandpa's ideal living room. In lieu of $20 martinis, you get craft, seasonal cocktails for around $10. Go there on any weekday between 5pm and 8pm, and your wallet will definitely be having a better day -- drafts are $3 to $4, wells are $4, calls are $4 to $5, and wine is $4 a glass.
How to get in: Look for the thrift store "Dead Flamingo" and head on in.
Coral Gables
This new Miracle Mile spot is all about science (which makes sense, considering it's named after the element copper and its atomic number). Keeping the molecular compounds of their drinks in mind, mixologists use ingredients you'd never think to use to make mysterious drinks you'd probably never think to drink if you weren't seated at Copper 29. For instance, go for the "Lost in Japan": it's served in a tea cup, and mixes Kai shochu, Mastiha FOS, coconut matcha powder tea, fennel seed, yuzu juice, and 24K edible golden power. Then, get the truffle mac & cheese with white cheddar, fontina cheese, crispy pancetta, and toasted bread crumbs. Repeat forever.
How to get in: Walk through the nondescript door between the Starbucks on the corner of Ponce de Leon Blvd and the pastry shop, Janette & Co.
Fort Lauderdale
This bar throws stiff, 1920s-inspired drinks right in the heart of an authentic Italian pizzeria. Hidden on the right side of Fort Lauderdale's Pizza Craft, this upscale speakeasy has "Bar Chefs" instead of bartenders, more than 300 whiskeys, 20+ craft beers on tap, and an absinthe drip, as well as looks like some stylized bistro you'd have a Sazerac on the rocks with Vito Corleone. But just because it's in a pizzeria, don't assume you can go in your jorts, sandals, and an old UM shirt. This is a classy joint and a semi-formal dress code is strictly enforced.
How to get in: Enter Pizza Craft and go through the black curtain.
Midtown
If you want a bar so secret that you can't even Instagram it, then this nose-in-the-air spot is where you want to be. A haven for fancy, under-the-radar locals, the bar is covered in artifacts and artworks from owner Amir Ben-Zion's own collection, and has a pool table and a stage where local bands, musicians, and DJs can entertain said under-the-radar locals. It's open later than most places in Miami ('til 5am in the summer), so go there after you stumble out of anywhere else and order the namesake cocktail: the Brigitte, a blend of Russian Standard vodka, crème de noisette, and Kahlúa.
How to get in: The address puts it right on North Miami Ave, which it is, but you'll have to go around back to the parking lot and look for the red awning.
Sign up here for our daily Miami email and be the first to get all the food/drink/fun in town.