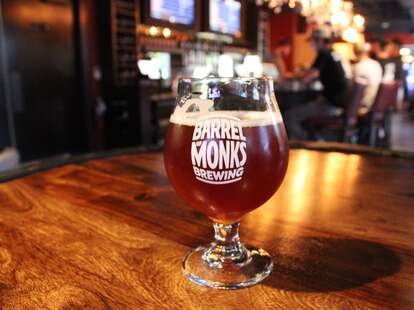 Courtesy of Barrel of Monks
It's always funny when people from gloomy, snowbound places ask us Floridians silly questions like: "Don't you miss the seasons?"

"No," you laugh as you turn over on your deck chair mid-March. "Not a bit."

One thing we do miss, however, are seasonal beers. It's a little difficult to create new flavors to go with the weather when the weather is always the same. But our beer makers are some of the most creative in the country, and style new flavors to go with the new season -- even if it feels just like the last one. To find the best, we asked Julian Siegel, proprietor of The Riverside Market in Ft Lauderdale (one of the 33 best beer bars in America), and Lee Hunter, craft beer director at Tap 42 in Ft Lauderdale, to give us some insight. Here are their selections:

Barrel of Monks Brewing Blackcurrant
Saison, 6.5%
Boca Raton
Barrel of Monks takes a traditional spring seasonal Belgian beer and -- using one of the most common Belgian ingredients in history -- gives this beer the unique twist that South Florida is always craving, while bringing a certain beer harmony that the Belgians have been mastering for centuries.

Big Storm Brewing Co. Helicity Lager
Pilsner, 4.3%
Clearwater
This bright, crisp Pilsner still has a little bit of an earthy/piney flavor, with a sweet finish. Definitely something you'll want a few of on a hot day, as long as you're storing them super cold.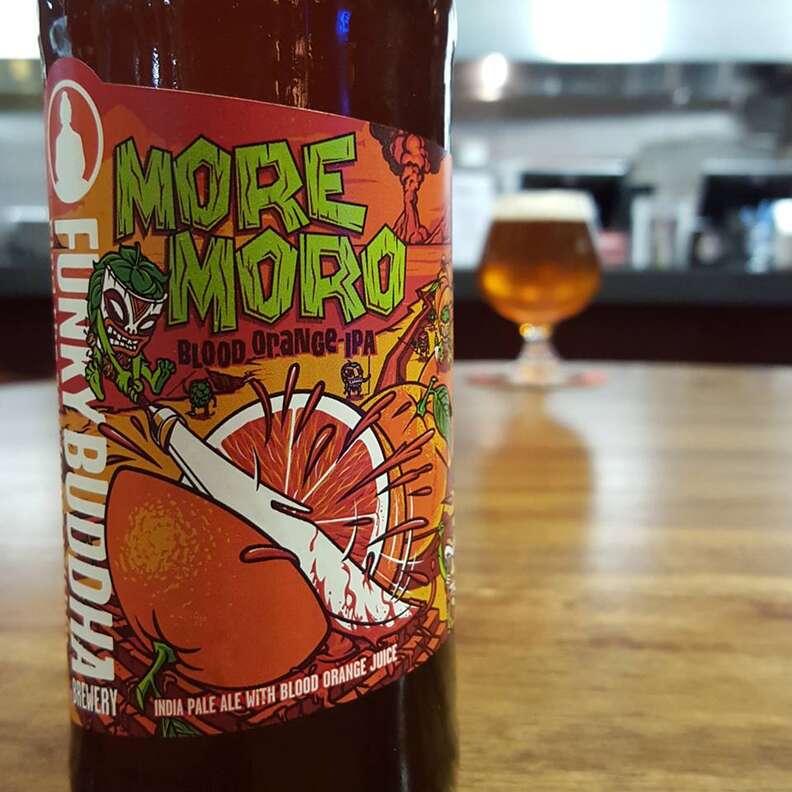 Funky Buddha Brewery More Moro
Blood orange IPA, 7%
Oakland Park
When Funky Buddha does flavor, it doesn't mess around. This IPA goes with the traditional moro flavor -- blood orange with a red, citrusy tone -- and adds, well, more. Like, double. It has an almost dark citrus taste with a hop-forward nose, and a grapefruit finish. Very drinkable.

Swamp Head Brewery 10-10-10
Imperial IPA, 10.2%
Gainesville
"Subtle" would not be the word to describe this beer. It expresses its Florida roots by going completely overboard on everything. In one sip you'll get blown away by both its hoppiness and malt flavors. If you're into big and bold, no beer in the state is putting it in your face like this one.
Jdubs Brewing Passion Wheat
Wheat, 3.9%
Sarasota
This new release from Sarasota's best brewery has strong notes of passion fruit and mango, and offers much of what we've come to expect from one of the top makers of Florida-style beer. Though it's a new release for spring, word on the street is it may be around for a lot longer.
Coppertail Brewing Co. Brew's Banner
Double IPA, 10%
Tampa
Coppertail's flagship beer resonates with chewy hops and a sticky, bold citrus. You'll also get notes of pineapple, mango, and, of course, caramel. It's a high-ABV double IPA, so don't expect anything light. But the Florida citrus makes it a much crisper variety than you'll find elsewhere.

J. Wakefield Brewing Dragon Fruit Passion Fruit
Berliner Weisse, 3.5%
Miami
OK, we know, it's a year-round beer. Or, at least, it's year-round if you can find it. J. Wakefield's signature brew is a brightly colored dragon fruit/passion fruit beer, and even if you can't find the original, there's always an equally impressive version floating around South Florida.
Concrete Beach Brewery Tropic of Passion
Wheat ale, 4.9%
Miami
Lee tells us this beer has a great color, a refreshing fruit-and-tart flavor, and is the perfect sipper for spring cleaning.

Copperpoint Brewing Co. A10 Hop Hog
Red IPA, 6.3%
Boynton Beach
You'll only find this on draft at the brewery, but if you're in the area, it's definitely worth a stop. It's a surprisingly floral, citrusy red IPA that doesn't overwhelm you with malt and has hints of caramel and hops.
Cigar City Brewing Hunahpu's
Imperial stout, 11%
Tampa
The release of this imperial stout is so anticipated, the brewery holds an entire beer festival for its unveiling during the second Saturday in March. It's not quite a spring beer, as it pours especially dark and has flavors of tobacco, smoke, chocolate, and cinnamon, but you won't find anyone complaining.

Wynwood Brewing Co. The Stiglitz
Imperial Märzen, 6.2%
Miami
Unlike a typically malty Märzen, this far more balanced imperial variety uses pilsner and Munich malts along with German yeast. It's dry hopped to give it a hoppier flavor than you'd typically expect, with a rather surprising but pleasant aroma.
Saltwater Brewery Don't Get Confused
Belgian tripel, 11%
Delray Beach
The name is pretty appropriate, since the fruity, spicy, clove-laced flavor will have you quickly forgetting this packs a whopping 11% ABV. So while you might be tempted to have more than one, if your plans were to stay out for more than a beer, don't. It'll be available on April 30th, day two of the Mass Confusion event held at the brewery, then released into distribution.

LauderAle Sizzler
Saison, 6%
Ft Lauderdale
The Sizzler is a true-to-style saison that's smoothed out by six months of aging in white oak chardonnay barrels. It's then treated with black malt after fermentation for its color. It has tones of dark fruits, licorice, and even a little bubble gum, and is one of the easiest-to-drink dark beers you'll find.
Due South Brewing Co. Hopicana
Orange rye IPA, 7.1%
Boynton Beach
This is a super-smoothed-out IPA that definitely has that hoppy start, but is quickly mellowed by the sweet honey and citrus notes and leaves almost no aftertaste. Most of the existing supply is gone, but Julian tells us he's got a few cases and a keg left at Riverside if you want to swing by.

The Native Brewing Co. Wit-R-Melon
Watermelon wheat, 6.5%
Ft Lauderdale
This small Broward brewery helmed by beer guru Adam Fine brings us this traditional wheat beer with strong watermelon favors. The fruitiness isn't overpowering, though, and this isn't a sweet beer as much as it is a tribute to the local agriculture.

Sign up here for our daily Miami email and be the first to get all the food/drink/fun in town.
Matt Meltzer is a staff writer with Thrillist who wishes the rest of the country could jump on the citrusy wheat beer trend. Follow him on Instagram @meltrez1.