The Brickell Loop bar crawl
For years, you've seen that cool train/car thing hovering over Downtown and said... absolutely nothing, then kept driving in heavy traffic. Well, it's called the Metromover, and it's a crazy thing called "public transportation" that takes you through Downtown and Brickell absolutely free. So, we strongly recommend you use it to hit seven of Miami's best bars -- and an arepa stand! -- without even thinking about your car. Check it: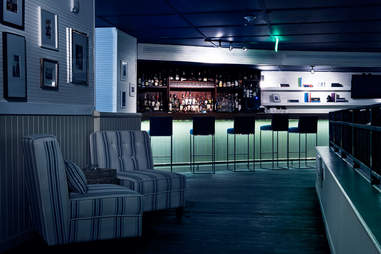 Stop #1: The Hoxton, Brickell Station
1111 SW 1st Ave; Brickell; 305.677.8466
Start your crawl in the shadow of the Brickell Metrorail station and enjoy one of their craft cocktails like Hoxton Lemonade, Honey Rider, or Pimlico. Mention you're doing this crawl and you'll get half-off beer and 'tails until 10p.

Stop #2: Brother Jimmy's, 10th Street Station
901 S Miami Ave; Brickell; 786.360.3650
Nothing's gonna go better with your newfound buzz than some BJs, so stop here and get a pickleback shot (whiskey followed by a shot of pickle juice -- believe us, it's good), then head back to the station for your next stop.
Stop #3: Filling Station, Knight Center Station
95 SE 2nd St; Downtown; 786.425.1990
Two drinks in -- you're gonna need some food. Or possibly more beer. So, hit one of Miami's top burger joints for something to soak up the alcohol. Or just have more beer, we take no responsibility.

Stop #4: Biscayne Tavern, First Street Station
146 Biscayne Blvd; Downtown; 305.307.8300
Maybe you're a foodie and the burgers at Filling Station weren't up to your standards. Or maybe you just love craft beers on draft. Either way.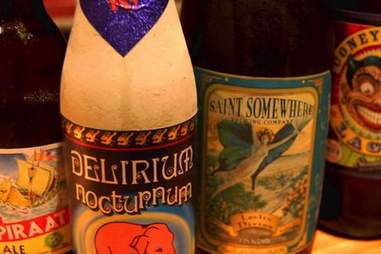 Stop #5: DRB, Wilkie D. Ferguson Station
501 NE 1st Ave; Downtown; 305.372.4565
Annoy all your friends by telling them who Wilkie D. Ferguson is (a federal judge, duh), then suck down one of their 50 drafts or 200+ bottled beers, or a churrasco steak, which is considerably tougher to drink.

Stop #6: Arepa Stand, Government Center
No, it doesn't matter which one. Maybe throw in a warm bottled Gatorade for replenishment.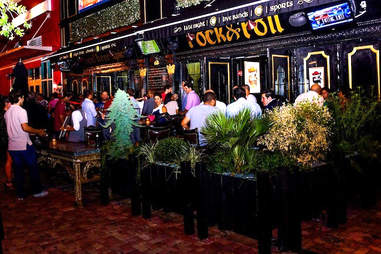 Brickell Irish Pub
Stop #7: Tobacco Road, 8th Street
626 S Miami Ave; Brickell; 305.374.1198
After crushing Downtown, it's time to head back to Brickell, where you can get off at 8th St, ignore the construction, and hit Miami's oldest bar. 

Stop #8: Brickell Irish Pub, Financial District Station
1451 S Miami Ave; Brickell; 305.381.6651
After seven stops, the fact that you're drinking in an Irish pub with a band playing Spanish music won't even phase you. Well done, public transportation.