Alright here's what you're gonna do: you're gonna read this list of the 10 worst Gators fans. You're going to memorize the funniest ones. Then, you're going to go to the gleaming new lakeside bar on the University of Miami campus and tell your new bar mates how this hilarious website Thrillist came up with all of them pawn the ideas off as your own!
Just like the old one, the new Rathskeller is two stories, but hopefully people will resist the temptation to hurl chicken wings off the balcony of this version.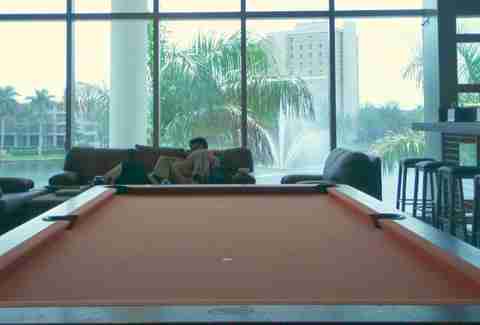 You can play pool on one of the balcony's two tables instead, or just enjoy the floor-to-ceiling views of Lake Osceola while, um, not-studying on the cushy leather sofas.
The 10ft screen'll be used at game-night parties, for special events, and to show NFL Sunday Ticket, which, given where most UM students come from, is presumably another way of saying Giants or Patriots games.
The gliders outside are the perfect place to enjoy one of the 20 beers (Shock Top, SweetWater, Goose Island, Gold Coast, etc.) the new outdoor bar has on tap.
The menu's still got some classics, like these No-Yes fries smothered in bacon, cheddar, and ranch. It's ok, you can eat them, we swear we won't tell anyone.
There's also some new stuff, like this SAC burger, named after the new building that houses The Rat. It's a half pound of beef topped with chipotle, bleu cheese, and bacon, and costs considerably less than the $46.5 million it took to build the Student Activities Center.
It pairs nicely with a refreshing mojito that is made w/ a sugar-based wine, as well as the usual mint, sugar & Sprite, but no hard-stuff, which, at least according to number three on the above list you've totally already read, also makes it perfect for Gators.