We gotta think it's a little more than a coincidence that six months after we told the world why Miami is a better party city than Vegas, the guys who rehabbed Sin City's famous Spearmint Rhino decided to set up a 24hr dayclub/nightclub/maybe-occasionally-strip club with a badass carving station buffet and a Funktion-One Resolution 6 sound system right in the middle of downtown MIA. But that's ok, we don't need credit, just remember, you definitely DIDN'T hear it from us when your girlfriend figures out where you've been spending your lunch hours.
So what's a dayclub, exactly? It's apparently where all these scantily women want to party all the time, literally -- you can get a drink, or a sandwich, or possibly the company of said ladies any time of day.

At night, the curtain at the end of the dayclub comes up and E11even becomes a full-on Miami nightclub, complete with mostly-clothed dancers on trapezes, burlesque performances, big-name DJs, LED screens, and a stage with a pole that lowers into the ground, in case you feel like joining the dance party.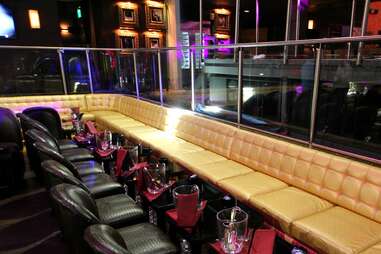 It's not really a strip club -- the dancers won't come around and blatantly ask you for money, but like in a regular club, they're wayyy more likely to hang out if you buy a bottle and post-up in one of the leather booths lining the dance floor/balcony.
Thankfully, the daily happy hour buffet doesn't come with food that looks like it's been sitting there since this place was Gold Rush... like these sandos straight from the carving station.
For super VIPs, there's a separate entrance for these 440sqft private rooms complete with ceiling mirrors and giant screen TVs, presumably so guys like Richard Sherman and Russell Wilson can watch themselves get slurped. By ESPN.
But don't worry, there's still plenty of private room/bottle service action for people who aren't making $347,500 an hour, or work for a certain men's lifestyle site and totally get hooked up because we inspired this whole thing, right? Right?!