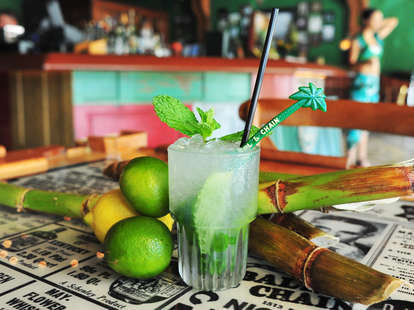 Basically, there are two schools of thought when it comes to sheltering in place. One says, "Hey, I should take this opportunity to eat lots of immune-supporting vegetables, cut out all the greasy restaurant food, and drink as little as I can during this time." The other involves pre-gaming a 10pm balcony rave. You can guess which option most of South Florida is going with.
But choosing to imbibe a little while stuck at home doesn't have to mean taking bottles of three-buck-chuck to the head. All around Miami, our finest cocktail bars, craft breweries, and restaurants are serving up drinks to-go. Though the laws now are all a little fuzzy, make sure you don't try any of these until you're safely out of your car – or better yet get them delivered – and keep drinking local to make sure all these places are still around when our lives get back to South Florida's definition of normal.
Slam pre-batched cocktails from Miami's best bars
Another silver lining in this whole coronavirus aggravation: less wait time for craft cocktails. Where once upon a time you'd have to stand behind some belligerent tourist ordering 18 caipirinhas for his bachelor party, now all you have to do is go online, order drinks, and drive up to the bar. Phuc Yea! has the Basic Bitch, Phuongs Den and Tom's Who?! in four-drink bottles for $30. Ariete's master mixologist Bobby Gilardi has a rotating menu of creations available in seven to nine drink formats. Avo Taco in Doral is offering individual sized drinks to-go. And Spanglish and Grails are offering ready-to-drink cocktails like palomas and negronis.
Mix the area's best cocktails at home
Don't want to deal with the temptation of having a delicious cocktail in your car while you're still driving? How very responsible of you. A number of South Florida drinkeries will be offering to-go cocktail kits, so you can wait til you get home to mix your drink. Ball & Chain is leading the way with a mojito-at-home mix -- including a bottle of Bacardi rum, lime juice, soda, and fresh mint. Once you see what a pain in the ass it is to make, you'll probably never order another round of 12 again. BarLab -- aka the folks who brought you Broken Shaker -- is also getting in on the make-at-home cocktail action offering the mixers for some of their most popular drinks by emailing order@bar-lab.com. Taquerias el Mexicano is also selling cocktail kits, which you really should serve upstairs in your home behind a fake candy counter. Up in Broward, Casa Sensei has DIY kits for its Asian-inspired drinks. And even PBC is slinging cocktail kit delivery at C.W.S. Bar and Kitchen, sending pre-packaged cocktail kits all over the 561.
Score free beer or wine when you get food to go
You've gotta love restaurants who won't let a little thing like statewide closures keep them from plying you with free drinks. Copper Blues at CityPlace Doral is throwing in free beer with any takeout order. And, if you're planning to live off nothing but wine and baked goods this quarantine, Bachour Bakery is all about enabling you with a free bottle of wine added on to all orders over $100.
Make it Taco Tuesday errrry night with bulk margaritas
Quick: What day is it? Exactly. So you might as well have Taco Tuesday at home -- regardless of the night -- with taco delivery and bulk margs. Coyo Taco has $39.99 containers filled with almost a dozen margaritas. Out in Doral, Cancun Grill will have spring-break-like liters for $24, and whole gallons for $75. That's 20 margaritas, in case you were wondering. South Beach's Pink Taco will deliver you a pitcher of frozen margaritas for $46. Bartaco will have margaritas to go for $7, four-drink carafes for $28, and six-drink carafes for $42. For the full effect, order two pounds of taco meat, elote corn, quinoa salad and Taquiza's famous blue corn tacos for $60, and add a full margarita pitcher for $32. Just go for it.
Do an expert wine tasting in your living room
Sure, you can find all kinds of fancy virtual wine tastings online, but how many of them are sending you the wine to do it with? Abaco Wines and Wine Bar in the Design District gives you the full package by sending over three bottles selected by winemaker Ben Disea along with a virtual wine consultation, all for a mere $100. Once he's off the line you're free to finish all three by yourself, on your balcony, free from the world's judgment.
Enjoy the ultimate comfort combo of pizza and beer
When the weekend rolls around, we all miss the lazy days of sampling craft beer at a local brewery and deciding pepperoni pizza sounds like the best idea since heading to E11even at 4am. Well, you can almost re-create that experience at Gulf Stream Brewing, who has drive-through crowler and growler fills, along with a pop-up pizza shop onsite. Also, the craft beer connoisseurs at Riverside Market have 650+ varieties of beer for sale to-go, along with a limited menu that includes its perfect-with-beer pizza. If you're lucky, owner Julian Siegel will be on hand to walk you through which beers pair best. But, ya know, from six feet away.
Pick up growlers full of beer on the curb
Plenty of breweries who don't serve pizza are also open for business, filling up your to-go containers curbside. Invasive Species just launched three new beers this week, including two IPAs and the Drop Top Pale Ale, which will be available to take home. Wynwood Brewing, Veza Sur, and pretty much any other local brewery that can sell beer to go will happily sell you a crowler, growler, or cans for the road as well. And Tarpon River Brewing in downtown Ft. Lauderdale is offering 20% off all package orders and 20% off takeout food, including its famous hangover fries, spicy fried chicken, and IPA beer mac and cheese.
Sign up here for our daily Miami email and be the first to get all the food/drink/fun in town.
Curt Hollingsworth is a Miami native who normally spends his time enjoying the city, the sand, the Keys, and any bar that claims they have the best margarita in town.