5 great Miami spots for getting your sexy on
There's no one definition of "sexy" -- what fits the bill for you might be totally un-sexy to someone who gets their definitions from UrbanDictionary.com. We partnered up with GUESS Night -- a new fragrance whose own definition includes "hot peppers" -- to track down five very different Miami spots that, one way or the other, provide an atmosphere that serves as a prelude to getting your freak on.
PatPong Road
A red-lit lounge named after one of Bangkok's most infamous red-light districts, plus 90's hip-hop from DJ Jessica Who.
Copperbox Culinary Atelier
Secrets are sexy. So is supper! And clubs! So obviously you can't do much better than a secret supper club where you and your date can get kind of turned on by the fact that you're seated amongst strangers, any of whom might be into super-weird stuff behind their "Nice to meet you, how delicious is this fish?" facades.
Brasileiro Steakhouse and Lounge
The rodizio's dining room sits along the Bay and has a prime view of the Four Ambassadors pool. Is there any more alluring combination than watching a woman eat red meat + watching a woman splash around in a bikini? At least 30 minutes later so she doesn't get cramps?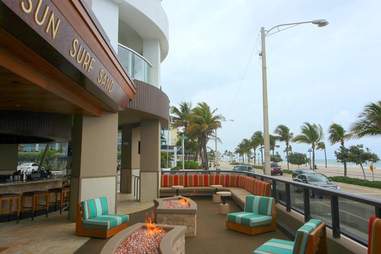 S3
Bring a girl named Sally, and you've got "Sally eating seafood by the seashore". One of the drinks has tequila, beer, and a hot pepper in it, so maybe don't bring a girl named Sally.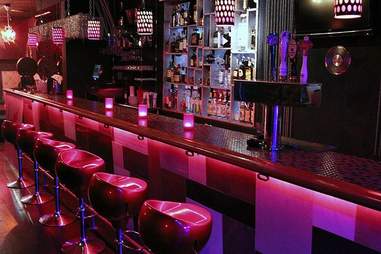 Sweet Saloon Dessert Bar & Lounge
The wall of tiger-striped cushions is so sexy you could eat two deep-fried, panko-and-chocolate-sauce-covered pound cakes and she'd still be in the mood. To yell at you for eating all her deep-fried pound cake. What's wrong with you?