There's a lot to love about Miami. But if endless traffic, people who are never on time, and girls trying to marry you for paperwork aren't your thing, then there's a spot half an hour North of here where you can eat, drink, and lay on the beach all day just like in Miami, except you can do it with none of the hassle and at a fraction of the cost. Don't believe us? Here're a dozen sweet places to get your drink/eat on in Ft. Lauderdale that might just have you calling a realtor.
Best Cocktail Bar: Stache
We'd say "The 1920s are alive and well" at this two-level speakeasy, but then there'd be no A/C and alligators might eat us on the way home. So instead, we'll say they've impeccably decked the place out in furniture that looks like it's from a pre-A/C era, thrown in live burlesque shows, hanging acrobats, and an impressive list of cocktails like the Voodoo Child -- #2 Ron Zacapa, licor 43, lemon, pineapple, and nutmeg dust -- which's likely named after another thing you'd have worried about while walking home in 1926.
Best Burger: Rok:Brgr
Al Golden once said, "If you're not improving, you're decaying." And since nobody likes a decaying burger, the guys behind Ft. Lauderdale's first -- and best -- craft beer and gourmet burger spot have refused to rest on their meaty laurels by coming up with crazy burger creations almost weekly, then adding stuff like the Fat Elvis Burger (creamy peanut butter, local strawberry jam, and thick-cut pepper-smoked bacon) to the permanent menu.
Best Beer Bar: Riverside Market
This converted convenience store in Sailboat Bend has taken spots that used to be reserved for Gatorade and Steel Reserve and packed each one with a unique craft beer, which owner Julian Siegel can probably describe right down to the yeast. Once you've selected your suds, enjoy them outside with a fresh grilled burger or pizza, or inside while playing Rock 'Em Sock 'Em Robots or Monopoly on a frat-house-living-room-chic leather couch.
Best Mexican: Rocco's Tacos
Sipping margaritas as you sit outside on a warm, sunny day on Las Olas is nice. You know what's better? Pounding PITCHERS of Rocco's 14 different, specialty margaritas while eating AYCE tacos on a Tuesday night. Word on the street is Rocco is opening a Brooklyn location soon, which we strongly encourage all of you to visit, then loudly explain to everyone that the margaritas back in Lauderdale are better because "it's in the water".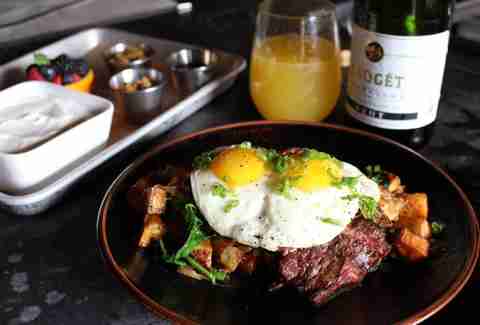 Best Boozy Brunch: Tap 42 Bar and Kitchen
You know those parties where you show up an hour late, stone sober, and realize you're the only guy in the place who can correctly pronounce his own name? This is what'll happen if you show up Sunday afternoon at Tap 42, where every boozy bruncher in Lauderdale convenes to eat menu items that they won't remember (but will wish they did), talk about trying some of the 42 craft beers on tap, but end up getting unlimited Champagne and mimosas for $15.
Best Steakhouse: Steak 954
It's not a secret that this spot on the oceanfront side of The W in Lauderdale Beach has the best beef in Broward. What you might not have known is that their wine list consistently makes the Wine Spectator Top 100 and they've got an equally-impressive craft cocktail menu, with stuff like the Rum, Don't Walk -- made w/ a pineapple shrub & Serrano-infused agave nectar -- that also sounds a lot like good advice for anyone who's had more than two of them.
Best Dive Bar: Dirty Blondes
Nevermind this beachside dive is a perpetual hangout for the old, leathery, possibly-homeless couple that came here for Spring Break '85 and forgot to go home. That alone would win you the "Best Dive" title. But once you've had a bar fight go viral on YouTube and Richie Incognito try to demolish a pool table while shirtless and screaming racial slurs, well, you're pretty much gonna retire as champion.
Best Bar To Find Hot Girls: American Social
If there're two things Tallahassee is known for, they are: having really good security in the seafood section at Publix, and hot girls. And while you probably won't be seeing any loss prevention specialists at this Las Olas boozer, it WILL be overflowing with chicks who spent the best six years of their lives at Florida State and look like they should probably still be there. Plus, even if you're having worse luck with the ladies than Jameis did with those crab legs, they've still got a killer menu with some of South Florida's best mac and cheese.
Best Place To Watch A Game: Bokampers Sports Bar & Grill
"Sports bar" might be just ahead of "gas station" on the list of inadvisable places to get sushi, but the inventive chefs at this place's new, waterfront locale have created some rolls (like the Miami Vice w/ dry-rubbed tuna, mango, pineapple cilantro & masago) that'll make you completely forget about ordering their already-famous wings, all while watching the game on 150 flat-screens right next to the Intercoastal, on which they've also got 350ft of dock space.
Best "Black Hole" Bar: Bimini Bay Bar
Don't get mad when that inconsiderate friend who didn't read this article decides to save $50, flies Spirit, and gets you to pick 'em up at FLL during rush hour. Instead, just leave Miami early, hit this almost-unfindable, windowless dive among the warehouses in the off-airport parking district, and kill time watching the fine "Adult" features playing on the flickering TVs, or listening to borderline-incoherent stories from old dudes in there trying to forget something.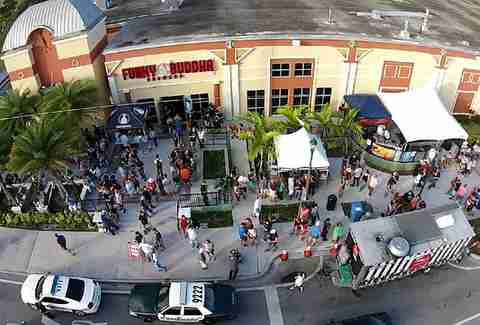 Best Brewery: Funky Buddha
The big dogs of South Florida brewing not only got off the porch, but opened up a 20,000sqft brewery in Oakland Park with a 3,000sqft tasting room. They've also got a pretty sizable porch where you can play bocce ball/cornhole and pound incredibly inventive suds like their "Don't Tell Reese Peanut Butter Cup Ale", or the Novak Djokovic of beers (aka the #2 rated brew in the world), the "Maple Bacon Porter", all while scarfing eats from one of the food trucks always posted up outside.
Best Bar Food: Himmarshee Public House
The Marlins were in first place last week. That's surprising. You know what's not surprising? That the guys behind Rok:Brgr have created the most-consistently-packed bar on Himmarshee, thanks largely to their 50 craft beers, a 10ft LED wall, and Broward's most impressive menu of bar food w/ stuff like lobster nachos, a maple-bacon pork chop, and bacon & corn fritters. And, unlike certain baseball teams, those'll all hold up through October.
Not enough for you? Learn more about great eating spots in Broward when our editor dishes about Lauderdale's best new restos tomorrow on WLRN 91.3 FM from 1-2pm.