The only reason you've ever gone to a Battle of the Bands or minor league baseball game is to say, "Yeah, I saw them before they got big." And to drink beer. This is exactly like that, except the people who aren't big yet are South Florida's hottest new brewers, and you can't drink their beer 'cause these sweet suds -- including one bearing the name of your favorite men's lifestyle website -- aren't dropping 'til later this Fall...
Recommended Video
This Pizza Is Covered in Fish Jerky
The Brewers: Angry Union
The Beer: Drunkin' Pumpkin Ale, 7% ABV
What You're Drinking: This brewery run by South Florida firemen created a medium pumpkin ale w/ pumpkin in the actual mash, plus clove, ginger anise & maple syrup added at the end.
The Brewers: Midnight City
The Beer: Hop Mess Double IPA, 9.3% ABV
What You're Drinking: The overall winner of Riverside Market's semi-annual Home Brew Event last weekend, and probably the one you'll see out soonest, this forward hopped double IPA is made with four different varieties of Chinook and Simcoe hops but still finishes off sweet.
The Brewers: Invasive Species
The Beer: Sea Honey, They're Grapes Berliner Weisse, 4.1% ABV
What You're Drinking: Anybody can locally source stuff like water. But if you want a real South Florida beer you gotta finish off your traditional Berliner Weisse with honey and sea grapes from a local beachside park. To get any more Florida, you'd need a beer made of fermented foreclosure documents.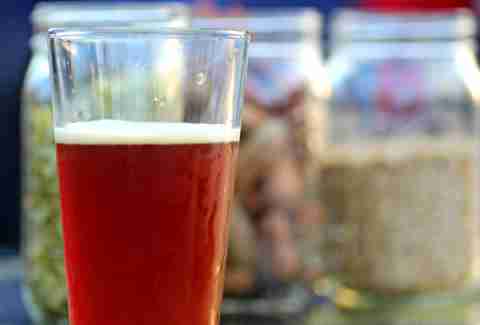 The Brewers: Opus Ales
The Beer: Oak Aged Pootie Tang Amber Ale, 9.7% ABV
What You're Drinking: Just like the dialect spoken by the fictional crime-fighter it's named after, the reason why someone would name this amber ale made with Fuggles hops, ginger & tamarind after said fictional crime-fighter is unintelligible.
The Brewers: LauderAle
The Beer: Thrillist Porter, 5.4% ABV
What You're Drinking: Quite possibly the sweetest porter in the history of sweetness and porters, this ale replaces some of the heavier malts with vanilla coffee beans, which, when mixed with the style's usual chocolate flavors, make this brew a literal winner. That, and the name, obviously.
Pro Tip: Mix the Thrillist Porter's coffee-y chocolatey awesomeness with ice cream, and you get the the Thrillist Beer Float, which you'll have no excuse not to make when our, and presumably your, new favorite brew comes out around the end of the year.