Sure, this winter has us all feeling a little cheated: we survive the soul-sucking summer for the perfect days of January, and thus far we've gotten... summer (minus about 10 degrees). But don't start self-diagnosing yourself with seasonal affective disorder just yet, as there's plenty to be happy out. Just ask these ladies. Or any of the people hitting up one of these dozen new happy hours that'll have you forgetting summer is only a measly four months away.
Wynwood
When: Monday-Friday, 5-7pm; Monday-Thursday, midnight-2am
It's all about the Lincolns at this long-awaited Wynwood spot with $5 Moscow Mules, daiquiris, margaritas, and house liquors; $5 craft beers and glasses of wine; and $5 small plates like the sandwichitos with plantain brioche, pork belly, and watermelon rind.
Downtown
When: Fridays, 6-11pm
In yet another attempt to get Miamians to do ANYTHING early, Areas 31's offering a "chase the clock" happy hour where craft cocktails are priced by the hour: $5 at 5pm, $6 at $6pm, and so forth until 11pm. All by the brand-spanking-new poolside bar with the Miami-required live DJ -- and of course the legendary view.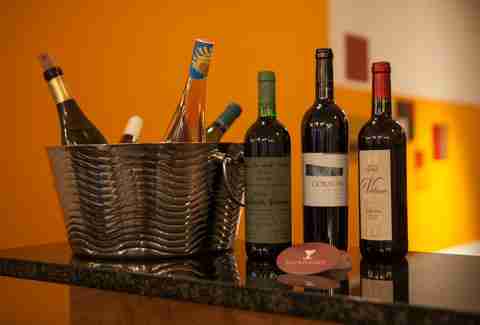 Coral Gables
When: Monday-Friday, 5-7pm, Saturday, 6-7pm
Though we can't promise Heath Porter will let you bring in a Big Mac and pair something nice with it, he will happily pour you a $6 glass of fine wine or a $4 craft beer, and tell you how to pair it with something much more delicious, like yogurt naan bread or roasted bacon.
South Beach
When: Sunday-Thursday, midnight-2am
Not like you weren't going to cap off that 10pm dinner with a fine, hand-crafted beverage from one of the best cocktail bars in Miami anyway. But starting January 18th, you can do it without equaling your dinner check, since drinks will only be $10 at Regent's new late-night happy hour.
Downtown
When: Monday-Thursday, 5-7pm
There was a time when drinking in Bayfront Park was reserved for guys who preferred the subtle pairing of Night Train and illicit substances. But no more! This storied Madrid market opened a pop-up in the park, where you can pair Spanish favorites with buy-one, get-one-free drinks four nights a week.
Wynwood
When: Every day, 4:30-7:30pm
Check out Wynwood's contribution to the Peruvian food onslaught and wash it down with half-priced beer and wine, or $5 craft cocktails like the Lima Redemption: Redemption rye, orange-infused pisco, fresh lime, allspice, pepper, dill, and spearmint.

North Miami
When: Monday-Friday, 4-7pm
The new mini-burger spot from the Burger & Beer Joint guys is pairing crazy-cheap sliders and small sandwiches with half-priced beer, wine, and Champagne. It's conveniently next door to a gym so you can feel EXTRA good about yourself while you do it.
Ft. Lauderdale
When: Every day, 4-7pm
One of South Florida's best boat-up restaurants has finally re-opened, with heavy input from the guys behind YOLO and Fork & Balls. Check out the improvements and sip on two-for-one drinks while you take in the sunset over the canal.
Oakland Park
When: Tuesday-Saturday, 3-­7pm
The Miami burger institution has moved, like so many long-time Miamians, to Broward and has a new $1 "cheapo taco" menu with chicken, fish or pork tacos, or $3 ahi tuna and steak tacos. Pair them with a craft beer for $4 each.
South Beach
When: Every night, 6:30-7:30pm
Don't accuse the Dutch of overcharging for oysters, for this hour they're a very reasonable $1.63. You can use that extra cash to enjoy $12 glasses of Veuve, and other champagne specials.
Midtown
When: Monday-Friday, 4-7pm
Miami's best new spot to eat outside makes that outdoor dining extra inviting with a specially-priced happy hour menu full of lamb burger sliders, bacon-wrapped dates and other stuff that tastes good at 5pm. Almost as good as half-priced beers, wines, and house liquors, or $6 specialty cocktails.
Brickell
When: Monday-Saturday, 5:30-7:30pm
Brickell's super-authentic French brasserie has $1 oysters and other cheaply-priced small plates, plus $5 glasses of wine, $4 beers of the day, and $7 specialty cocktails. And lucky for you it's right next to the Metrorail station in case you have a few too...oh who are we kidding, nobody rides that thing anyway.
Sign up here for our daily Miami email and be the first to get all the food/drink/fun in town.