One night in Bangkok can make... um, chess seem cool? But one night in Bangkok-inspired PatPong Road -- the 50 Eggs people's lounge over Khong River House -- can make you seem cool, especially if you know what eats from Khong to order so that their Thai-inspired cocktails don't go to your (Murray) Head.
Recommended Video
Charleston: The Ultimate Local's Guide
PatPong's named after the street that runs through Bangkok's red-light district (but don't you dare use the couches for anything other than lounging!), and they've got drinks plus they're own menu of food to order from downstairs.
Remember how much fun Capri Suns were? If not, a few of these Laid-ee drinks (which are basically the same thing w/ lime & gold rum mixed in) probably won't help your memory. One thing you definitely shouldn't forget: pair 'em with mini pad Thai.
Drink a few of their Stoli-based Stupid Filthy Dirty Martinis and you'll probably wake up feeling... well, you know. Unless, of course, you pair 'em with the crisp-tasting Summer rolls filled w/ pork & fresh things like scallions, mint, holy basil, carrots, etc.
The Kill B is a spicy gin-based 'tail w/ lemon & white pepper-bird chili syrup that will probably kill you, B, unless you pair it with something rich like drunken rice noodles w/ chicken or shrimp, peppers, baby corn & long beans in Khong's strip fry sauce.
The ladies of PatPong Road might not be real, but this French 75 -- made with gin, fresh lemon, and Delamotte champagne -- most certainly is. Pair it with these skewers of crispy pork balls with lemongrass, kaffir lime, and lemon juice.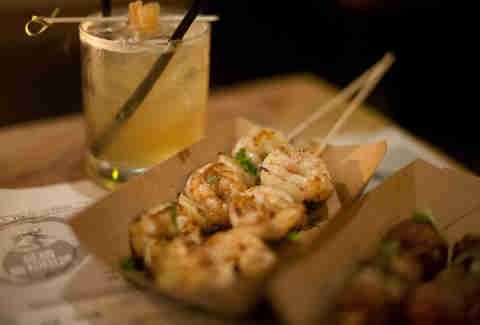 Until now, the most famous Pat from Asia owned a diner in Wisconsin/made Ralph Macchio wax his car. But with the arrival of the whiskey/ lemongrass/ginger ale Pat That , he... um, probably still is the most famous Pat from Asia, but doesn't go nearly as well with Thai street-style shrimp, chicken, or beef on a stick.
If there's one thing that'll make a hard man humble it's... trying to get down these back stairs after one too many of the sweet cocktails above. Our advice: take your time and enjoy the images of the real PatPong Road.