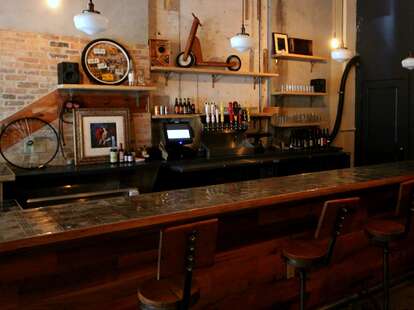 The problem with going to most dimly lit locals' South Beach watering holes is that, for three days afterwards, people will walk up to you, take a sniff, and say, "So, long night at The Deuce?" To avoid this telltale aroma, here comes the 1930 Social Club, the Lucali team's totally hidden, still dimly lit, clean-aired locals' spot with craft beers, low-production wines, board games, and old movies.
To get in, find the black door on the left of Lucali, right before you get to the kitchen. Once inside, the décor is all Prohibition-y, as are the newspaper-covered doors and super-low light that keep this secret club invisible from the fuzz, SEE??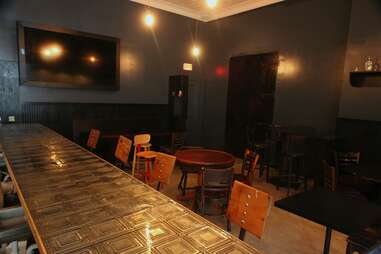 No frills! The '30s hated frills. Belly up to the bar -- made from the roof of the original Lucali in Brooklyn -- order a drink, and watch a vintage silent movie on the very not-1930s flat screen.
After mastering pizza, the Lucali peeps have moved on to its best friend beer (well, ordering it) with a rotating selection of 10 crafts on draft.
There's another dozen in bottles and cans that they'll happily bring you in a glass.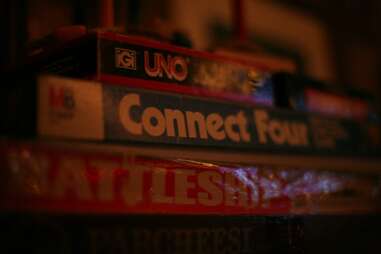 Once inside, you can play cards, dominoes, or dice, or go a little more modern with original versions of classic board games.
The waitress'll gladly bring you either low-production Italian wines or hard stuff like their takes on the Old Fashioned, Brooklyn Shandy, and Manhattan -- but don't ask her for a pizza, you've gotta go back through the secret door to Lucali for those. But that's cool, it smells even better over there.