If there's one thing Miami has a lot of it's... um, club promoters? Well, yes, but it's also got a ton of water. And people who love to drink. People who might like the fact that there are plenty of pretty, romantic restaurants right on said water, but would love a place where they could toss a few back on the waterfront. That's why we rounded up Miami's 13 best waterfront bars, including one that's throwing a special Thrillist Happy Hour this Friday!
Brickell
Fort Lauderdale's frat-tastic FSU outpost just opened up one of the 13 best new restaurants in Miami right on the Miami River in Brickell, where Friday night we'll be throwing a special Thrillist Happy Hour with HALF-OFF ABSOLUTELY EVERYTHING BEHIND THE BAR, $4 Tito's vodka drinks, $10 flatbreads, and $8 mac & cheese from 5-8pm.
North Miami
It doesn't take a genius to figure out that a city that has a club in every single one of its sports venues cares a lot more about the party than it does about any actual sports. Or everyone's just a soccer fan. Either way this waterfront outpost of South Florida's favorite sports bar has two-for-ones all day, every day, a sprawling pool deck, more flat screens than you can concentrate on, and, you guessed it, A LIVE DJ!
Miami River
It's amazing how for 50 years this place managed to serve possibly the best, freshest seafood in Miami, cold beers, and a stunning view of the Miami River and never refused service to anyone because they weren't wearing designer sunglasses. Perhaps the next-door neighbors could take a lesson.

Miami Beach
Though this hotel on the end of the Venetian Causeway is known mostly for its spa and healthy food, well, we wouldn't really be telling you about it if that's all there was to it now would we? No, we're telling you about their French fries that JUST missed the cut in our list of Miami's best, plus the awesome half-price drinks from 4-7pm with front row views of Biscayne Bay.
Brickell
Try texting your friends to meet you at this bar. It's like having a 21st century version of "Who's on First?". So instead of answering their question of where you are with "LOL" every time, just say you're at the Tiki bar behind Four Ambassadors sipping on imported beer and South American wines between a giant swimming pool and Biscayne Bay. Also, it'll keep you from looking like the kind of person who uses "LOL."
Brickell
Even though it's on the second floor of the Mandarin Oriental and not TECHNICALLY on the water, TECHNICALLY your BMW belongs to a leasing company so let's not get hung up on details. Let's just say this was one of the 11 best bars to open last year and is the only one where you can get up close and personal with the Brickell skyline while sipping craft cocktails at a five diamond hotel.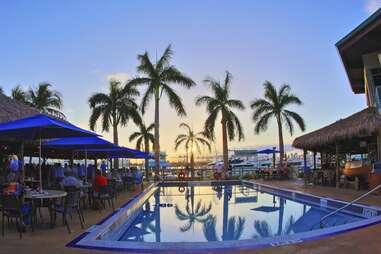 SoFi
A South Beach happy hour that's full of locals is about as hard to find as a waterfront bar on the East Coast with sunsets or a Miamian who's actually on time. At least two of those are present at this bar on the Western side of South Pointe. It's one of the few bayside bars in the Beach that's accessible to folks who don't own million dollar condos, which is why the happy hour is one of the longest-running and most popular in Miami.
Coconut Grove
Go ahead and call this Monty's "the same thing" as the one in South Beach. You'll look only slightly smarter than people who come to Miami and remark on all the "Mexicans." The name may be the same, but for a very complicated legal reason you don't care about, nothing else is, including the view -- it looks East over Biscayne Bay -- and the crowd that is more UM and Coconut Grove, and very little South Beach.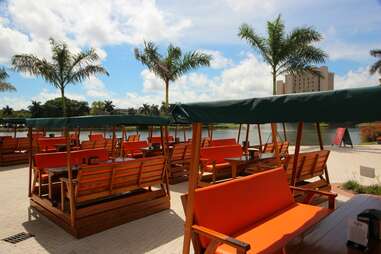 Coral Gables
When you think about beers you drank in college, the words "rotating seasonal selections of IPAs and craft white ales" typically don't come to mind. Then again, you probably didn't go to a school where you'd see three Maseratis parked next to each other. But that's UM for ya, where the legendary on-campus bar has one of Miami's better beer selections plus rocking "gliders" you can sit on while you knock back some pitchers and enjoy the fountain spraying over Lake Osceola.
Coconut Grove
Defying the odds of death better than Keith Richards on a skydiving trip, this Coconut Grove bay-front drinking patio has managed to stay open despite numerous plans for retail and condos in its spot. A regular haunt for old-time Miami locals, there may be no better place in Miami to enjoy the water, live music, and reasonably priced drinks.
North Bay Village
Because it sits right on the JFK causeway, Shuckers is the only bar on this list where you feel like you're sitting in the middle of Biscayne Bay. Or, if you were unfortunate to be there one night a couple years ago, you actually WERE sitting in the middle of Biscayne Bay. Too soon?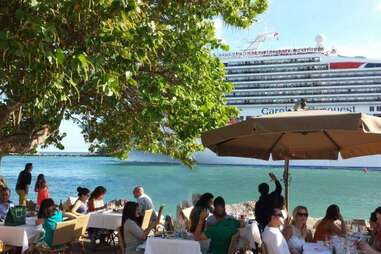 SoFi
Perhaps the best part of having drinks at the bar behind this South Pointe steakhouse is taking in the spectacular panoramic view of the Atlantic Ocean, Fisher Island, and Downtown Miami, plus you can wave to cruise ship passengers as they head out to sea. Watch them wave back as they invariably say to themselves "Ooooh... look! Real Miami gold diggers!"
Key Biscayne
After boaters get back from a long day of taking pictures on Instagram and captioning them "I'm on a boat!" like they were the first one who thought of it, there's only one place to get drinks, and that's Whiskey Joe's, the funky seafood-and-beer joint at the Rickenbacker Marina that's got the best view of the Southern Miami skyline and Biscayne Bay.
Sign up here for our daily Miami email and be the first to get all the food/drink/fun in town.