People in South Florida have been making bad decisions since someone said, "Hey, let's build a city on the edge of an alligator-and-mosquito-infested swamp", but Miami's "Bad Decision Bars" -- the kind of place you go for just one drink and wind up losing your dignity and at least one item of clothing -- are taking it to a whole new level. Here are the seven best (worst?):

Brother Jimmy's BBQ
Brickell
When you put a Southern-themed bar in the second most densely-populated area south of Manhattan, it's bound to attract every former frat guy for miles, most of whom have totally grown out of pounding domestics and asking girls up to their dorm to watch Storage Wars. Now they pound domestics and ask girls up to their condo to watch Storage Wars.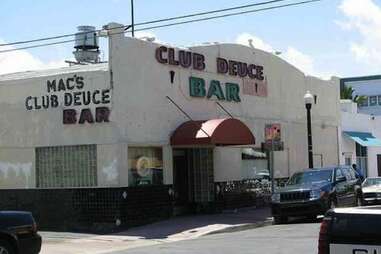 Mac's Club Deuce
South Beach
If you're the type of person who enjoys a happy hour that starts at eight in the morning, then you'll probably make a shton of bad decisions whether or not you step foot inside this smoke-filled dive -- once you do, however, said bad decisions will probably include thinking that you can beat a man in polyester pants at pool, or that the bartender won't eighty-six you for playing Aerosmith on the jukebox, or that a "few" more drinks couldn't hurt any worse than the hard wooden barstools.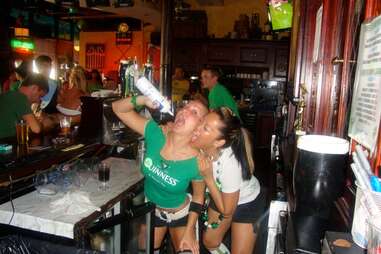 The Playwright Irish Pub
South Beach
Bummed because you got turned away at Mansion? Even more bummed because you got turned down AGAIN at Cameo? Oh, look what's right in the middle….an Irish bar where Coors Light pitchers are just $10, and where all the girls who ALSO got turned away are sucking down Boddingtons and miserably telling you how everyone in Miami is shallow and stupid? Hell no! Get these sloppy chicks away from us! Yes, please!
Sandbar Sports Grill
Coconut Grove
That Freon that drips from the A/C onto your head might be to blame for your embarrassing decision to dance on top of a lifeguard chair covered in spilled draft beer -- not quite as embarrassing as being in one of the "adult feature films" that have been shot inside, or having your name on the wall for finishing five pounds of burrito, but still.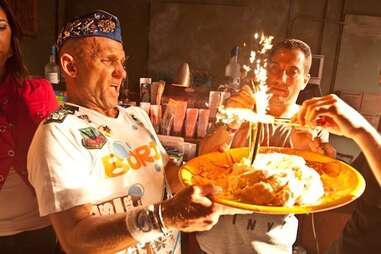 Club Space
Downtown
It's possible that the decisions you make at Club Space at 2 in the afternoon on a Sunday aren't really that bad. It's also possible that they're utterly terrible, and you can't tell the difference because you've been here dancing/drinking since the sun came up, and are, presumably, a little Spaced out.
Tavern in the Grove
Coconut Grove
If you could take every bad decision you made in college and stuff it into a tiny bar along with 400 of your best friends, minimal A/C, no walking space, and septic bathrooms, you have Tavern in the Grove. Playing beer pong right next to a men's room with perpetually overrun toilets? Check. Going home with a girl who openly told you she goes to Ransom/Gulliver/Palmer Trinity? Check. Challenging the entire UM offensive line to a fight because they refused to pay for a pitcher for said beer pong game? Check, and thank you Jeremy Shockey for keeping that from going any further. Perhaps the only person who ever made a good decision at the 'Vern was the guy who bought it last Fall, closed it, and finally fixed those men's room toilets.
Ted's Hideaway
South Beach
There is apparently a hole in the universe on the corner of 2nd St and Collins Ave in South Beach where time passes at, like, quintuple the speed it does elsewhere. This would be the only explanation of how "going to Ted's for a quick drink" at 11p on a Tuesday ends up with you going to work Wednesday feeling like your head just got crushed between Ronnie Coleman's forearms. On a cruise ship. That, or the all-girl bar staff flirts enough that you can't help but order another drink.