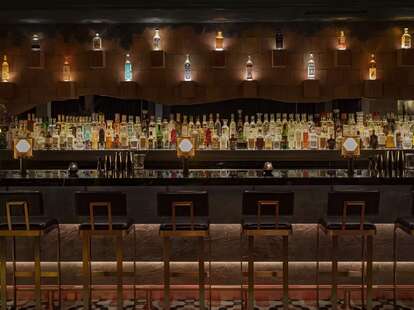 If you didn't know much about the history of prohibition, a Miamian might guess that every secret bar that ran during the 1920s was fronted by a taco shop. And while our abundance of taco stand/speakeasies is still a little befuddling, our collection of not-so-secret backroom bars has branched out past their carne asada pasts. Now you can find cool cocktail dens everywhere from back alleys in South Beach to ballrooms in downtown hotels. Here's a look at the best speakeasys in South Florida.
When the team behind Coyo was tasked with overseeing the Moxy Hotel's dining program, we knew it would only be a matter of time before the place had a Coyo-like speakeasy. So it was no surprise when Como Como stuck this swanky space behind the restaurant's expo line. Mezcalista is a mezcal bar equally as upscale as the restaurant it abuts, boasting over 100 different mezcals and tequilas, live music, and overstuffed couches that will keep you hanging around longer than you'd anticipated.
How to book: Stop by for first come, first served seating.
The Chopin Ballroom on the second floor of downtown's InterContinental hotel doesn't look like much more than a generic meeting space. But when a 1920s flapper guides you past the empty coffee urns and soda tubs, you magically end up in a slice of prohibition-era Miami. The small space is done up in vintage furniture, boasting a bar stocked with methodically made infusions and tinctures and a menu of genius cocktails. The thrice-nightly seatings begin with a small lesson in mixology, followed by intimate cocktails from a cast that never breaks character.
La Yolanda Mezcalería Bar

| La Yolanda Mezcalería Bar
Little River's gentrification process is almost complete now that it, too, boasts a taqueria with a backroom speakeasy. This bright pink taco shop busts out some of the best tacos in the city by day, and by night leads guests down a glittering hallway to a mezcal bar that stocks the kind of hard-to-find stuff you'd expect to discover in a space so far removed. The bar feels a little like a 1970s party den, too, complete with disco ball and couches adorned in leopard pillows.
How to book: Show up for first-come, first served seating.
The Mad Butcher

| The Mad Butcher
Typically, walking past the plastic curtains in a restaurant called "The Mad Butcher" falls squarely under the category of asking questions you don't want the answer to. But not at this Wynwood BBQ joint, where in addition to boasting the best beef ribs in Miami they also offer a swanky backroom bar hidden behind said curtains and a fake (we hope) side of beef. Once you've passed the beefy bouncer you'll be in a classic mirrors-and-champagne lounge, where you'll feel just a little guilty about how many ribs you just took down.
How to book: Show up for first-come, first served seating.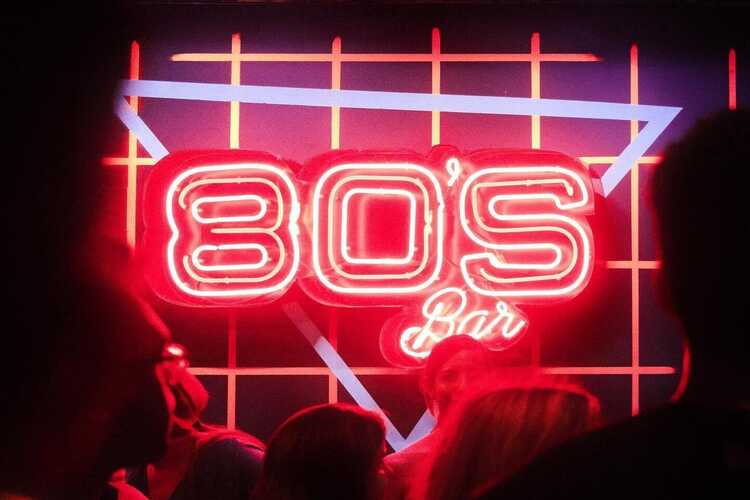 The '80s Bar at Cafe La Trova

| Cafe La Trova
Nobody's really complaining about the world-class cocktails and cool Cuban music at award-winning Café La Trova. But sometimes your night just calls for a little more Mex Headroom. If that's the case on a Friday or Saturday night, head straight to the back of Café La Trova where the '80s are still alive and well. In addition to an entirely different drink menu, you'll also discover vintage shows on TV, new wave on the stereo, and tributes to the white powder that made Miami what it is today.
How to book: Show up for first-come, first served seating.
Swizzle Rum Bar & Drinkery

| Swizzle Rum Bar & Drinkery
Basement bars are a bit of an anomaly in elevation-challenged South Florida. But the closest thing we have is this somewhat-subterranean speakeasy perched a half-story down from the Stiles Hotel lobby. Through a hallway and behind a curtain, you'll find a collection of rums from across the globe, set in a dark, nautical space that feels a bit like a ship captain's study. The team behind Employees Only runs the bar here, which means you're getting some of the best drinks in the city, no matter what's on the ever-changing menu. Swizzle also recently added an outdoor poolside venue called Delirio, so you can enjoy the same crafted creations in a tiki-fied setting.
How to book: Stop in for first-come, first-served seating.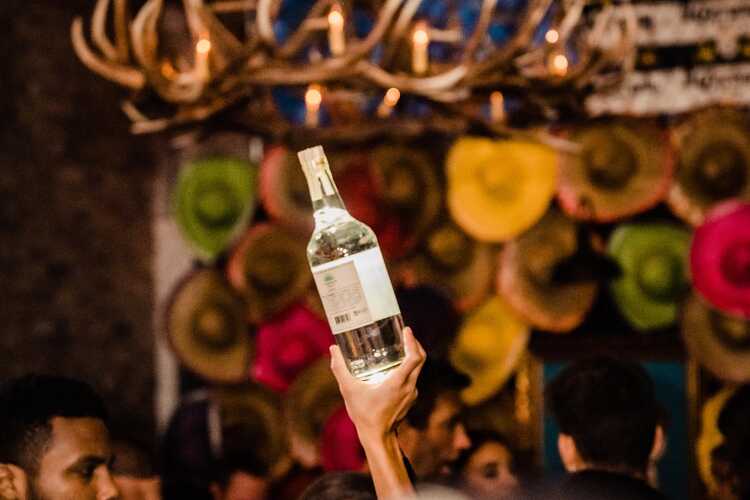 Bodega Taqueria y Tequila

| Bodega Taqueria y Tequila
Though Bodega has now stretched its tacos-and-nightlife empire across the tri-county area, only the South Beach original still has that hidden tequila den feel. Venture through this joint's bright blue crapper door and you'll step right into South Florida's version of Narnia—a swanky, two-story speakeasy lounge decked out with vintage couches, a long wooden bar, mas tequila, and lit wall-messages that are just so... Miami.
How to book: Stop by for first come, first served service.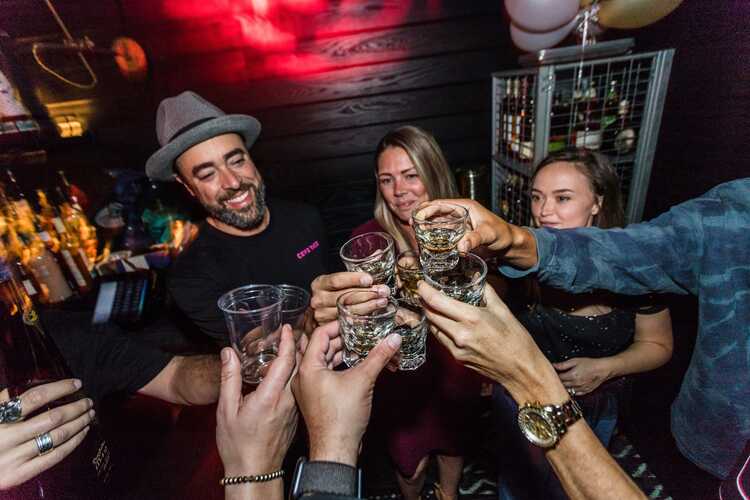 Coyo Taco

| Coyo Taco
With its wooden picnic tables, laid-back vibes, and made-to-order charred octopus, quinoa, Gulf shrimp, crispy duck, and Angus steak tacos, this tiny taqueria is known for long lines and the best Mexican street food in the state. But just past the factory line of made-to-order guac and high-top tables is a lesser-known, equally awesome hideout. A throwback garage bar boasting an impressive number of tequilas and mezcals, in-the-know hipsters, craft beers and paletaritas (a.k.a. popsicle-based margarita cocktails you'll probably want at least five of).
How to book: Stop by for first come, first served service.
The Hyatt Centric isn't typically where one would expect to find South Florida's coolest new speakeasy, but that's exactly what happens when a hotel takes a nondescript ninth floor room and transforms it into a retro cocktail den, complete with vintage furniture and dim red mood lighting. Each week, the bar invites different mixologists from around the nation to strut their stuff for the reservations-only "crowd"—we put that term in quotes because no more than eight people at a time can enter 901, and parties are limited to two hours.
How to book: Reserve via Seven Rooms.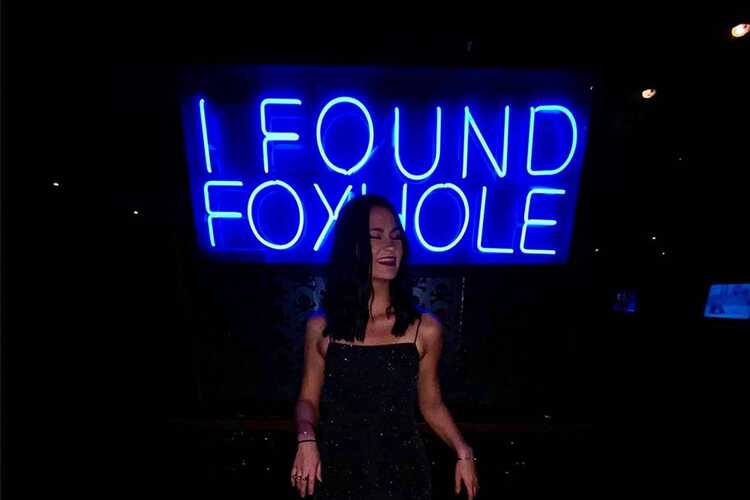 Foxhole

| Foxhole
Marked by nothing but a single red light posted down a sketchy alleyway behind a random Dominoes, Miami's most popular speakeasy is known for strong drinks, sexy lighting, swank vibes, and—because, when no one can find you, why not?—glass cases full of (presumably unloaded) bazookas, handguns, and assault rifles. Casual.
How to book: Stop by for first come, first served service.
This bar throws down potent 1920s-inspired drinks right in the heart of an authentic Italian pizzeria. Tucked away in the right side of Fort Lauderdale's Pizza Craft, this upscale speakeasy is stocked with "Bar Chefs" instead of bartenders manning more than 300 whiskeys, 20+ craft beers on tap, and an absinthe drip, all set to a backdrop that looks like a kind of stylized bistro frequented by Vito Corleone. But just because you're drinking inside a pizzeria, don't assume you can show up in your jorts, sandals, and an old UM shirt—this is a classy joint and the semi-formal dress code is strictly enforced.
How to book:Stop by for first come, first served service.
While the rooftop views from Sugar might be the main attraction at Brickell City Centre's swanky East Hotel, head past the host stand and beyond the bathrooms and you'll find a covert bar tucked away in the sky. The views are almost as spectacular as its more public cousins—minus the humidity and sudden thunderstorms. Plus, there's plenty of cushy seating and even an Asian Night brunch—a two-hour feast that's almost as beautiful as the bar itself.
How to book: Reserve via Seven Rooms.