O
nly in Miami is the biggest event on the 4th of July a Brazil vs Colombia soccer match. That's what happened in 2014, in case you forgot, and it's a big indicator of why Miami is the best place in America to watch the World Cup. We know the USA isn't participating this year, but as the most international city in America,
Miami's bars
will still be packed with fans from all the countries that are, cheering with more passion than anyone ever has for the Marlins. And to help out even more, we tapped FOX World Cup broadcaster, Fernando Fiore, and asked for his No. 1 place to catch the matches, which you'll see below.
The action begins on June 14 in Russia and the first-round matches run through the 28th, with games kicking off at 8am. We'll also be updating this list with new events, parties, and places to drink as they come. So where should you go for the best World Cup viewing experiences in South Florida? Here's our picks.
Brickell
Cheap beer buckets, raffles, and real-life soccer players
Not that the fine people who run Batch would have any qualms opening at 7am to serve drinks regardless, seeing as it's more socially acceptable to drink during morning soccer matches two continents away, they're taking full advantage. Brickell's neighborhood sports bar will have 5-for-$25 16-ounce buckets of Bud, Bud Light, Shock Top, and Rolling Rock. Plus $5 Estrella Damm drafts, jersey raffles, beer tastings, visits from ex-players, and pretty much everything else you'd want in a Tuesday morning soccer party.
Multiple Locations
Your home for Argentina futbol and empanadas
The Argenite-run brasserie will be THE spot for all games involving La Albiceleste. But no restaurant in Miami draws international crowds like Novecento, so even when other teams are playing the place will still be packed with flag-waving fans scarfing empanadas and chugging Polar. You'll probably get the most interesting crowd in the Brickell location, but Midtown, Aventura, and Key Biscayne will still be very "Miami" World Cup watch parties.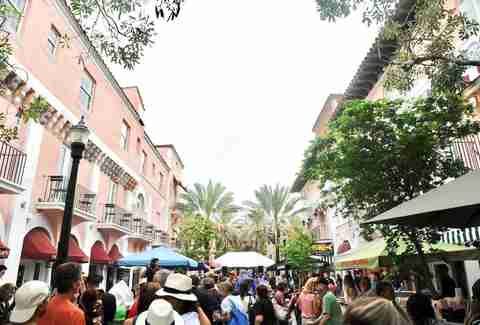 South Beach
The ultimate World Cup street party
You want the biggest balls-to-the-wall street party in Miami for the World Cup? Look no further than Espanola Way, where 17 restaurants representing different participating countries will all be hosting epic parties throughout June and July. Wanna party like you're south of the border? Head to Oh, Mexico! Jumping on the Brazilian bandwagon? Boteco Copacabana is your spot. Tapas Y Tintos will be all about Espana. Plus there'll be live music, dancing, and big screens in the street, plus 20% for all Miami locals when they download the Apple Wallet discount card.
Shorecrest
Ground zero for all things Brazil
If anyone knows how to party, it's the Brazilians. And at Boteco, you'll stuff your face with picanha and down caipirinhas while listening to the game's commentary get drowned out by a never-ending samba band, vuvuzelas, and likely more Brazilians than you'll find in the actual stadiums.
Brickell/Las Olas
A waterside watch party with a scrolling sports ticker
Even though the Florida State soccer team will not be competing at the World Cup this year, that won't stop the usual crowd of Tallahassee alums from firing up both AmSo locations. Big screens and sports tickers abound at the Brickell spot, where you can watch the matches right next to the water while still following the hockey and basketball playoffs. In Las Olas, it'll be jam-packed insanity as everyone who's moved home from FSU in the past 10 years will be watching here. With the same people they hung out with in college.
South Beach
As close as you'll get to watching in Ireland without having to pack a sweater
Will it be jam-packed with every South Beach tourist looking to watch the World Cup? Yes. Will those tourists include insane Brits and Irishmen looking to turn the first pub they can find into a little slice of hooligan home? Absolutely. So while it might not be the most authentically Miami spot to watch the games, it's going to be one hell of a party. Just make sure to get there literally hours before any match starts. This crowd's been known to start drinking early.
Wynwood
Latin American beer and breakfast burritos in a spacious courtyard
Veza Sur is releasing its new El Diez beer on June 14, a special Latin-inspired brew adding to the South American flavors the place has become known for. Watch the games in the giant outdoor courtyard, and enjoy breakfast burritos and coffee during games before noon. There will also be a huge opening weekend party, plus $2 Chugg's for anyone who shows up in a jersey all World Cup long.
Hallandale
Soccer with a heaping side of horse racing
If the excitement of a sport where 1-0 finishes are the norm isn't quite cutting it for you, spice it up with a little simulcast! Head to Frankey's where, in addition to all the matches, there'll be live racing at Gulfstream just steps away as well as simulcast thoroughbred wagering from all over the world. All of which you can bet on without getting up and possibly missing the only goal of the day.
Hallandale Beach
Big screens with a bigger ocean view, and a Final on the sand
That seven-hour time difference can make catching early games a real pain. Of course, if you're watching the matches with a big beach sunrise in the background, it's a little easier to handle. Etaru might not be the biggest party for the World Cup, but it's definitely the prettiest setting for early matches, where soccer will be accompanied by sunrise. There will also be a free drink given out with any breakfast dish to get a least a little bit of the party going, and a final match screening right on the sand.
Shorecrest
Authentic German food, beer, and people on a big outdoor patio
Germany is a big favorite to win the Cup this year, and you'll get no more intense a spot to watch that team than this outdoor patio on NE 79th Street. They've got all the oversized beers and pretzels you'd expect in such a spot, along with the hands down best German food in the city. Schnitzel is the obvious choice to soak up your brews, but don't skip out on the potato pancakes or warm apple fritters. And if it gets too hot, the inside is painted sky blue... but with 100% more air conditioning.
Multiple locations
Two-for-one drinks from 10am until you feel like leaving
As if you needed more motivation to start drinking before 10am, now you can get Duffy's MVP points for your pre-work shots, as South Florida's heavyweight sports bar is opening early for all key matchups. You'll be watching the games on a minimum of 80 giant flat screen TVs while you count all those loyalty rewards you're racking up. But with the sound on and a full bar, you'll barely remember you were supposed to be at work in the first place.
Coral Gables
Big noise and big beers in a Coral Gables beer hall
Even if you're not there to watch Germany, no venue in South Florida feels more like watching the World Cup overseas. The crowds will be international everywhere, but the Gables' quintessential beer hall feels like Oktoberfest even when the World Cup isn't on. During the matches, the high ceilings and echoing acoustics make the cheers and lamentations extra loud. And when the party spills out onto the patio and street in front, the matches become a city-wide spectacle.
Miami Beach
Fernando's Pick! A raucous sports bar across from the beach with plenty of TVs and action.
On Ocean Drive, literal steps from the beach, you'll find Finnegan's Way. A bustling sports bar and breakfast/brunch spot, Finnegan's will undoubtedly be a World Cup hub for the residents of South Beach and the surrounding area. There are plenty of TVs to crowd around and a robust menu of beer and food alike (for breakfast, when most of the games are, expect omelets, breakfast sandwiches, and huevos rancheros). And even if you're not really into the matches, Finnegan's outside seating is a prime spot for people watching.
Sign up here for our daily Miami email and be the first to get all the food/drink/fun in town.