The Most Underrated Bars in Miami
<strong>Clandestino |&nbsp;</strong>Diego Texera
Back in the good ol' days of Miami, hanging out somewhere "underrated" meant going anywhere that wasn't a highly promoted, fashionable club. Now, with seemingly normal bars opening left and right (dare we say too many?), it's easy to forget about the haunts that were there for you when you needed them most. A lot of the entries below are located inside a restaurant or hotel. But that's what makes them underrated, no?
From cocktail terraces to wine havens, here are nine of the most underrated bars in the Miami area.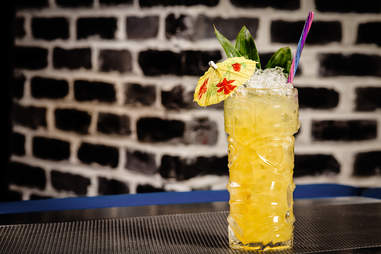 Craft Social Club
South Beach
Perhaps this bar (not a club -- don't you DARE call it a club) is underrated because it's so new you haven't heard of it yet. So enjoy being "in the know" for now. This drinking den on the first floor of The Mercury Hotel greets you with a sign straight out of Cocktail, and also has "cocktail suites," which, if this were a club, would be like VIP tables. There's also a small dance floor, if you're still into that sort of thing. What you'll definitely be into are the drinks. They're all named after some kind of iconic thing from the '80s and '90s, like the NWA (Negroni With Attitude), Salute Your Shorts, or the Swedish Chef, made with rhubarb-infused Absolut Elyx, Pimm's No. 1, lemon, ginger beer, and mint-cucumber syrup.
Brickell
Most Miamians overlook this spot because a) no one wants to drive through Brickell construction to get to Brickell Key; b) valet parking; c) it's located inside the Mandarin Oriental, Miami, which many assume is too expensive (it kind of is); and d) you're probably going to La Mar, which has its own bar. But don't! Here, there are floor-to-ceiling windows overlooking the Brickell skyline, strong classic cocktails with an Asian twist, and a fancy setting, all without the five-star prices. And one time, we snuck out to the lawn area and played bocce. We're still not quite sure how the bocce equipment got there.
Shorecrest
It has all the German beer (including the ones you can't pronounce) you won't find anywhere else, securely housed in a hidden mini beer garden. It takes a step further with a large selection of beer cocktails like Lager n' Lime, Berliner Weisse, and Hazelnut Wheat. Plus, it's one of the only spots in town that airs futbol on the regular, not just for special games.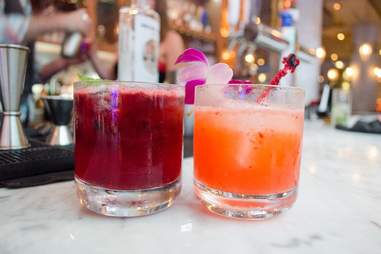 Toro Toro
Downtown
We've been touting this spot since it came on the scene. Not only is the bar crew serious about cocktails -- expect to find barrel-aged concoctions and the use of strange ingredients, evidenced by the Donkey Kong, made up of Monkey Spiced Rum, banana-vanilla syrup, and Aztec chocolate bitters -- but they're also extremely nice people, which can be hard to find in these parts.
Kendall
Stay with us for a second. Get past the fact that it's Canadian, and that it's located in one of the busiest malls in the city. There's a huge and incredibly beautiful bar and outdoor terrace here that rivals any in the city. It gets better with a robust list of local craft brews that is especially nice for the area, an equally appealing wine list, and craft sodas (que es una craft soda?).
Adena & Grill Wine Bar
Hallandale Beach
A day at the races deserves something better than Yard House. When you walk into the restaurant, skip the main dining room altogether and either turn left for the cocktail nook, or right for the wine bar. Each offers its own unique style. BUT, If you go with three other people, the cocktail nook is so secluded that you will feel as if you bought a private bar at a restaurant. Plus, you may have forgotten where you parked, so leaving is just not an option.
Coconut Grove & 8th St
Sure, it'll likely be filled with an older crowd. But who are you kidding? You're old now, too, and hanging with your parents is all of a sudden kind of great. Pull up a stool to the wine barrel tables, order a well-done churrasco, and grab a bottle of red wine off the walls. Try not to break anything.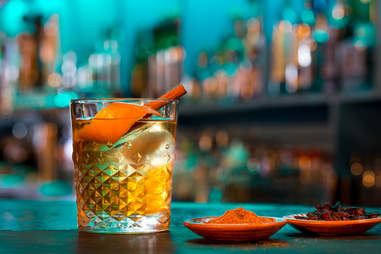 Diego Texera
South Beach
Forget that it's on Washington Ave. This urban, Mexican-decorated spot is like the resurrection of the dearly departed Zeke's and Abraxas, early pioneers in the local craft brew scene that also boasted low pricing and under-the-radar tap takeovers. Hit up the Wolfsonian-FIU beforehand, and you've got yourself the most underrated date night ever.
South Beach
Remember when this spot first exploded on the scene? Craft cocktails, quail egg-topped duck burgers, crazy parties with badass LED lighting, and video walls? Those were the days. And they still are! But now, you can also grab late-night bites at Huahua's Taqueria next door.
Sign up here for our daily Miami email and be the first to get all the food/drink/fun in town.
As an underrated writer herself, Mandy Baca knows a thing or two about the topic. Follow her on Twitter: @mandybaca. She posts occasionally.