Hey, you've kept that whole "going to the gym" resolution for a whole week already (!), so it's time to reward yourself with a delicious carb-filled Boozy Brunch. Lucky for you, we've found 11 brand-new ones where you can drink all you want and numb the pain from that solid week of workouts.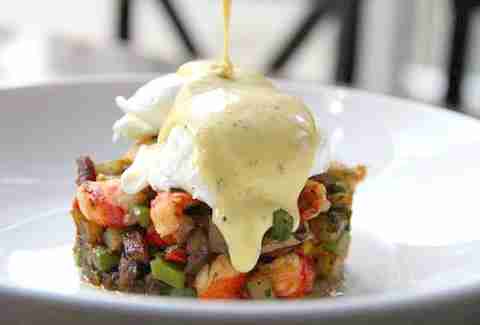 SoFi
The booze: $35 bottomless mimosas or Bloodys, if you're not into bottle service
Bottle service at brunch. Yep, it's come to that. So wash down Fabio Viviani's brunch creations -- such as lobster hash w/ caramelized vegetables, cured pancetta & truffle hollandaise; caramelized waffles; and steak & eggs -- with a bottle of Absolute and a Bloody Mary kit right at your table, or get a bottle of Veuve with OJ for $90.
Miami Beach
The booze: $20 unlimited mimosas or Traymore Gin Punch
Since the Traymore has quickly established itself as a bastion of "serenity now" in techno-fueled South Beach, it makes sense that their new brunch would be set to live jazz. You can relax with your foie gras & duck egg sliders or lobster & avocado grilled cheese and listen to live music from 10:30am-3pm every Saturday.
Coconut Grove
The booze: $14 bottomless mimosas
Do you live for eggs Benedict like Bryan Norcross lives for hurricane season? Then your new go-to brunch spot is TK's at the Villa Mayfair, which launched Benedict Maniac, with 10 different versions like the portobello Benedict, bacon Benedict, crab cake Benedict, and lox Benedict.
SoFi
The booze: $25 bottomless Bloody Marias. Something they DEFINITELY don't have at KFC
In their never-ending quest to one-up Colonel Sanders, the guys behind this upscale South Beach Mexican joint have cooked up a mole with TWENTY herbs and spices, which you can have for brunch along with camarones al chipotle, cochinita pibil, and other Mexi brunch staples for $55.
Davie
The booze: $12 bottomless mimosas, bellinis, and beer Bloody Marys
Once a month just wasn't enough for the people of Davie, so BC Café is now serving brunch every Sunday from 10:30am-3:00pm. The menu's highlighted by chicken & waffle sliders topped w/ cheddar; beef bulgogi & kimchi grits; and the breakfast burger w/ bacon, eggs & a potato pancake. Or try a $10 sampler plate of their whole brunch menu.
MiMo
The booze: $19 unlimited mimosas
Not content with just having Miami's essential French toast, Cesar Zapata is launching a whole new Texas-inspired brunch menu with lemon pepper calamari, crawfish-stuffed blue crab, and corn cakes topped w/ caviar. Because nothing says "Texas" like caviar.
South Beach
The booze: $15 unlimited mimosas, Bloodys, or sangria
If you haven't enjoyed one of Miami's best new places to eat outside, their new Mediterranean brunch is the time to do it so you can scoop up all you want from their 14-station buffet that includes seafood paella and grilled lamb, pork & chicken. Or make your own omelette next to the Collins Canal.
Ft. Lauderdale
The booze: $15 bottomless mimosas and Bloody Marys
Since such a large percentage of Broward County hangovers seem to get their start here on Saturday nights, it's only fitting you get your start on a Monday hangover here too. They've introduced a new brunch menu with red velvet pancakes, smoked bacon, sausage & cheddar croquettes, a fried chicken basket, and banana bread French toast, plus other brunch staples to soak up whatever's in your stomach.
South Beach
The booze: $39 unlimited Canard-Duchene brut or a Bloody Mary bar
The South Beach outpost of the Michael Schwartz empire is getting into the act with its Bloody Mary bar with horseradish, beef broth, cured ham, bacon, jerky, and 10 other ingredients.
Brickell
The booze: Unlimited Champagne and Pisco Sours are included for $85
There's so much great stuff on the menu of one of Miami's best new restaurants of 2014 that it'd cost you a lot of money -- and even more space on your waistline -- to try it all. Better to hit the new Sunday brunch from 11:30am-3:30pm and crush the buffet of cebiches, causas, and a cornucopia of meats from the anticucho grill.

Edgewater
The booze: Plain mimosa with OJ & Mercat cava brut, or the fancy version w/ blood orange juice & Oudinot Champagne
Danny Serfer clearly has a contract with a sunscreen company because after making Miamians wait in the blazing sun for his Sunday brunch at Blue Collar, he's making us do it again at his new spot, where shellfish dominate the new brunch menu -- including crepe stuffed w/ crab; lobster Benedict; shrimp & crab quiches; and an egg scramble w/ shrimp, asparagus & sausage.
Sign up here for our daily Miami email and be the first to get all the food/drink/fun in town.