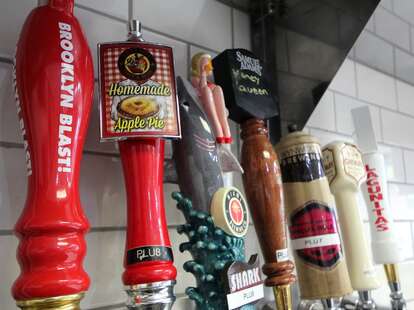 Miami So, yeah, Miami was a little late to the craft beer party. Miamians love being late. And while three years ago having an "extensive beer selection" meant you carried Presidente AND Presidente Light, now it seems like even gas stations are bragging about the awesome suds they're slinging. No, like literally, there's a gas station selling craft growlers, plus four more new spots you need to check out now.

Mendez Fuel
Coral Way
Ever been in a Mobil station paying for gas and thought, "Maybe, I should grab some beef jerky. Oh, and how about a bag of Famous Amos. And maybe some plantain chips, and... oh SWEET MOTHER OF ALEX THE STROH'S DOG THEY'VE GOT 32oz GROWLERS OF LAGUNITAS!"? Then stop at this newly managed Coral Way gas-slinger that's got 16 taps with rotating craft beers you can take to-go, plus a curated selection of craft bottles right in front of the pork rinds and sugar-free Red Bulls.


Continue Reading
The Mighty
Coral Way
If you're looking for something you can drink on the premises then the best new spot's gonna be here, where SF-transplant Ryan Brooks has scoured the world for this menu of hard-to-find beers and craft staples, all served with house-made sausages and house-cured bacon, plus there's a pool table.
Taps Restaurant Bar & Lounge
Ft. Lauderdale
You might think the guys behind this new Himmarshee resto-bar are just really big fans of 1980s Gregory Hines movies, but the name's actually a reference to the 30 beer taps and 20 wine taps on the back wall, plus they've got another 270 beers and a dozen wines by the glass. Also on the menu: awesome food like Belgian waffle vanilla ice-cream sandwiches with Nutella.

Craft Bar and Q
Edgewater
The guys who started this new Edgewater beer and barbecue joint clearly think afternoons should be about as productive as Dwyane Wade in the finals (too soon?) because they've got a full menu from Passion BBQ and more than a dozen craft beers on draft for $3 during a SEVEN-HOUR HAPPY HOUR starting at noon every day.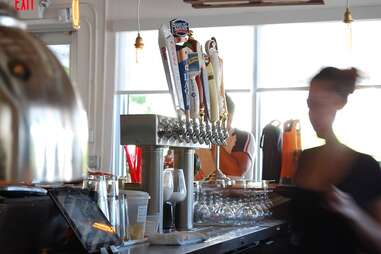 Tap 79
MIMo
Even though America and Belgium AREN'T the best at soccer, they're still the best at beer, or at least so thinks Bin 18's Alfredo Patino who opened up this new gastropub that slings 22 of those knockout-round losers' best suds, plus eight more craft beers on draft and a menu of small plates highlighted by Salmon Scooby Snacks, which you can totally get away with eating, meddling kids or not.
Maybe someday you'll see these spots on our list of America's 33 best beer bars