Miami Sure, Miami's got its problems -- 99 of them, to be exact. But a lack of good happy hours definitely ain't one of 'em, because the sun coming up is pretty much an excuse for afternoon drinks in this city. So open up that group text that's been blowing up your phone all day, and send your drinking buddies this list of 10 brand-new happy hours that you're gonna want to check out.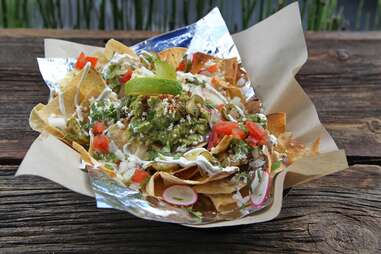 HuaHua's just launched not one, but TWO happy hours, where you can bring your dog for $3 beers, $4 margaritas, and $1 off of nachos with all the fixings from 4-7pm Monday-Friday. Then it happens AGAIN from midnight-4am Friday and Saturday (for when you get home and remember you need to walk your dog). Continue Reading
Stout Bar and Grill wants to give you one of everything -- draft beer, craft beer, wine, specialty drinks, martinis, appetizers, and shots -- for $5 from 4-7pm Monday-Friday. What that "one" is changes every day, so you've got a built in excuse when people say "you're going there AGAIN?"


We're not sure how much the tongue is, but Tongue & Cheek's giving you beef cheek sliders for $2, along with $5 hot or Korean wings, $5 drafts, and $8 bar snacks and craft cocktails from 5-8pm daily.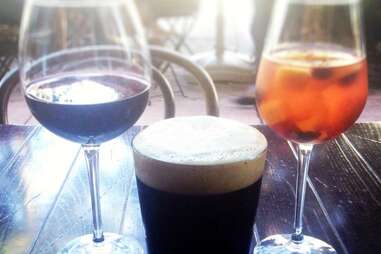 If Shore Club's top-rated pool party is just a little too intimidating for you, hit up the bar during the less-bikini-filled hours of 5-8pm Monday-Saturday for $5 beers and $8 well drinks. Yes, an $8 well drink is a deal. Welcome to South Beach.
Taperia Raca goes all Lionel Richie and gives you half-off select tapas and cocktails ALL NIGHT LONG on Tuesday, but you can get that same half-off deal from 4-7pm Wednesday-Friday too.


Orange Blossom is dishing up a special HH menu with salmon tartare, margherita flatbread, mac & cheese, and more for just 6 bucks. Or for that same $6 you can get pretty much any drink behind the bar, plus $4 beers.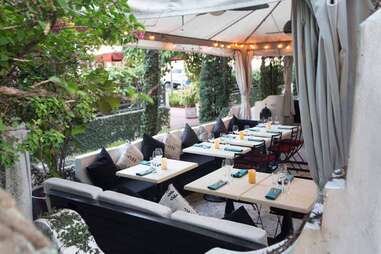 660 at The Anglers is getting you as close to Jamaica as you can get without getting contact high this Wednesday's from 5:30-7:30pm with $6 Jamaican Punch and jerk chicken wings. The HH theme will rotate every Wednesday too.
Bull Market the new Himmarshee spot whose prices -- like stocks -- change based on demand, but it keeps market fluctuations to a minimum from 4-7pm every day with 2-for-1 on everything, and the occasional "market crash", dropping ALL prices and spiking unemployment.