Miami's 9 Hottest New Happy Hours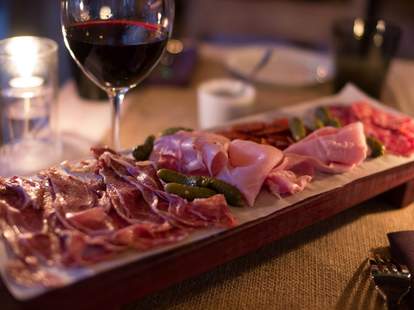 You can generally tell who's a tourist in Miami because, unlike locals, they don't get legitimately excited about a happy hour with $6 drinks. And while this might be considered "expensive" in some cities, here it's more like "the best deal in town," so for price-conscious locals -- and tourists who don't feel like getting abused -- here are nine hot new happy hours where you can drink like you're in a city where $14 vodka sodas aren't considered "normal."
Brickell
You've probably been stalking American Social's Facebook page thinking: "Damn, I need to get in and get me some of that... mac & cheese." Or maybe your motivations are different. Whatever they are, hit one of Miami's best new restaurants of the winter from 4-8pm for half-off almost everything behind the bar.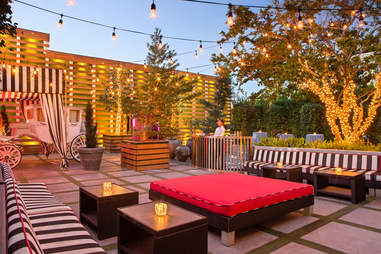 Courtesy/SMASHED FLAMINGO
South Beach
The courtyard outside Mokai is finally being used for something OTHER than making you wait in line for two hours to get into a club with 15 people in it now that every Friday they'll be grilling chicken burgers and hot dogs that you can enjoy on porch swings while you sip $8 craft bourbons, beers, and wines from 6-11pm. The fun starts this week with a traditional Caja China.
TAMARINA<br /> &nbsp;
Brickell
Even though the people who re-did Lippi were trying to make this new spot more affordable, they took it one step further and made it affordable-er with $4 beers, $5 wines, and $6 specialty cocktails. Light bite offerings include half-priced oysters, a $5 shrimp cocktail, a $7 prosciutto or bresaola board, and $7 fried polenta.
Coral Gables
Chow down on some of the best chicken wings in America for $6, then wash them down with $5 specialty drinks, $5 wines, $4 beers, $5 liquors, and $5-7 DIY Old Fashioneds Monday-Friday from 4-7pm.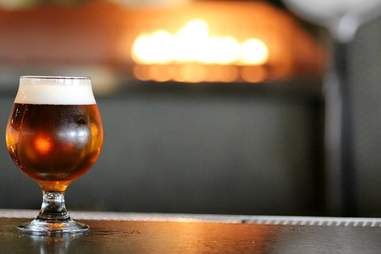 THRILLIST/MATT METLZER
SoFi
Because Italians never like to use a name Americans came up with, Siena Tavern will offer a cicchetti hour from 6-8pm daily. There'll be oysters, meatballs, and various salumi plates, plus house-made sangria, Negronis, Moscow Mules, wine flights, and $7 classic cocktails.
Brickell
The only thing less common in Brickell than a $3 beer is a year-round resident who actually owns a condo. You can find at least one of these at Moye, where from 5-7pm daily there're $3 bottles and impressive Italian wines for $7.
Brickell
The bar with the best view in Brickell -- that's also one of the best new bars of 2014 -- lets you enjoy $8.33 drinks thanks to a three-for-$25 happy hour, where you can enjoy craft cocktails and listen to Cuban jazz, sultry Spanish guitars, and beats from Brazil with new Bossa Nova Thursday-Saturday from 8-11pm.
SEMILLA
South Beach
The restaurant that defied Alton Rd construction nightmares celebrates the reopening of Miami Beach's local North-South arterial with a $6 menu of draft beer, specialty cocktails, and an array of small bites like potstickers and oysters Monday-Thursday from 6-8pm and Fridays from 6-10pm. 
BATCH
Brickell
Batch is clearly trying to make a play to end up on Miami's list of bad decision bars bceause it's slashing drink prices at prime bad decision making hours and offering $4 beers, $5 craft beers, wines & premium well drinks, plus $6 Fireball shots from 12-5am. 
Sign up here for our daily Miami email and be the first to get all the food/drink/fun in town.