If you're a Miamian who's lived here any longer than a year, the only reason you go to clubs anymore is to remind yourself why you never go to clubs anymore. However, we must all remember that not EVERYONE is a jaded local, and that occasionally, people come to town who want to experience the Miami they see on TV -- $21 vodka sodas and all. And sometimes, if you actually venture out to a club with them, you'll find that said clubs can be -- crazily enough -- fun. So read on for some spots to take those visitors, or clubs you might actually like, that are undoubtedly the best clubs in Miami.
Downtown
Take all the bad decision making of a strip club, throw in a swanky rooftop, big-name DJs, LED screens, and a stage with a pole that lowers into the ground, and you've got Miamians' new favorite place to do things they'd rather forget. This Downtown mega-club never closes, and is more like a club with topless dancers than a strip club. Yes, you can go get a private dance in the back. But you can also join the throngs of female patrons at the tip rail who tuck more bucks than the guys, or head upstairs for a cocktail at Touché, one of Miami's best rooftop bars… where you'll inevitably look off to the horizon and say, "Oh God, is that the sun coming up? We really need to go."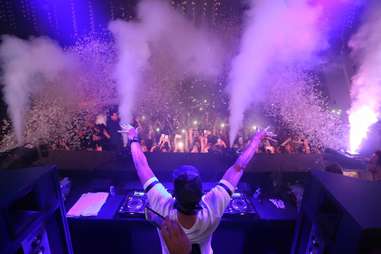 South Beach
Story seems to have finally broken the Opium curse on 2nd and Collins and opened up a club that lasts longer than a hockey season. And by closing in the former open-air space, and leaving plenty of room for dancing and VIP tables, Story's become mentioned in the same breath as LIV for celeb spotting, tourist splurging, and (supposed) model mating calls.
Miami Beach
The club who's name actually is the Roman numeral for 54 has become about as close to the legendary studio as Miami's seen since Chris Paciello was running Liquid. And since "getting a table at LIV" is basically Miami for "my weekend's gonna be way cooler than yours," the two-story megaclub in the Fontainebleau is definitely a top contender.
South Beach
Nestled between a CVS and a store full of "I'm in Miami, B**ch" T-shirts sits a rather nondescript door that opens into a massive main room of sensory overload, starting with a chandelier that's bigger than your house, glass tubes filled with almost-naked dancers, pounding dance music, and red padded seats for you to chill in on the dance floor.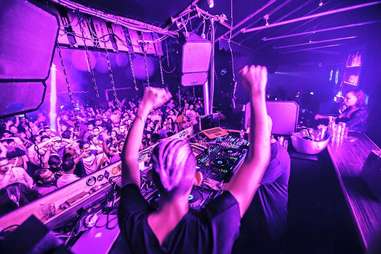 Downtown
Any Miamian worth his bath salts has at least a dozen stories that start with, "And so then we decided to hit up the Space patio," none of which can be repeated here. The after-after-after-hours club is Miami's greatest freak show and, depending on when you're there exactly, is the kind of spot everyone will swear is the greatest place in the history of civilization... and then say exactly the opposite the next morning.
South Beach
What does one do after one spends six years in prison with ties to the mob? Open a club in South Beach, duh... or at least you do if you're Chris Paciello, who has returned to the club scene that made him famous with Rockwell, a smaller-scale spot that might not be as big as Liquid, but is every bit as swanky. The artsy interior (complete with Leonardo da Vinci's Vitruvian Man on the wall) makes a great backdrop for the crowded house of beautiful people, all of which seems to have Paciello lightening up the club death zone that was 7th and Washington.
South Beach
So if South Beach locals don't go to "clubs," where do they go? Rec Room. And seemingly only Rec Room, because this spot at the bottom of the Gale hotel is never anything less than packed, typically with people who actually live in Miami. The music is a nice mix of open format and '80s/'90s hits in a laid-back living room space, allowing those who came out to have fun -- and didn't come out to "be seen" -- have a dance club they can enjoy, too.
South Beach
Finding a good hip-hop night in South Beach can be even harder than finding a good driver. But that's why we're glad this spot opened up in the old Aerobar space on 23rd and Liberty Ave, where on any given night you might see FloRida sitting amongst other big spenders at the VIP tables that line the surprisingly large dance floor. The parties here are classy hip-hop affairs that keep a strict door and a sophisticated crowd... even if they might have the occasional "Say hello to my little friend" theme nights, complete with small ziplock baggies of Splenda on every table.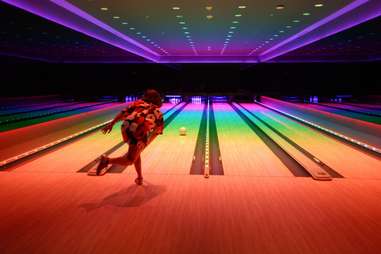 Miami Beach
In a city where every third restaurant is named after its address, it should come as no surprise that a place seemingly named by a kid has become one of the hottest clubs in town. The downstairs of the Edition is collectively known as "Basement," and the multi-faceted parties thrown in the spaces down there are equally as self-explanatory. The ice rink is called "Skate," the bowling alley is "Bowl," and the open-spaced nightclub at the end that plays 20th-century dance hits? That's Disco. But simple names do the trick, since this place is jam-packed with both tourists and locals, straight from Thursday-Sunday.
Downtown
Until the Miami Worldcenter turns it into Brickell North, the Park West entertainment district is probably the most underrated Miami neighborhood for nightlife. Its newest entrant? Heart, a club actually designed for people who like music and dancing, and not people who buy bottles. Think of it as what Space was once upon a time -- a large-scale mega-club that attracts big name talent and lets people in regardless of their ratio. It's an insane concept that's led this place to become a favorite among local partiers... who will hopefully keep it open once the towers go up around it.
Sign up here for our daily Miami email and be the first to get all the food/drink/fun in town.