The 8 best places to celebrate Oktoberfest in Miami
We know the REAL Oktoberfest started Saturday and only goes five days into October. But this isn't Germany (didn't the humidity and palm trees give it away?) and Miamians don't really show up for stuff on time. That means you've got a whole month full of sweet fall beer events/promotions to look forward. Here're the eight best...
October 18
Grovetoberfest in Peacock Park is the only Oktoberfest party that made it onto our list of must-do fall events, and it is home to more than 300 beers, including special releases from Wynwood Brewing, MIA Brewing, and Miami Brewing Company, plus the long-awaited debut of Concrete Beach. Oh, and you can go ABSOLUTELY FREE if you Tweet this Playbook and cross your fingers.
Through October 5
Even if downing boots of rare German beers on their covered, outdoor biergarten doesn't get you here for Oktoberfest, then the chance to eat some of Miami's best schnitzel totally should. Still not convinced? Well, any ladies rocking dirndl are getting their beer for free, which is something no one should miss.
October 4
And they said there'd be no action in Marlins Park in October. It's not baseball or anything, but it IS Miami's biggest Octoberfest party -- complete with a Ferris wheel, a dunk tank, a zipline, live bands, and 18 different beers you can suck down while wondering what this place is used for when it's not Octoberfest.
October 2-12
The Gables' famous bierhaus, Fritz & Franz's, will be hosting a 11 day party on the plaza out front. You'll have the chance to drink German craft beers, eat Austrian food, and participate in competitions that include beer stein holding; yodeling; bratwurst eating; and, something we really hope a few Ladies of Ultra show up for: a nailing contest.
STOUT
Through October 5
Maybe people laughed when you bought your lederhosen/dirndl, but you'll be laughing last when you stroll into Stout with 'em on and get a free mug of Spaten Oktoberfest just for dressing appropriately. That free beer will come in extra handy when it's time to wash down their special Oktoberfest platter (bratwurst, knockwurst, and nurnberger sausages), real sauerkraut, and German potato salad.
THE FEDERAL
Through October 5
The best neighborhood restaurant in Miami Shores is getting all kinds of German with a special menu of Fatherland favorites like German onion soup with grilled cheese and pork belly; potato-rolled venison sausage with celeriac puree; and "Schweinshaxed" smoked pig wing with barley salad. They've also got an impressive selection of beers like Sam Adams Fat Jack Double Pumpkin, 1554 Black Lager, and Brooklyn Brewery's Kriek Ghost Bottle 2013.
October 17-19 and October 24-26
You can hoist all the steins/eat all the schnitzel you want, but the most authentic way to celebrate Oktoberfest is with actual Germans at the German-American Social Club. They'll educate you in some Oktoberfest history you didn't know, or failing that, server you plenty of beer.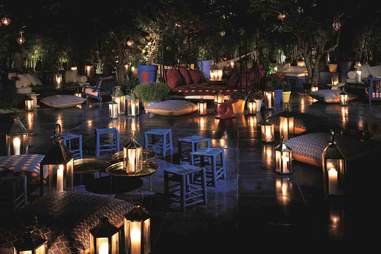 SHORE CLUB
Through October
For the month of October, the swanky SkyBar in the back of the Shore Club trades its fancy martinis for good old-fashioned craft beer, with a special Oktoberfest food menu as well as a new selection of brews just for the month. And, because you read Thrillist, tell them we sent you and get HALF-OFF your food and a 3-for-$20 beer special. Hey, it's South Beach... yes, that's a special.
Sign up here for our daily Miami email and be the first to get all the food/drink/fun in town.