Thrillist's Patio Power Rank: The 7 finest outdoor drinking spots in Miami
Except for that one hour in the afternoon when everybody stampedes under the overhang to get out of the storm, drinking outside in Miami is Summertime. And since having a patio is pretty much required to open a bar down here, we've saved you the hassle of going to all 700,000 and honed in on the top seven spots to get your drink on outside in South Florida.
7. The patio at Club Space
34 NE 11th St; Miami; 33132; 305.375.0001
Any Miamian worth his bath salts has at least a dozen stories that start with, "And so then we decided to hit up the Space patio". None of which can be repeated here. The after-after-after hours club is Miami's greatest freak show and, if you go on a Sunday around 2p, everyone will swear it's the greatest place in the history of civilization. Answers Monday morning may vary.
6. Tobacco Road
626 S Miami Ave; Brickell; 305.374.1198
Miami's oldest bar feels so much like home that, when you sit on the back patio under shady banyan trees, you half expect the next door neighbors from upstairs to come out and start yelling at you. They've also got a massive back parking lot that hosts tomato fights, food truck rallies, and the occasional performance by Blowfly.
5. Nikki Beach
1 Ocean Dr; Miami Beach; 33139; 305.538.1111
If you're hungry for brunch on a Sunday morning, nothing beats the white chairs on the sand under shady palms at Nikki Beach. If you're nowhere near hungry on Sunday morning because you're still up from Saturday night, the brunch ends at 4p, and then the real party begins.
4. C-Level at The Clevelander
1020 Ocean Dr; Miami Beach; 33139; 305.532.4006
What better place to scope out the talent at Miami's Easiest Bar to Get Laid than from six floors up at the legendary Clevelander? The beach-y views aren't bad either, and, if you're lucky, you can convince some girls to pose for swimsuit pics in their colorfully lit fountain.
3. Scotty's Landing
3381 Pan American Dr; Miami; 33133; 305.854.2626
Hit up Scotty's on any sunny afternoon and you'll find the hidden bunker of all the people who've been living here since before 1980. The Coconut Grove waterfront drinking shack's hypnotic views of Biscayne and daily specials on cold beer make it a magnet for longtime locals and newcomers desperately pretending to be one.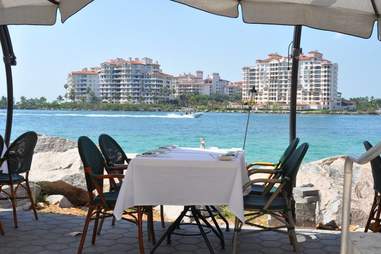 2. Smith and Wollensky
1 Washington Ave; Miami Beach; 33139; 305.673.2800
 Sure, Miami's version of one of the country's legendary steakhouses has the best views of the ocean, downtown skyline, and Fisher Island in Miami. But, more importantly, it has even BETTER views of attractive women running through South Pointe Park on their evening jogs, and equally-as-attractive women stationed at the bar waiting to find a sponsor.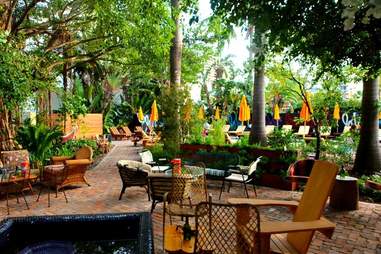 1. The Broken Shaker
2727 Indian Creek Dr; Miami Beach; 33140; 305.531.2727
Whether they're crafting crazy cocktails from the herb garden outside, or bringing you said cocktails poolside, ping pong-tableside, or bocce ball-courtside, Broken Shaker has put together hands down the coolest eating and drinking spot in the city. The backyard of the Freehand Hostel has hammocks and tons of comfy wood chairs where you can relax under a banyan tree or sun yourself by the pool, and just added an awesome menu with empanadas, nori rolls, and sugarcane chicken skewers. It's definitely Broken, but don't fix it.