Yeah, seven hours is a long drive, but this year you're going to watch the #1 team in the country and, oh yeah, the DEFENDING NATIONAL CHAMPIONS. The last time you could say that was 1999, or when this year's freshmen were three. THREE! That means you might not fit in with all the people slamming Old Crow at AJ's anymore. So where do you go in Tally now that cheap liquor and fast food aren't on the menu? We're here to help.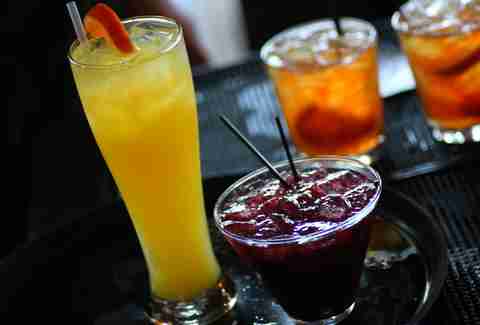 Although there's no relation to Tallahassee South on Las Olas, this indoor/outdoor spot across from Doak Campbell will be ground zero for bar drinking on gameday. It will also probably be ground zero for the post-gameday hangover brunch, thanks to bacon & banana pancakes and the MadSo burger with a fried avocado, peppered bacon, and Jameson caramelized onions. And with $6 specialty drinks and $2 drafts, it might be the spot for Friday happy hour too.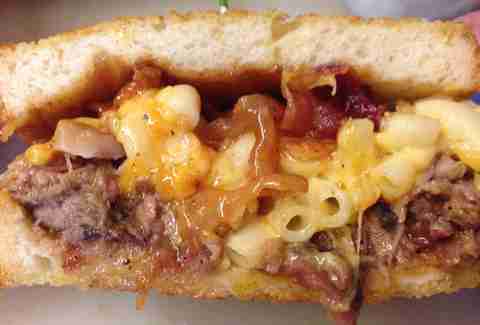 You probably know this place as Monk's. But due to some legal shenanigans and a deep-seated desire to confuse intoxicated alumni, the name has been changed. However, the menu is still the same, including the peanut-buttery Lip Smacker (with smoked bacon and cheddar on a Kaiser roll) and the Gator-Hater (with bacon, red onions, lettuce, tomato, cheddar cheese, and horseradish mayo on buttered and toasted sourdough). But, strangely, there's no actual Gator.
Back in Miami, we get excited and write whole freaking articles when some resto sells oysters for two hours a day for less than $5 each. But in the wallet-saving miracle that is Tallahassee, this 69-year-old wood shack will serve you the best oysters in the city for about $7 a dozen, plus authentic hush puppies and plenty of cold beer.
Back in school, spending $5 on beer usually meant getting an entire case of "ice" something and having enough left over for a bag of Funyuns. But somewhere along the line you realized that there's beer out there that tastes like something other than a bar floor, and this local brewery (which just opened a more sipping-friendly location in Railroad Square) has plenty of it. Pro tip: don't try doing Century Club with their 10% Warpath Imperial IPA.
Hopefully by now you've started looking at rooftop drinking as more than just a really cool way to see how far you can chuck a Coors Light bottle. If so, you're ready to hit this lounge on the top of the historic Hotel Duval, where you can point out all the rooftops from which you USED to chuck Coors Light bottles, or just enjoy the Tallahassee skyline with a Garnet & Gold, Tallahassee Lassie, or Los Ochos margarita.
Although there's a noticeable shortage of dudes with Rollie Fingers 'staches and suspenders, the bartenders at this Downtown craft cocktail den will still mix you the drink of your choice for half-off every day (including game weekends) from 4-7pm, then again from 10:30pm-12:30am. It's still a far cry from a $2 liquor pitcher when it comes to value, but it's also a far cry from a $2 liquor pitcher when it comes to hangovers.
If your definition of "exotic food" now extends beyond what blend of ketchup/soy sauce/Taco Bell packets go best with Top Ramen, absolutely make a point to hit this Indian/African/Caribbean/generally spicy cuisine joint and use some injera bread to scoop up their Ethiopian stew that's got lamb, chicken, or shrimp that's seasoned with berbere spice, veggies, and lentils.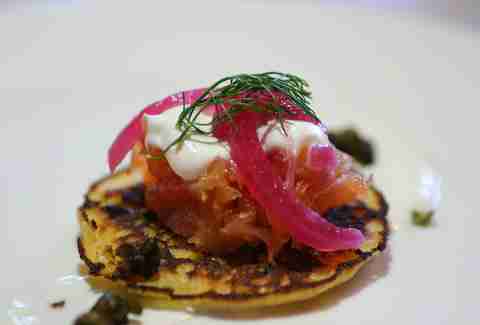 Unlike the similarly named Michael Schwartz creation in the Design District, this Tallahassee mainstay isn't just old Florida in theme, it IS old Florida. And while this Southern-style spot near Downtown used to be on your list of "places I'll go when Mom and Dad come to help me move", hopefully by now you've got enough scratch to go and try stuff like blue crab cakes with apple-melon slaw or the Sugar Cane Mopped Ribeye with creamed potatoes and onion rings. Hopefully.
Don't act like going ALL THE WAY TO GEORGIA is too far to get a burger, you know you did it at least twice a week to get 40s of Mickey's Big Mouth back in the day. It's definitely worth the trip to get fresh-from-the-cow cheeses or this burger at the legendary cheesery's restaurant Blue Coop, where they wood-flame this sucker and top it with fried green tomatoes, pink peppercorn aioli, and hot pimento cheese.
Why you're bringing kids to a game weekend is a question we're not even going to delve into. But if you (or those people in your group who think tailgates are family events) brought their little ones, this toy store/soda fountain/homemade candy shop is your go-to because they'll give you a front row seat while they make hard candy, sodas, and ice cream treats, PLUS they'll let you play with their pre-programmed wall phone that may or may not call Comcast's customer service line when you dial "666".
Sign up here for our daily Miami email and be the first to get all the food/drink/fun in town.