Miami knows a thing or two about how to get a party kicking. Actually, we know a thing or hundred about that subject. But it doesn't take superhuman party know-how that puts the rest of America to shame to know that tequila is a very good idea, so we rounded up a quintet of hot agave spots.
El Vato Tequila & Taco Bar
Tequila Bona Fides: Nearly 60 to choose from, and Cheech & Chong -- the mango nectar tequila drink, not the duo.
Quick Bite: Chicharron De Queso, which is basically a blend of Mexican cheeses made as crisp as the $5 bill it'll run you.
Toro Toro Pan Latin Steakhouse & Latin Spirit Lounge
Tequila Bona Fides: Over 30, but what'll really be disco to your ears is the Ring My Bell margarita. It's got bell pepper in it, so you know it's good.
Quick Bite: Yuca fries topped with olive oil, lemon, garlic, herbs, and vinegar. Bonus points if you know the difference between spices and herbs.
TeQuiztlan Mexican Restaurant and Tequila Bar
Tequila Bona Fides: TeQuiztlan means "land of tequila". It was founded on the principles of having more than 50 tequilas.
Quick Bites: Sampler Antojitos: quesadilla locopeno, tostada, chicken & beef flauta and a mini-chimichanga served with pico de gallo and beans.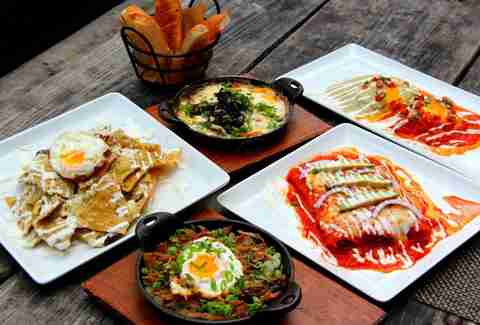 Mercadito
Tequila Bona Fides: As many problems as Jay Z has, they have more tequilas.
Quick Bite: The pastor tacos, totally non-denominational with chile ancho rubbed pork, grilled pineapple, and chile de arbol salsa.
Cantina Beach
Tequila Bona Fides: Sip on over 85 tequilas, by the beach. Can't decide? Just ask the "Tequilier", that's what he's there for.
Quick Bite: You can't have a bad time with queso fundido.