Cigar City Brewing

| Cigar City Brewing
Cigar City Brewing

| Cigar City Brewing
Less than a decade ago, Florida's craft beer scene was meager. Sure, there were a few (Cigar City, for example, opened in 2009), but over the past five years, the state's beer scene has grown exponentially. St. Petersburg and Clearwater on the west coast offer the "Gulp Coast Trail," a map of about three dozen breweries to visit. In Miami, the Wynwood neighborhood offers four breweries within walking distance of each other (with more to come). The year-round temperate climate dictates that many of Florida's breweries also feature lush patios that allow you to get your drink on under the stars. From the theme park capital of the world (Orlando) to the sun-drenched Keys, here are the ten best breweries in Florida.
Dunedin
Beer Picks: Beers rotate, but the specialty is sour beers
This tiny Gulf Coast brewery is helmed by former brewers from SweetWater and Cigar City, who operate out of only four and a half barrels but come up with the most innovative beers in the state, thanks to co-founder Devon Kreps' degree in fermentation science. That allows 7venth Sun to push boundaries with its sour beers and give Florida flavors it hasn't seen before.
Tampa
Beer Picks: Jai Alai IPA, Florida Cracker Belgian-Style Wheat Ale
This Tampa brewery is Florida's standard bearer for good beer. Located in Tampa, tourists from Orlando make a day trip out of a brewery tour. The brewery is so popular, it has satellite locations at the Amalie Arena at the Tampa International Airport. For all its glory, you might think Cigar City (named for Tampa's once-thriving cigar-making industry) was founded decades ago, but in reality, it started making beer in 2009. The brewery also proudly boasts that it is vegan-friendly.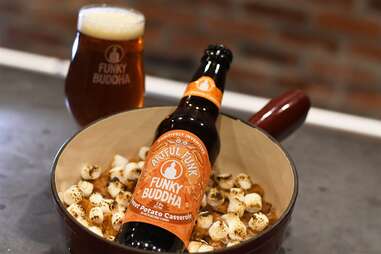 Oakland Park
Beer Picks: Hop Gun IPA, Last Snow Coconut Coffee Porter
What started in 2010 as a small Boca Raton beer lounge has exploded into the most inventive, off-the-wall brewery possibly in all of America. The brewery opened a mega brewery and taproom in 2013, offering indoor space and an outdoor dog-friendly patio. It offers several excellent core beers like Hop Gun IPA and Floridian Hefeweizen, but it's most loved for its culinary seasonals like a maple bacon porter, a coffee and coconut porter, and a Thanksgiving-only sweet potato ale.
Fort Lauderdale
Beer Picks: Patrick Hazy IPA and Ninja Juice Sake/Beer Hybrid
Is it a taproom or a natural history museum? That's the first question you'll ask yourself when you walk through the doors of this always-lively brewery filled with skulls and taxidermy animals. Don't let the decor distract you from the seriously good beers. Invasive Species focuses on juicy IPAs and sour ales, both of which are perfect for pounding during South Florida's ever-oppressive heat. Don't miss out on the Ninja Juice, a sake/beer hybrid brewed with sake yeast.
Islamorada
Beer Picks: Sandbar Sunday American Wheat Ale, No Wake Zone Coconut Key Lime Ale
The drive from Miami to Key West is beautiful. The part of US1 that connects the Keys to Florida's mainland is called the Overseas Highway for good reason—much of the 113-mile-long stretch of road is actually a series of bridges that connect each Florida's keys to each other. Halfway down, you'll find Islamorada Brewing. This bright yellow and blue building houses a small taproom that's filled with friendly people and cold beer. Much of the core beers are brewed at Islamorada's 25,000-square-foot facility in Fort Pierce, leaving the smaller Islamorada outpost to make experimental beers. Look out for beers made with local fruit like a mango habanero wheat ale. Islamorada also distilled its own spirits, so you can also have a cocktail if beer's not your thing.
St. Petersburg
Beer Picks: Piddle Pils, Off the Leash IPA
There's only one thing better than a pint of fresh, cold beer—and that's knowing you're also helping dogs in the process. Pinellas Ale Works (P.A.W.) has a dual mission, brew "doggone" good beer and host weekly and monthly events that benefit Pinellas County animal-related charities. The dog-friendly (naturally) taproom features beers with canine-inspired names like Piddle Pils, Peanut Butter Pup, and a Milk Bone stout.
Gainesville
Beer Picks: Wild Night Honey Cream Ale, Big Nose IPA
Gainesville is best known for its football team, but should also be proud of its beer. Swamp Head brewery is an epic operation full of beers that represent the entire Sunshine State with names like Cottonmouth, Saison du Swamp, and Hydroslide.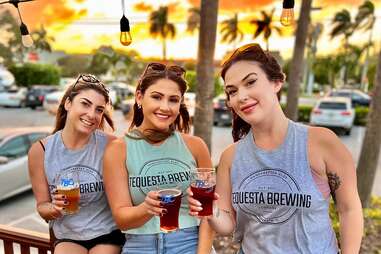 Tequesta
Beer Picks: Der Chancellor German Kolsch, Julio's Weizen
Tucked away in a tiny strip mall just north of the Martin county line, this Treasure Coast beer stalwart has been putting out the best craft beers in that region for almost a decade. Dubbed South Florida's first craft brewery, it won a silver medal at the Great American Beer Fest (GABF) for its Bock in Bock.
Miami
Beer Picks: Dragon Fruit Passion Fruit (DFPF), Berliner Weisse, Hops 4 Teacher IPA
Johnathan Wakefield started his beer journey as a home brewer who raised capital for his Wynwood brewery through crowdsourcing. Years later, the brewery is known for two things: Florida Weisse beers (sour porch pounders made with local fruit) and a Star Wars-themed space, complete with a Han Solo encased in carbonite table. The brewery is somewhat of a Miami tourist attraction, but it creates some of the most unique and solid beers in the state. Worth the hype.
Miami
Beer Picks: La Rubia Blonde Ale, Pop's Porter, Laces IPA
Father-and-son duo, Luis and Luis "Pops" Brignoni, opened Wynwood—the first brewery in the City of Miami proper. The smallish taproom is teeming with locals and a smattering of tourists who find the brewery at the far west reaches of Wynwood (right near I-95). Wynwood won a GABF award for Pop's Porter, a rich beer with chocolate and coffee notes. But its most loved beer is its La Rubia, a blond ale that's a refreshing foil to the impressive chicken wings sold by Cluckin' Right, which sets up Thursday to Sunday evenings at the brewery.