Much like New Yorkers claim you can't find a good deli (WRONG!), and girls claim you can't find a good guy (probably a lot less wrong), those of us who enjoy our drinks machine-crafted and non-muddled complain that there's nowhere to find a good dive bar. Oh, sure, Wynwood's got plenty of "laid back" places where your feet stick to the floor and the bartenders ignore you. But they also charge $7 for a beer. And no, PBR doesn't count.
And since Miami has about as much regard for history as it does for punctuality, the past year saw two landmark dives -- Tobacco Road and Fox's -- get torn down for what will likely be more condos and a CVS. So where is there left to drink for folks who just want to sip on some bottled domestics and be left alone? Look long and hard around this city, and we've still got some gems.
Recommended Video
The 'Game of Thrones' Pop-Up Bar Is Now Open in Washington, DC
South Beach
Ironic, that a place called "The Deuce" is unquestionably #1 when you talk about Miami dive bars. The place where Miami Vice had its wrap party also boasts a happy hour that starts at EIGHT IN THE FREAKING MORNING. The beauty of the Deuce, though, is that nobody judges you, because whether you're a foreign billionaire or a beach-dwelling hobo, when we walk out of the deuce, we all smell the same.
SoFi
Don't let the attractive, all-girl bar staff, new paint job, and plasma screens fool you, this is still SoFi's answer to the Deuce, a place popular amongst those Beach locals who never seem to have an answer for what they do for a living, but always seem to have enough money to drink here for four-five hours at a time. At one time Ted's was THE spot in SoFi to see "that guy" about "that stuff," but Theodore's has cleaned up its act in the past few years and now, much to the chagrin of some longtime regulars, has added a craft cocktail menu and food you're not afraid to eat.
Ft. Lauderdale Beach
When your national claim to fame is being the spot where Richie Incognito went all Richie Incognito on a pool table, you know you've got a wild dive bar in Broward. If a racial-slur-screaming offensive lineman isn't doing it for you, there's always the leathery patrons who can tell you about how they came here for Spring Break in 1985 and still can't find their friends. Or maybe the people who weren't sure where to go when Scarlett's closed down at 6am and waited outside until this place opened at noon.
Coconut Grove
Now that the bad decision factory that was Tavern in the Grove decided to go all upscale and do stuff like "serve craft beer" and "unclog the toilets," the crown for Coconut Grove's pre-eminent dive bar has been passed to 'Cudas. Here, on any given night, you can converse (or at least attempt to converse) with salty old locals who'll happily tell you how great Miami was 30 years ago. Or, on a Thursday, run into some guys from the finest 8-5 football team in all the land who at least have some pull in a dive bar.
Palmetto Bay
Funny thing about people who grew up in South Dade... despite the booming restaurant and bar scene going on along the I-95 corridor they still stay loyal to their local haunts. Take this spot for example. Hole is such a popular dive it spawned three spinoffs, all south of Sunset Dr. The original, though, is still the best, where the locals that Miami forgot gather to drink and remember the old days. And sometimes get treated to a live performance from the Gypsy Kings.
Miami Beach
In any other city you might expect this to be some tiki-themed bar with fruity drinks and pretty, bikini-clad bartenders. But not Miami! Oh no. OUR bikini bar could qualify as a strip club in like, seven different states, where young ladies parade on the bar in nothing but g-string bikinis and you thank them with your hard earned dollar bills. But before you get all excited and plan your bachelor party in North Beach, remember: This made our list of dive bars for a reason. And we'll just leave it at that.
Little Haiti
Winston Churchill once said, "We have nothing to fear but... the creepy people on synthetic marijuana trying to park your car outside this bar", but if you can manage to avoid their harassment, this Little Haiti spot is ground zero for the Miami live rock music scene, has cool retro events like an '80s T-shirt swap meet, and serves up what is possibly the best curry in Miami.
South Beach
If you find yourself sitting alone at the bar (pro tip: alone is the best way to go to this Collins Park boozer), you'll never be hard up for reading material; the almost-British pub is completely papered in old London tabloids, so you can catch the "latest" on Becks and Posh and whatever it is the queen does.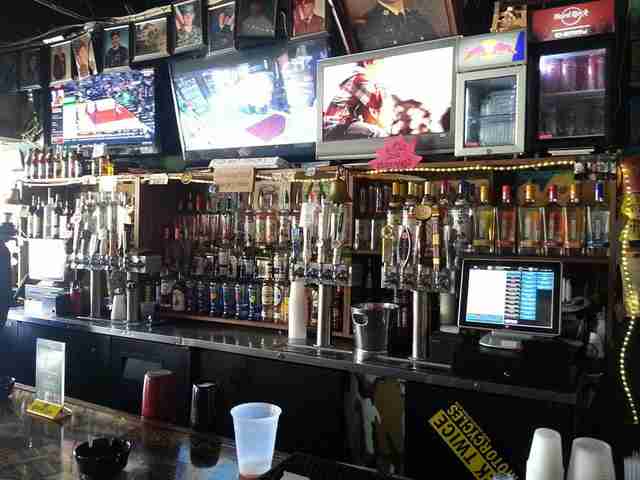 Ft. Lauderdale Beach
Don't think for a second this is some kind of outdoorsman-themed bar or a place filled with Fred Dryer memorabilia. Unless by "outdoorsman" you mean "Internet porn legend" and "Fred Dryer memorabilia" you mean "MILF porn." Because this Lauderdale Beach dive is owned by none other than Shawn Rees, known to most of the world as The MILF Hunter, who now chooses to pass his days slugging Coronas at his namesake bar and encouraging people to go visit his restrooms which are lined with still shots from some of his greatest moments.
Ft. Lauderdale
Don't go here if you'd like to watch a game. Or meet any friends. Or even see daylight. The only reason to hit up this cinder block dive in the industrial area just north of FLL is to see what happens to strippers when they get too old to strip, Veterans when the VA takes too long to help them out, and the latest and greatest in hardcore pornography. Because that's ALL they play on the TVs, and somehow, nobody in there even seems to notice.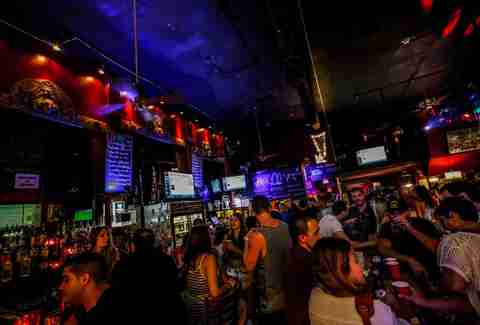 South Beach
If you're ever looking to meet a new-in-town server, or the rare lady-tourist who's more about beer and pool than high heels and bottle service, this two-story service industry hangout is the place to go, for that and the all the two-for-one drink specials.
Coral Way
There are locals' bars, and then there are hyper-locals' bars where you're hard pressed to find a patron who lives more than six blocks away. Jada Coles falls into this second category where the fine people of Coral Way gather to drink and listen to live music, and not much else. The windowless spot from a couple of Bougainvillea's alums has no food, furniture we're pretty sure we saw in that "Couches of Calle Ocho" exhibit, and lighting that says "if you go home with anyone from this place, make sure you're out before dawn."
Sign up here for our daily Miami email and be the first to get all the food/drink/fun in town.

Matt Meltzer is a staff writer at Thrillist that once went to Ted's Hideaway 47 nights in a row. Follow him on Instagram @meltrez1.

Stuff You'll Like