America has been having a craft beer party for the better part of the last decade. And in true Miami style, we showed up horribly, horribly late. But, hey, better late than never, right? And since we've been turned on to the craft movement we've also launched some pretty impressive beer bars. From a converted convenience story in Ft. Lauderdale to a sausage factory on Coral Way, here are the 11 best beer bars in South Florida.


Recommended Video
Winter Starbucks Beverages Around The World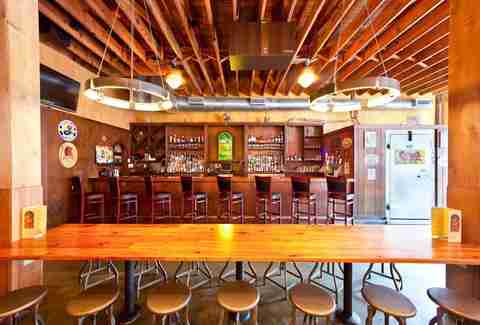 South Beach
Gone are the days when you had to cram yourself into tiny wooden booths to sample the Belgian-style beers at South Beach's oldest and only brew pub. A few years back they expanded into the space next door and added a bunch of monastery tables. So you can sip your Brother Aaron's Quadruple or Father Theodore's Stout, and tell all the tourists how this used to be the only place to get good beer in the Beach.
Ft. Lauderdale
If you live in Broward you have, at some point, found yourself here on a Sunday surrounded by everyone you went to high school with. And then you began to wonder who on earth thought it was a good idea to give anyone unlimited mimosas. But even when it's not Lauderdale's biggest brunch party, this Andrews Ave. stalwart has the best selection of draft beers in the county (42 of them, if the name didn't give it away) along with a first-rate menu of healthy food. And if you live in Dade? Get ready: they're opening a Gables location later this year.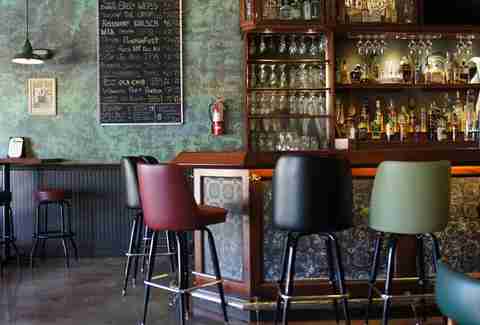 Coral Way
The most enjoyable part of this Coral Way international beer den isn't the house-cured meats and homemade sausages served alongside a beer menu literally curated from the owner's world travels. Nor is it the pool table that acts as a sort of social hub for the entire place. It's listening to the new-to-Miami patrons who live within walking distance insisting they live in Coral Gables because some unscrupulous realtor didn't bother telling them its actually Shenandoah.
South Beach
Yeah. We know. They're owned by the same people who own Olive Garden. But this is a list of Best Beer Bars, not Best Beer Bars to Look Cool Because You're Not Eating at a Chain Restaurant. And if having over 100 different beers on tap, plus hundreds more by the bottle doesn't make you one of the best beer bars in town, then you seriously need to reconsider your criteria.
Coconut Grove
Even though they spell it with a K, this Coconut Grove spot is still the most locally driven beer bar in Miami. They stock their shelves with an all-star lineup of local beers with the best from Wynwood Brewing, Funky Buddha, MIA, and more. Then stock the menu with burgers full of Florida grass-fed beef and topped with local tomatoes and avocado, putting it squarely on our list of best burgers in Miami.
Coral Gables
One of the more underrated experiences in Miami is spending the evening taking in a game at UM's Mark Light Field. And the perfect place to pregame that game is across the street at Titanic, where you can order up some of Miami's best wings and wash them down with any of their house-brewed beers like the Triple Screw Light Ale and White Star IPA.
Miami Beach
This North Beach beer bar doesn't feel like you're at anyone's place of business, but more like you're sucking down suds by the pool at a Melrose Place-esque apartment building. However, instead of the 4% ABV domestic cans you'd typically be sipping, you can sample their selection of over a dozen American craft creations, and stuff your face with artisan pizzas and 8oz burgers made with Certified Angus Beef.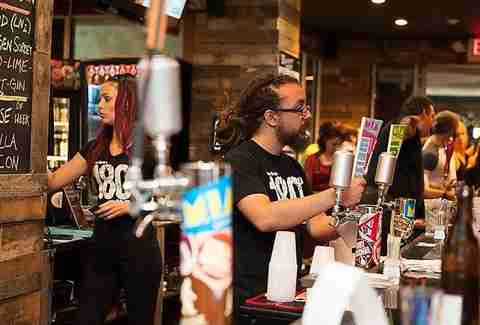 Downtown
What was once a small Downtown outpost of the Democratic Republic of Beer has been taken over and turned into a full-on foodie haven that's one of Miami's most underrated restaurants. They've got a beer pairing menu, so you'll find the perfect beer to compliment the famous 50/50 burger (chorizo and prime beef topped with maduros and fried egg) or the deep-fried Twix bacon ice cream dessert. And if you don't agree with their pairings, they've got over 50 rotating beers to choose from.
Wynwood
Learning hipster-saturated Wynwood lacked a true craft beer bar is kind of like finding out there's no beach in North Miami Beach. And while you still won't find sand anywhere on NE 163rd St, you will now find this Wynwood bar/market where their taps rotate to offer the latest and greatest in craft beer from around the world. But the beer is only half the attraction here; it's also owned by a couple of NYC gallery owners who give the place some of the most unexpectedly amazing art in Miami.
Ft. Lauderdale
You don't get to be one of the 33 best beer bars in America by throwing a bunch of heavy IPAs on tap and hiring dudes with beards. You do it by taking an old convenience store, replacing the rows of Gatorade and Steel Reserve with 650 different beers, and setting up couches in the middle where you can drink them on the honor system. That's right: in a concept that would absolutely never work in Miami, owner Julian Siegel doesn't run tabs, but rather has you bring your empties to the counter when you're done and pay accordingly. And eight years later, he's decidedly not bankrupt.
SoFi
What is the most inaccurately-named bar in Miami was also MIA's first true craft beer bar. Long before we had anything that resembled a beer scene, brew mavens from around South Florida would crowd the tiny SoFi space to try imports and domestic "micro-brews" most people have never heard of. And despite the spacious-sounding name, on most weekend nights there's actually no room in the place.
Sign up here for our daily Miami email and be the first to get all the food/drink/fun in town.
Matt Meltzer is a staff writer for Thrillist. Follow him on Instagram @meltrez1.
Stuff You'll Like