Some of the 305's foremost beer gurus tell you what to sip in the sun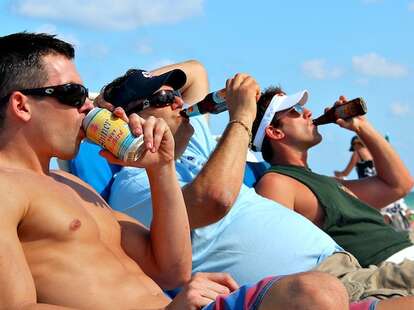 Along with batteries, bottled water, plywood, and disgusting amounts of plantain chips, there's one other key ingredient on every South Floridian's Summer shopping list: beer. And since Channel 7 isn't going to be cutting to any live beer experts telling you what to have on hand when you're without power for three days, we polled some local beer gurus so you'll be the most popular guy on your block. After that one guy with the generator
Adam Fine, founder of Native Brewing Co and Fresh Beer IncShipyard Brewing's Summer Ale (American Pale Wheat Ale, 4.8%)Adam say: "It's an easy drinking light ale with just enough flavor to not disappoint craft beer drinkers but, at the same time, not turn off the non-craft drinker.
Victory Brewing's Summer Love (Golden Ale, 5.2%)Adam says: "A great combination of a crisp clean ale body with a nice zest of German and American hops. Spicy and light at the same time... perfect for Summer.
Brett Hubbard, craft and specialty import manager at Gold Coast Beverage & host of By the Glass radio showBrooklyn Brewery's Summer Ale (English Pale Ale, 5%)Brett says: "It's refreshing and flavorful without being too heavy. It's brewed from premium English barley malt, which gives this light-bodied golden beer a fresh bready flavor. German and American hops lend a light crisp bitterness and a citrus/floral aroma. This beer is very different than the typical Summer wheat beers out there.
Anchor Brewing's Summer Beer (American Pale Wheat Ale, 4.5%)Brett says: "Anchor Summer is an all-malt beer, and over 50% of its malt comes from malted wheat. Wheat malt contributes to an unusual lightness and dryness to the palate, and this -- combined with the distinctive flavor of the wheat -- makes for a perfect thirst-quenching beverage. It's the ideal drink for beer lovers who appreciate tradition and character in their beer, but also seek a lighter refreshing style that's perfect for warm weather.
Julian Siegel, owner of Riverside MarketSchnelby Redland's Big Rod Blonde Ale (Blonde Ale, 5.4%)Julian says: "Big Rod, by Miami Brewing Company at Schnebly in the Redlands, is the most authentic Miami Summer beer, but can only be taken home by growler fill. It tastes like suntan lotion smells! Coconut and lime blends with this blonde ale and the first taste reminds you of the beach instantly. It's not on any store shelf, but's always on tap at The Riverside Market -- everyone loves Big Rod!
Shiner's Ruby Redbird (Fruit Beer, 4.2%)Julian says: "The Shiner Ruby Redbird has been our favorite since it was introduced three years ago. It is available on draft, in the can and in the bottle. Cool, crisp, refreshing, light, filled with hints of grapefruit and ginger, you just can't imagine the sensation. It is so refreshing that, on a hot day, you can actually choose between drinking it or pouring it over your head!
Jack Wich, former radio personality on Rock 104 & owner/writer/content producer of DrinkFloridaBeer.comJack says: Dogfish Head's Festina Peche (Berliner Weisse, 4.5%)"It's really light, so it's easy to down and bring by the pool. Another cool thing to do is freeze some peaches and throw them in there when you bring it outside to cool off even more, since it gets so hot here.
Tequesta Brewing's Julio's Weizen (Hefeweizen, 5.2%)Jack says: "Tequesta Brewing does some really cool stuff with its Julio's Weizen hefeweizen during the Summer. You'll find they infuse it with softer flavors like strawberry, watermelon, and black cherries. It's all cask beer so the carbonation comes naturally from the aluminum and that makes it extra crisp. You can go up to the brewery and get growlers in 32oz and a gallon.
Maria Murriel, Digital reporter on bars, beer and drinks, South Florida Sun SentinelMaria says: Cigar City's Florida Cracker (White Ale, 5%)"This is a light beer with a nice body with a great blend of spices, almost a flowery taste. Totally a beer you can take to the pool or the beach. When you think of Summer in Florida, this is the beer that comes to mind.
Pyramid Brewery's Apricot Ale (Unfiltered Wheat, 5.1%)Maria says: "It is an unfiltered wheat, with hints of Apricot that taste real. There is nothing worse than sweet, artificial tasting beers. This has the right amount of fruit flavor where it won't be labeled 'for girls' but is still light enough for Summer."