Back when it was still called Dade County we had this thing called the People Mover. They charged people a quarter to ride it, and by "people," we mean transients and low-level narcotics traffickers.
Since those glory days they've (literally) built up the area around the Brickell, Inner, and Omni Loops juuuuuust a little. And with all those tall buildings come people. And with people come bars. And now you no longer need to fear rides on the renamed "Metromover," nor do you need to pay. So hop on board and come along as we cruise the best bars along the Brickell, Omni, and Inner Loops.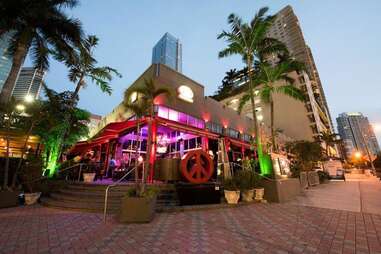 Financial District
Segafredo (address and info)
Where better to kick off (or end) a bar crawl through Miami than a European lounge filled with South Americans that plays thumping electronic music from the time they open until hours later than would be deemed "acceptable" in other cities?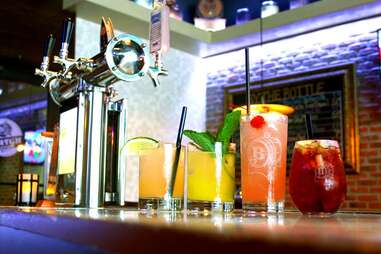 Brickell
Batch Gastropub (address and info)
Just a short walk down 12th St you'll find Brickell's only gastropub, so fuel up for the rest of your crawl with some of the best mac & cheese in Miami, then enjoy a craft cocktail on tap at your table.
Fifth Street
Better Days (address and info)
Kind of like the collars on dudes you see at American Social, this is the pop-up that just won't pop down. It's still going strong on Fifth St, where this vintage shop/cocktail bar/hot dog emporium gets packed with Brickellites looking for an ice cold, after-work $6 beer.
Miami Avenue
Le Chat Noir (address and info)
You'll finally have an excuse to get on one of those four Inner Loop trains that come by when you're waiting for the Omni or Brickell ones. Hit this spot just outside the Inner Loop's only exclusive stop, where live jazz, wine, and cheese are on the menu.
Bayfront Park
Toro Toro (address and info)
If that mac & cheese at Batch wasn't enough for you, you can have waiters come around with giants slabs of beef and cut it onto your plate at this churrascaria in the InterContinental Miami. Or, to save like 4,000 calories, have a seat at the bar and enjoy inventive craft cocktails from Matt Phillips and Sean O'Connell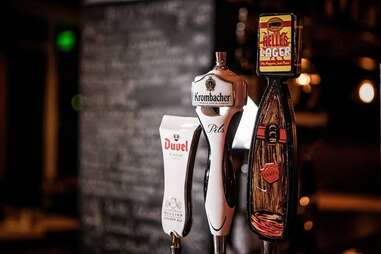 First Street
Biscayne Tavern (address and info)
You COULD go here and order something other than one of their rotating local craft beers. You COULD also go to Prime 112 and order a salad. Then again if you're that kind of person you probably also don't read, so you're probably not looking at this. So try something new from a local brewery and get an order of chocolate chip cookies on the side.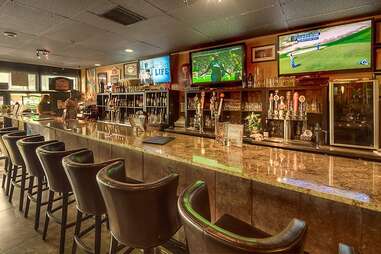 College/Bayside
Elwoods Gastro Pub (address and info)
Though this is probably one of the only English pubs in the world where you'll hear multiple conversations in Spanish, this tiny Downtown pub has great fish and chips, perpetual football matches, and an impressive selection of both imported and craft beers. No liquor though, despite Miami's complete absence of soccer hooligans.
Freedom Tower
Will Call Miami (address and info)
Sure, watching the NBA playoffs will be a little bit different this year. Like instead of hitting this spot near the AAA for some pre-game drinks, you'll be hitting it at 11pm to catch Memphis and Portland, but it's still a cool locals' bar where there'll likely be live music after the game.
Park West
The Corner (address and info)
The walk through the Arts & Entertainment District isn't quite the death-wish it was in years past, and the area has graduated from "terrifying" to "having some character," thanks greatly in part to the addition of this place, where the bar's stocked with hard-to-find liquors that're used to make innovative craft drinks.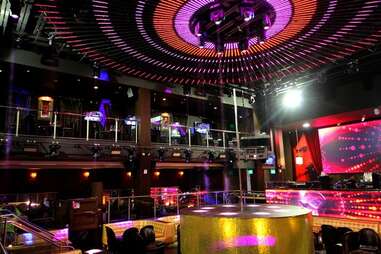 Eleventh Street
E11EVEN (address and info)
It's on ELEVENTH STREET, what else would we pick? Nobody goes to Space for one drink, and if you don't like your drink with a side of stripper, there's always Touché on the roof with its cocktail bar and views of Downtown.
Museum Park
Verde at PAMM (address and info)
Only in Miami do we say, "This whole bayfront art museum is a great cultural step for our city, but you know what this place really needs? A bar." Which is exactly what they're bringing next month, when a full on bayfront drinkery opens up at Verde. For now, though, just hit the restaurant, grab a drink, and enjoy the view.
Adrienne Arsht Center
Mike's at Venetia (address and info)
We'd say Mike's at Venetia is one of Miami's best kept secrets, but when Billy Corben Tweets about it at least once a week, well, its not hiding from anyone on the ninth floor of this condo tower right before the Venetian Causeway. The outdoor patio probably has the best bar view in the city, and the pizza may well be Miami's most underrated. Unless you're Billy Corben.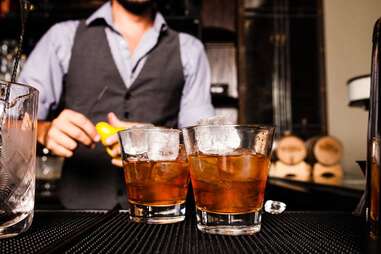 School Board
Railroad Blues (address and info)
A lot of "speakeasy" bars around Miami open up in strip malls or the "nightlife" district, which might make you feel safe, but it isn't very authentic. The short walk from the School Board stop to this new-ish drinking den gives you the authentic 1930s feeling of walking through a completely abandoned area to an unmarked door, then into a really crowded bar where the drinks are strong and the music is loud.
Sign up here for our daily Miami email and be the first to get all the food/drink/fun in town.