The 14 Best Brewpubs in Florida
There are people making some seriously sweet beer spread out across Florida, but there is one problem: they're spread out across Florida! In what can only be seen as an attempt to make up for that unfortunate fact, some of said suds makers are serving equally sweet food too, so we decided to compile a list of the 14 best brewpubs in the entire state... a few of which you can even try without leaving Miami.
 
Doral
What you're getting: 305 Lager; Miami Weiss
Don't let its location deter you; the suburbs equals more space and more beer (30 taps, in fact), half of which are its own brews. Keeping in tune with Miami, its bar is outfitted with club-style Miami Vice-colored lights. It's hooked up with a local caterer to bring eats like burgers and tacos, and if you can make it there before 7pm, its 305 Lager is available for $3.05.
 
Boca Raton
What you're getting: Floridian Hefeweizen; Piiti Porter
Not to be confused with the larger facility in Oakland Park, this here is the original that started the empire.  Smaller and darker, it's the ultimate den for live music, chilling with dates, and sipping experimental brews (before they get sent out for larger production).
 
Tequesta
What you're getting: Gnarly Barley; Der Chancellor
Back in 2008, this spot got its start inside of next door neighbor, The Corner Café, famous for its Gorgonzola chips and kaiser dip with pretzel bites. Since then, it's expanded into its own chill neighborhood space with space-age blue light décor.
Coral Gables
What you're getting: Captain Smith's Rye Ale; Shipbuilders Oatmeal Stout
No Florida brewpub list would be complete without a nod to this Miami institution that's been brewing since 1999. To help all the bros out, it divides its menu up by beer and corresponding food pairing. But in any case, its special Saturday prime rib, which pairs with the Shipbuilders Oatmeal Stout, is the way to go.
Cigar City Brewpub
Tampa
What you're getting: Jai Alai; Maduro
Continuing on the massive success of its brewery, it took over an old T.G.I. Friday's and remodeled the hell out of it. Exhibit A: reclaimed barrel chandeliers. The food offers a bit of local history -- a little Italian, a little Southern, and a little Cuban. And while you can get some of its brews in specialty stores around the state, nothing beats a freshly made beer straight from the tap.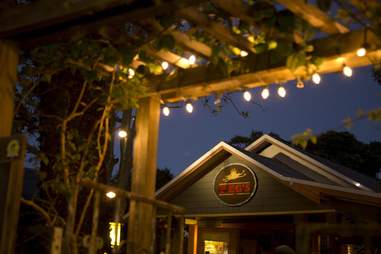 Peg's Cantina & Brewpub
Gulfport
What you're getting: Cream and Sugar, Please; Fixie session IPA
Burritos, tacos, and tortilla pizzas, YES! But, this place also has a secret weapon: one of the best brewers in the state. His name is Doug Dozark and he's Peg's son, running Cycle Brewing out of the outdoorsy cabin oasis.
 
Dunedin
What you're getting: Apricot Peach Ale; Midnight Sextant
Its fried cheese curds are the bomb, but more importantly, it is Florida's oldest craft brewery with a laid-back Florida style and a Scottish twist, 'cause, well, the entire town has hardcore Scottish roots. It keeps things interesting with brews like the Phloribbean, which uses key lime, guava, and peppercorns.
 
Sarasota
What you're getting: Guava Ale; Ayawasca
It's usually hard to be a whiz in both the kitchen and the lab, but these guys have it down pat on both ends. The chef, Darwin Santa Maria, is banging out Peruvian classics like ceviche and tiraditos, and other twists on classics, like the arroz con pato. They also have fun with their beer, using it as a base for cocktails like the Peruple, which mixes their Marron Brown Ale, and Circa 1926 with Chambord.
Odessa
What you're getting: Citra SMaSH; Agrarian Tripel
Nothing washes down BBQ better than beer. And you can do that at this... well, house of beer that caters to your fun side with giant Jenga games, pool tables, and Cards Against Humanity.
Cask & Larder
Winter Park
What you're getting: Angel Wings; Five Points IPA
From the couple behind the critically acclaimed The Ravenous Pig, C&L holds its own as the cooler, bohemian little sister that makes her own beer. Food go-tos at this Southern public house are the bone marrow, pimento cheese, cornmeal crusted oysters, and Nashville hot chicken.
Tallahassee
What you're getting: Hopnosis Double IPA; Moose and Squirrel Nut Brown
The dream began as a hole-in-the-wall spot in 1999. Since then, it has expanded to two locations and beer production, but don't worry, you can get its thin-crust pizza by the slice, if a whole pie is too much commitment.
Jacksonville Beach
What you're getting: Double Drop IPA; Economically Infeasible DIPA
Offering 100+ beers, with at least 15 of its own, it specializes in hoppy IPAs and double IPAs. But what's really cool is that you can go in and make your own brew as well, while eating a menu that mixes Southern and Latin, so try its Frito pie and The B-B-Cuban, which replaces lechon with smoked pulled pork.
 
Key West
What you're getting: Black Hole; Calusa
Located inside a restaurant supply store, there are no tours and hours are extra limited. But, it's still worth a visit for some daytime drinking. Next door is Cole's Peace if you want to chow on some light eats.
Destin & Pensacola
What you're getting: McGuire's Irish Stout; McGuire's Porter
Not only is it one of Florida's best restaurants, it has two locations and makes some sweet homemade brews in traditional oak and copper vats. Pro tip: its Reuben Eggrolls are unlike anything else you've eaten.
Sign up here for our daily Miami email and be the first to get all the food/drink/fun in town.