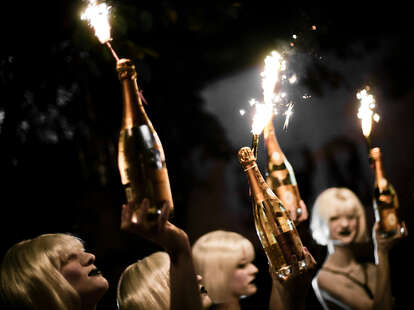 Miami There are a great many reasons why one might find themselves stuck in Miami, but chief among them is that on any given night (and 24 hours a day on the weekend), there will be a full-on raging party at a club that looks likes it belongs in a TV show or a movie -- which, by the way, get almost everything else wrong about this city. So to save you about 10 years of your life, we've checked out them all, and found THE Miami spots to party at every night of the week, and all day on the weekends. More Stuff You Will Like
Monday
Tantra (address and info) South Beach The fact that you even have to think about where to go out on a Monday probably means you've lived here too long. But the folks at Tantra are like the anti-Bon Jovi and don't hate Mondays at all! This long-standing Monday party is the only time of the week this place is even open anymore, and the food is still as good as it was when it was served seven days a week. After dinner, head over to the lounge and enjoy a couple bottles surrounded by red velvet and gold Buddha statues. Continue Reading
Tuesday
Semilla (address and info) South Beach Traditionally the only real lag for a sorta self-respecting seven-day-a-week South Beach partier was Tuesday. Too early for the weekend to kick off, and too late for the service industry off-night. So thank goodness for Fred Joulin, the French chef who opened Semilla a couple years ago. After people get finished dining on short rib with bone-in marrow and all varieties of truffled creations, the line starts forming outside where Phantoms and Ferraris can once again park right in front on Alton Rd.
Wednesday
Bâoli (address and info) South Beach A typical boyfriend might think Wednesday night is a pretty safe time to go out of town. But that boyfriend wouldn't know much about Miami. The best Wednesday party is actually CALLED "My Boyfriend's Out of Town," and, aside from its blatant endorsement of infidelity, is also the odd party in Miami where the men are as attractive as the women. This Cannes-born resto-club knows its sushi menu tastes a little better with a light dusting of magnesium powder, so about once an hour it cuts the lights and bottle girls bounce through the crowd lighting the place up with sparklers. Afterwards, they'll often dance on the bar, but sadly won't be pouring you any free shots.
Thursday
Villa Azur (address and info) South Beach Remember your parents' dinner parties? Where they'd invite over the Ochmoneks, and mom would make you help her plate some REALLY dry pot roast that everyone tried to pretend wasn't inedible? Then they'd talk for, like, four hours about politics? This is just like that. Just replace the Ochmoneks with "a ton of models," "dry pot roast" with "2ft seafood towers filled with shots of vodka," and "talk about politics" with "dance on tables." Throw in the mandatory bottle girls with sparklers, and a few magnums of rosé, and you've got the best dinner party in Miami. And the best place to go on Thursday.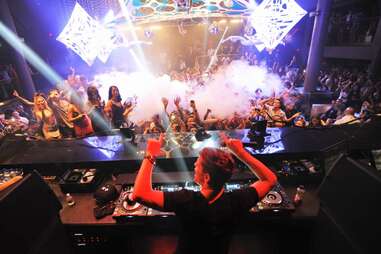 Friday
STORY (address and info) South Beach Look, any South Beach club on a Friday is going to be a good time. But the ongoing Friday party at STORY will TYPICALLY be headlined by a DJ so well known you'll recognize his songs from a car commercial. Or it'll be Danny Avila. STORY's not exactly all-access, but it's generally easier to get into than LIV and gives you another place to go after enjoying the bounty of restaurants in SoFi, or before hitting Big Pink right across the street.
Saturday (day)
Hyde Beach at SLS (address and info) South Beach The phrase "sitting by a pool in Miami with a fruity drink" has become a cliché when people talk about where they'd rather be. So if you REALLY want to lose friends on Instagram, head to Swim Club Saturdays at the SLS when you can lounge on one of the daybeds next to the Hyde Beach Club, and get all 2015 by sipping a CRAFT fruity drink, like pitchers of cucumber melon margaritas: Avión silver tequila, Cointreau, lime, watermelon, and cucumber.
Saturday (night)
E11EVEN (address and info) Downtown Would you expect us to send you anywhere other than a strip club on a Saturday? Or at least to E11EVEN anyway, which is your best Saturday night bet for a few reasons, chief among them: it's not really a strip club. It's more of a regular club with topless dancers whom you can give dollars to. Or you can opt to hang out on the rooftop lounge at Touché, have a few drinks, and head back down to the club for the banging after-hours sets that get going around 3am. Pro tip: set an alarm on your phone for 6am that says, "Go home!" This place never closes so if you're not careful you may end up being there after sunrise.
Saturday (after hours)
Club Space (address and info) Downtown Though we wouldn't necessarily call this a GOOD idea, per se, if you have no plans for Sunday and don't have much respect for Monday, hitting up Club Space after the sun comes up is a time-honored Miami tradition.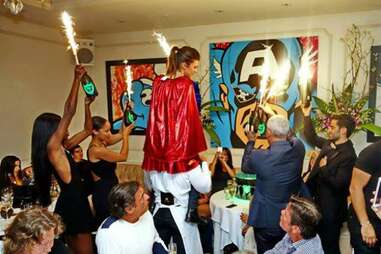 Sunday (brunch)
Bagatelle (address and info) South Beach Bottles of Champagne delivered to your tables by girls carrying sparklers? Psh... you can get that at some of the nicer Taco Bells in Miami. But can you get them delivered by a girl dressed as Supergirl? Sure, why not, says Bagatelle, which takes the top spot for brunch parties thanks not only to its mountainous spread of seafood, but also for the cast of characters it gets to bring you your bubbly.
Sunday (day)
Shore Club (address and info) South Beach Though Miami generally owns Vegas in every conceivable way, one point we'll concede is the variety of pool parties. But while Shore Club is more or less the only hotel with a good weekly chlorine rager, it still stands up to any in the desert. Models in heels and bikinis strut the pool deck, and if you manage to snag one of the poolside cabanas or day beds, then order a pitcher of mojitos, you might be able to convince one of them to join you. At least until the drink is finished.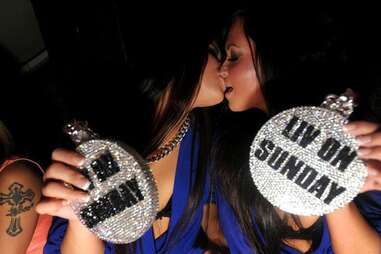 Sunday (night)
LIV (address and info) Miami Beach Wanted to check out LIV but didn't feel like dealing with belittling doormen/spending your kid's college tuition on a table? Head over Sunday night for LIV's weekly hip-hop party. It's easily the classiest hip-hop event in the city, and while the crowd isn't as large as on Friday and Saturday, the sounds, ambience, and décor are the same. And it's the best way to see America's best club with MINIMAL bullshit. Yeah, we said minimal. It's still South Beach after all. Sign up here for our daily Miami email and be the first to get all the food/drink/fun in town.Matt Meltzer is a staff writer for Thrillist and cannot get you on the list at any of these places. Though your chances severely improve if you follow him on Twitter: @mmeltrez.