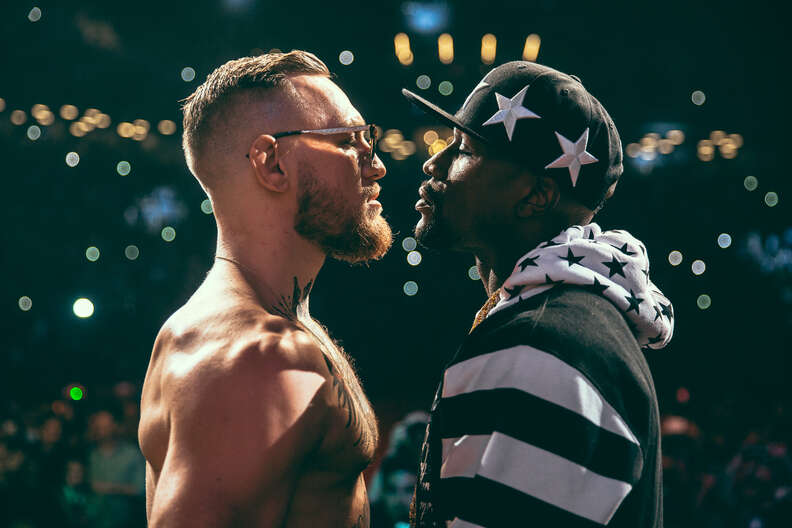 Rosie Cohe for Showtime Sports
After months of build-up, excessive hype, and a wildly unnecessary amount of way-too-personal trash talking, the undefeated world champion Floyd Mayweather Jr. and UFC star Conor McGregor are just days away from stepping into the ring to fight each other. On Saturday, August 26, it's actually happening! As of now, the odds favor the undefeated Mayweather gunning for 50-0 -- but McGregor isn't as big of an underdog as you'd think. Per Bovada, Money Mayweather stands as a -450 favorite, while a win for The Notorious is listed as a +325 proposition. (Betting lines are subject to change based on betting action.)
There are two (main) options for catching this historic boxing match that should make each man tons and tons of money: Rally some pals to watch the match in one of Miami's many bars, or go through the hassle of organizing a watch party and drop a cool $100 bucks to stream the fight in high-def pay-per-view. Let's save some time and stress by going with the first choice to catch the battle on August 26 at 9pm.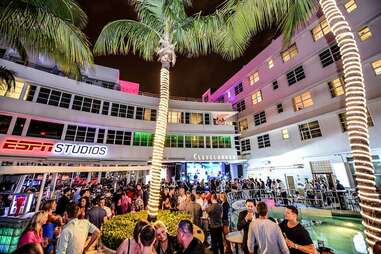 South Beach
Cost: $30-99
What you'll get: You can play it two ways at the Clevelander. Either spring for the cheaper GA ticket to watch the fights, as well as a full night of post-game partying. Or drop a cool C-note to access the two-hour, C-Level rooftop open bar from 9-11pm before Mayweather and McGregor walk out.
Brickell
Cost: Free for women, $20 for men
What you'll get: A foot in the door, along with a giant HD projector, sets from DJ Sharpsound and DJ Mike Deuce, and an air-conditioned patio; it's a relatively no-frills affair at one of the city's best nightclubs.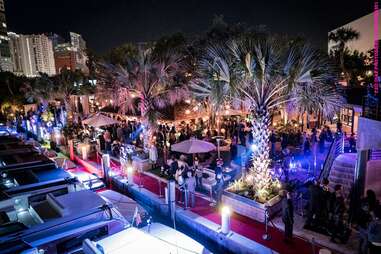 Brickell
Cost: $30-3,000
What you'll get: Pull up your yacht to this fancy waterfront joint and rent an exceedingly fancy cabana for three grand. (If you have a yacht, though, you can probably host your own lux event.) The non-boating folks can drop in solo and risk bar seating, getting a glass of Luc Belaire champagne with the price of admission. Reserve a table for between four and eight folks -- fortunately, the ticket prices for these come with a food and drink credit.
Coral Gables
Cost: Free for women, $20 for men
What you'll get: Another low-key sports bar, another bare-bones offering.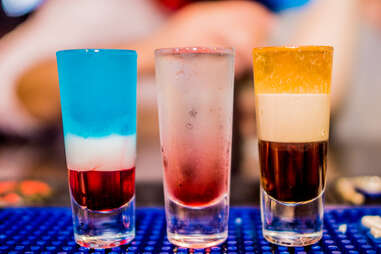 Wynwood
Cost: $20-500
What you'll get: This nightclub will play host to a slew of options. Women get in free at this joint, too, but there's a bonus for the gents who pony up for entrance: The early bird price ($20) or general admission standing-room fee ($30) come with a free drink. Shelling out for reserved seating goes further: a six-person booth for $400 nets a bottle of liquor, a $50 bar/food voucher, and a bottle of Champagne.
Fort Lauderdale
Cost: $99
What you'll get: Bokamper's is a little pricey, sure. But the $99 nabs a reserved spot and an open bar from 9pm until Mayweather and McGregor retreat to the corners for the final time.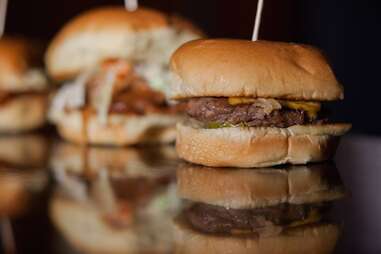 Kendall & other locations
Cost: $25-75
What you'll get: The aptly named establishment has a slew of different options, ranging from standing-room to getting boneless wings, beer, and a special-edition hat that when worn in the bar for the next year gets you a free beer with a $20 purchase. Not bad.
South Beach
Cost: Free (no price listed)
What you'll get: One of the rare first come, first served bars in the city. Given no advertised entry fee and an excellent happy hour, it'd be best to show up early to Ricky's to save some dough while Mayweather and McGregor boost their bank accounts.
Downtown
Cost: $20 for women, $30 for men
What you'll get: The all-day club doesn't gin up their offer with a complimentary drink, but it'll be a classier environment to take in the fisticuffs on a 30-foot LED screen. Dropping in right after a beach day will only bring you shame at the door -- respect the dress code.
Brickell/Las Olas
Cost: $20-25
What you'll get: Like a decent amount of the other fight-night locales, American Social's ticket only lets you inside. But digging into the spot's craft beer collection and its decadent menu will make it more than worthwhile.
Allapattah
Cost: Free (no price listed)
What you'll get: The subtly named local-favorite strip club will be showing the fight. VIP tables and bottle services can be requested ahead of time. Ladies who drop in can snag free mimosas to knock back while each fighter goes for a knockout.

Staying home instead? Planning your own viewing party? Here's our guide to hunting down the PPV live stream , and check out our other watch guides for Boston, Chicago, Dallas, LA, Las Vegas, Miami, NYC, San Diego, San Francisco, and Washington, DC.
Sign up here for our daily Miami email and be the first to get all the food/drink/fun in town.
Will Robinson is a copy editor for Thrillist who can't believe people actually think McGregor has a chance against Mayweather. Follow him on Twitter, @Will_Robinson_.