Oh well. It looks like your friend who knows a liquor rep didn't actually have Super Bowl tickets. Shocking. The good news is you're still in Miami during Super Bowl LIV, and even when the game isn't here, that's a lot better than being anywhere else. Especially when you've got game-watching options like a DJ Khaled pool party, a South Beach rooftop with an open bar, unlimited barbecue from Udonis Haslem, and all-you-can-drink beer for less than two drinks at the stadium. And best of all, none of South Florida's best Super Bowl watch parties will involve trying to get an Uber at Hard Rock Stadium.
Downtown
An open bar until halftime, with a guy who definitely won't want to talk about 28-3
In one of the most genius Super Bowl drink sales strategies of all time, Miami's favorite bad decision factory will be offering a premium open bar from 5-9pm… a.k.a. right up until the start of the third quarter. And are you really gonna leave then? Of course you're not, especially when the party's hosted by the one and only Ludacris, and the game will be shown on 30-foot and 16-foot screens.
Cost: $100
Design District
It'll be like Brad Kilgore came to your house and took over the grill
The name Paradise Plaza will seem especially appropriate during the Super Bowl, when you'll be sitting outside, enjoying tropical breezes and stadium seating while munching on food from one of the hottest chefs in America. Brad Kilgore will be serving up BKQ ribs, wings, croquettes, fried chicken, nachos, and burgers from noon to 11pm, with $35 beer buckets, $10 shots, and a $12 Grey Goose cocktail special.
Cost: Menu prices vary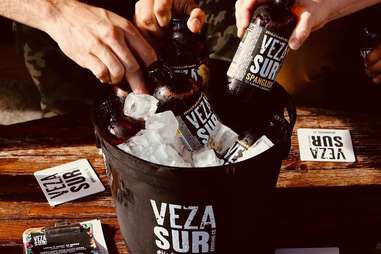 Wynwood
Dollar wings and bottomless micheladas all day long
If you bet the under in this game and the score's tied at 21 at the end of the first quarter, Veza Sur may be the spot for you. Not only will Wynwood's favorite Latin brewery have a giant screen showing the game on its outdoor patio, you'll also be able to drown your sorrows in poultry with $1 wings. Then make your stomach extra happy with bottomless micheladas all day long. Also, wear literally any football jersey and you've just earned yourself $2 Chopp.
Cost: Prices vary
The W Miami, Brickell
Unlimited barbecue and beer with a way nicer view than your buddy's Florida porch
Sure, you could probably roll up with a 12-pack of cheap-ish domestics to literally any house party in South Florida and enjoy unlimited barbecue and beer. But would any of those spots have a swanky W pool deck and views of the Brickell skyline? If so, there's probably more than sugar in that barbecue sauce. Otherwise, hit ADDiKT on the rooftop terrace at the W Miami, and enjoy endless barbecue and draft beer starting at 4:30pm.
Cost: $55 unlimited barbecue, $80 unlimited barbecue and draft beer
South Beach
The best party if you're going with people who plan on watching exactly zero football
If you've ever spent a Sunday afternoon at the 1 Hotel's rooftop pool bar, you know dropping $150 on a bar tab is as easy as ordering a round of Presidentes. So you'll find a surprisingly-good value here, where if you're not entertained by the Chiefs and 49ers you can jump in the warm swimming pool, or gaze off at the Atlantic Ocean in one direction, and the Miami skyline in the other. All while enjoying duck nachos and an open bar.
Cost: $150 for the open bar. Food is a la carte.
Hollywood
No matter who wins, DJ Khaled will still insist he the best
If you've been a little scared to check out the Hard Rock Guitar Hotel's dayclub/nightclub because you're one of those strange people who's averse to $20 drinks and EDM, Sunday may be your golden opportunity. Daer trades Hardwell for hard hits, showing the Super Bowl poolside with $100 cover and unlimited food and drink until the game's over. Plus access to DJ Khaled's post-game yell-a-thon at the Big Game After Party.
Cost: $100
Little Haiti
The best party if you plan on drinking beer like class just got cancelled
Pound-for-pound the best drinking deal in the city will be at Beat Culture, where they'll be offering a $40 all-you-can-drink beer package that comes with an appetizer AND an entrée. Not enough beer for ya? Cool, they'll also be pouring free shots of Cuatro Crazy beer for every touchdown and every mention of the '72 Dolphins. If Mahomes is on, it's gonna be a long night.
Cost: $40, happy hour pricing if you don't feel like leaving with a keg in your chest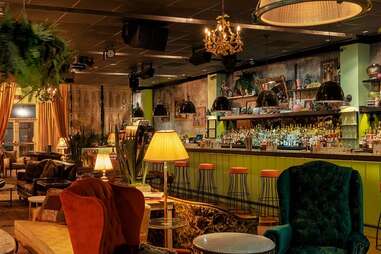 Midtown
The most hipster way to watch the Super Bowl, unironically
Though watching the Super Bowl on vintage furniture and drinking an uncomfortable number Aperol spritzes seems like the way you'd watch it with a dude who's been waiting 50 years for the Chiefs to make it back, you'll presumably find a much younger crowd at The Sylvester's party, where $100 gets you an open bar and over-the-top Super Bowl snacks.
Cost: $100. Pre-sale $85
Downtown
Free hot wings and Disco Sinferno
You won't mind watching the game in a dark indoor bar with a ceiling made to look like the stars when you're enjoying free chicken wings until the kitchen runs out. You'll also find happy hour pricing until 8pm, and the Sunday Disco Sinferno party immediately after the game.
Cost: Menu prices vary
Aventura
If you watched the game at Udonis Haslem's house, we assume it would be like this
Who better to cook for you during the Super Bowl than a guy who's won multiple NBA Championships? That's kinda what you'll get at 800 Degrees, where co-owner Udonis Haslem presides over an all-you-can-eat barbecue spread that'll include baby back ribs, brisket, D-Wade's woodfired burger sliders, UD's woodfired wings, and more. Plus $6 specialty cocktails and $4 beers.
Cost: $70
South Beach
Because sometimes it's fun to give up and embrace the crazy
You wanna avoid the LIV/South Beach crowds and watch the Super Bowl with a close group of friends? Cool. You wanna immerse yourself in the Super-Bowl-in-Miami experience like you don't have to sit on the Palmetto for an hour to get to work the next day? Get yourself to the Official Big Game Tailgate Party, where Pepsi will have a slew of DJs playing when the game's not on. You can watch all the commercials on YouTube monday.
Cost: $30
West Palm Beach
When one Super Bowl Sunday just isn't enough
Maybe you wanna get as far away from South Florida during the Super Bowl as you can. Or maybe you think the Super Bowl is best watched with a fruity drink in hand whilst surrounded by water. Jump on the MV Grand Classica in the Port of Palm Beach on Feb 1 for a special two-night sailing to Nassau, which will include a massive in-game tailgate buffet and appearances by local NFL players Darren Studstill, A.J. Johnson, DaJuan Morgan, and Emanuel Cook.
Cost: Starts at $129 per person
Brickell
Watch the game projected on the side of a yacht, because this is Miami
Brickell's newest drink-by-the-water party spot hosts its first Super Bowl party beginning at 11am, when Riverside will project Super Bowl LIV on the side of a 60-foot yacht ensuring you absolutely know you're watching the game in Miami. You'll also find barbecue, and a post-game party with, you guessed it, a live DJ.
Cost: Free to attend. Drinks, food, and yachts will cost you.
Sign up here for our daily Miami email and be the first to get all the food/drink/fun in town.
Curt Hollingsworth is a contributing writer to Thrillist who still believes the Dolphins could be good in 15-20 years.