The best things in life are worth waiting for. Like true love. Or a new season of Sons of Anarchy. Or HOUSE, Wynwood's first club, which is finally opening after four years of work, but only to people lucky enough to have a key. What said people are in for is part warehouse club, part modern art show, part Miami Velvet on acid, and altogether unlike anything Miami's ever seen. Until you look at these glorious pictures, anyway.
Rule #1 at HOUSE: you need a key to get in. And even if you've got a key, you've gotta be one of the first 500 people to RSVP or you're SOL. Well kinda, since this is Miami, and half the people who RSVP will flake, they'll let you wait outside until reservations expire. But key-holders get priority, so don't throw a fit if Screech gets in ahead of you if he's got a key.
Once you're past the doorman, you'll be showered with a fragrant citrus-eucalyptus mist on the way into a purple, orb-filled room, complete with house pet, liquid crystal bar, and a selfie station.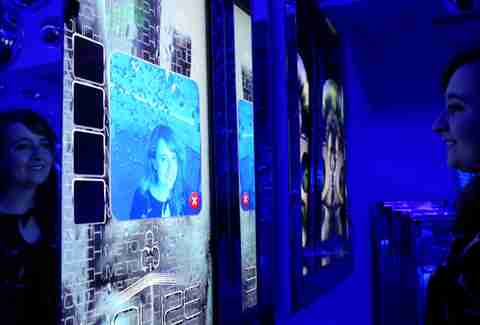 Yes, we said selfie station. Because Rule #2 at HOUSE is "Get off your f*&%king cell phone". They want you to get the "making your friends jealous" portion of the evening out of the way early, so you can move on to the "making new friends" portion as soon as possible.
The handicapped restroom doesn't pull any punches: the lock lever tells everyone outside you're "doing it". While, in the ladies room, this "house b*tch" actually talks to you. She's a little two-faced though, complimenting you on your dress early in the night and then telling you all the disgusting things she did with your boyfriend when she's lit at 4am.
Once the blue room gets going, they'll open up the "living room", a massive main room with a DJ stage, kitchen, bedroom, and bathroom. Also, there may or may not be a flat-screen that gives you the opportunity to play the occasional game of Mario Tennis.
Throughout the night, there'll be live performances on the stage and mini performances from the house grandma (who comes by with fresh cookies), the house mom, and the uber-creepy house baby, who literally does his performances in a jeweled-up bathtub.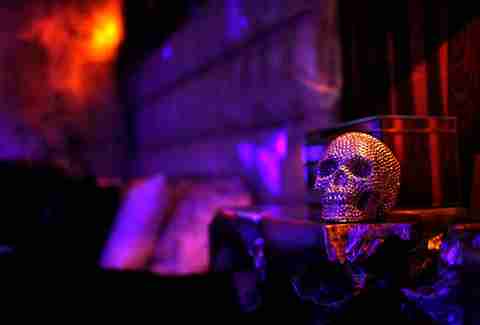 The bedroom doubles as HOUSE's bottle service area. It's raised just above the dance floor, but instead of velvet ropes, you're greeted with nightstands, handcuffs, and "adult toys" that patrons aren't discouraged from using.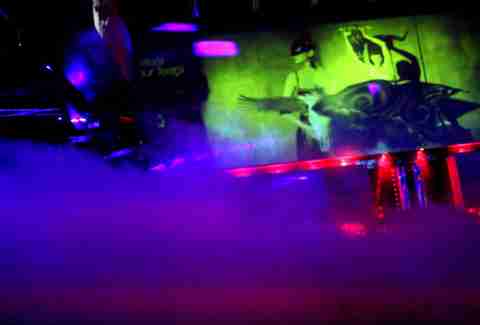 For the extra-lazy, each bed is equipped with a touchscreen connected to the screens above the dance floor in the main room, which, when they're not showing "Justify My Love" on a loop, will show messages from you telling the blonde in the blue dress her company is requested at bed #3.
The walls are perfect for those club-goers who really, really like to touch things, with some walls feeling like alligator skin, others covered in shaved-down shards of glass, and others with giant fisheye chrome orbs that'll have you staring at yourself so long that another season of Sons of Anarchy will come on.