Milwaukee alone has a great beer heritage, not only with Miller, Pabst, and Schlitz, but keen beer aficionados are aware that the city was on the ground floor of the craft beer explosion with the likes of Sprecher and Lakefront in the mid 1980s. Milwaukee has done just fine when it comes to beer, and so has the rest of the state. While New Glarus brews could occupy all 26 spots on this beer bucket list, we decided to spread the love among Badger State brews.
Black wheat ale, 5.5%
Baaad Boy is the black sheep of wheat beers. It combines easy-drinking wheat with rich and flavorful roasted malts. Fool your friends with this cleverly disguised wheat beer, which goes down smooth enough to make you want another.
Belgian IPA, 7.4%
Citra hops and Belgian yeast are a fine pair. Big, fruity, and delicious, Bedlam! has won over plenty of fans of the Madison brewery. It's tasty enough to satisfy beer snobs and is a nice citrus-tinged introduction to craft beer for those who are trying to break free from plain domestics.
Imperial IPA, 8.6%
A taste of the Northwoods, literally. Not because it's made way up north in the tiny town of Pembine, but because a main ingredient is spruce tips. No kidding. This is a big and bitter IPA that isn't for softies. It's as rugged as the wooded area it hails from.
Rauchbier, 5.3%
Umm, no this isn't made with bacon, but it sure tastes like it. Malts smoked with German beechwood and Wisconsin cherrywood give the beer a distinct, but not overpowering, smoky flavor. This is a brew that has to be tasted to appreciate the balance. You may think you don't like smoked beers -- until you try this one.
Doppelbock, 7.8%
A doppelbock that isn't for the timid. Capital Brewery brings the fire with this potent brew that overpowers the palate with rich malt flavor. The Green Bay Packers and uber beers like this one help Wisconsin look forward to the cooler months of the year. They're all we've got.
Recommended Video
This Pizza Dip Lets You Throw a New Kind of Pizza Party
Imperial stout, 9.5%
Central Waters was barrel aging before barrel aging was cool and it does it better than any brewery in Wisconsin. Bourbon Barrel Stout is rich and boozy, but isn't sickeningly sweet. And, it's relatively easy to find, unlike similar barrel-aged stouts with a goose on the label.
 
Imperial coffee stout, 8.5%
If you don't consider Peruvian Morning one of the best barrel-aged stouts made in the United States, then you haven't tried it. The flavors of coffee, chocolate, and bourbon are a perfect threesome. Bottling issues have made this treat tougher to get, but that just makes getting a snifter on tap even more glorious.
 
American pale ale, 5.5%
What's causing the uniquely spicy bite in this pale ale? A little cracked black pepper. The spice rounds out the slightly bitter beer and makes it an ale worth trying.
 
Porter, 6.5%
Sure, it sounds gimmicky, but give this well-balanced brew a try. The presence of chocolate and peanut butter is damn noticeable, but not sickeningly over the top. The two flavors go together like, well, like chocolate and peanut butter.
 
IPA, 6.3%
Karben4 has been cultivating a devoted following since it opened in late 2012 and Fantasy Factory is a big reason why. Fruity, hoppy, and delicious -- if it's not the best IPA in the state, it's certainly in the conversation. Plus, the label features a cat riding a unicorn. That has to count for something.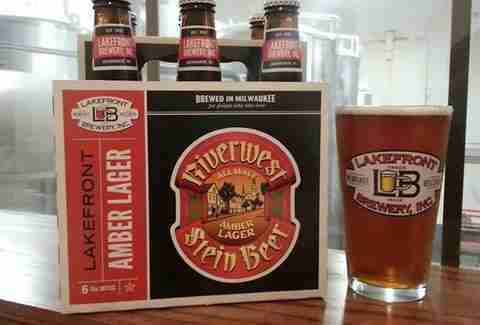 Scotch ale, 6.9%
Renegade brewer Tom Porter is doing big things at his small, reclusive brewery in tiny Arena, just outside of Madison. Warped Speed is malty, smoky, and delicious. Scotch ales aren't made by very many Wisconsin brewers, but this one makes up for that. Way to go, Tom.
 
Amber lager, 5.5%
Riverwest Stein started showing up in local bars in the late '80s when imports like Heineken and Moosehead were considered exotic. The tasty amber brew is the flagship of one of Milwaukee's two oldest craft breweries, and it sure beats Moosehead.
 
Spiced lager, 9.4%
Holiday Spice has been making the Christmas season less painful for well over a decade. The potent brew combines cinnamon, cloves, and a fair amount of holiday cheer. Not looking forward to the yearly holiday dinner with the in-laws? A six-pack of Holiday Spice makes everything better.
Summer weiss, 4.4%
The first beer ever created entirely from Wisconsin ingredients. That's right, the barley, wheat, hops, and even yeast are all natives of the Badger State. The result from this Wisco mix is a light and refreshing beer with hints of banana and clove you'd expect from a Weiss. On, Wisconsin!
 
Imperial stout, 9.5%
Leinie's answered the craft beer explosion with the reemergence of Big Eddy brews in 2010. Say what you want about big beer companies, Leinie nails this one. The Big Eddy Russian Imperial Stout is bold, balanced, and pretty damn tasty -- much to the chagrin of big beer haters around Wisconsin.
 
American adjunct lager, 4.6%
Go ahead and scoff beer snobs. Plenty of you craft beer gurus secretly down an ice-cold High Life when your bearded hipster bros are gazing into their mesmerizing snifters. It's okay, we understand. Miller is like a Nicolas Cage movie or an old girlfriend/boyfriend -- it's hardly great, but it does the trick from time to time.
 
Amber Ale, 5.5%
The amber is a solid brew, but the story behind it is better. The flagship for Milwaukee Brewing honors the great great uncle of the brewery's founder. Apparently, Louie met his end after being hit over the head with a beer stein in a bar fight. That dude deserves a beer.
Cream ale, 4.8%
Beer drinkers outside of Wisconsin -- the only state where New Glarus beers are sold -- clamor for Spotted Cow. Locals, lucky enough to have regular access to a whole bunch of delicious New Glarus brews, are hip to the fact that it's not the best beer created by the best brewery in the state. But mystique is cool, and so is New Glarus.
 
Cherry ale, 4%
This is no silly shandy. New Glarus has perfected fruit beers, and Belgian Red is a classic. A boatload of Door County cherries go into this brew and the flavor comes out big time. It's well balanced, juicy, and easily one of the top five beers made in Wisconsin.
 
American pale ale, 5%
A session beer that doesn't taste like a session beer (which generally leave you wanting just a bit more flavor). Moon Man isn't too bitter, it isn't too malty, and it isn't too citrusy. Just like most beers from New Glarus, it's just right.
 
Imperial red ale, 9.2%
It gets chilly in Wisconsin in the dead of winter, and enduring the brutal conditions takes more than Shackletonian toughness. Dank provides respite. It's a complex and well-balanced amber with an ABV of nearly 10%. Winter sucks a little less thanks to this warmer by O'so.
 
American adjunct lager, 5%
No one has ever claimed that Rhinelander is a great beer, or good for that matter, but countless college kids have earned their drinking chops downing the cheap brew. It's a classic that expertly blends bad beer flavor with nostalgia.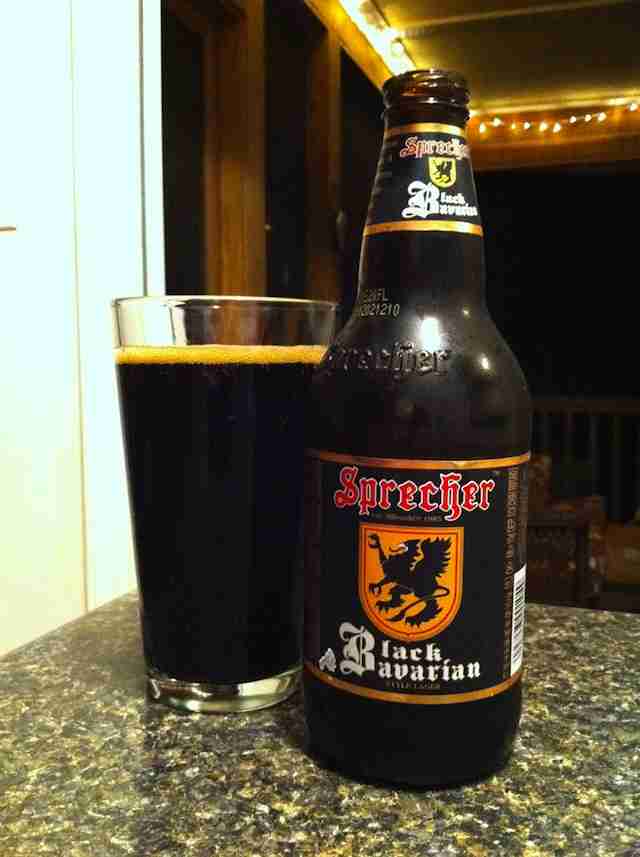 Kulmbacher lager, 5.8%
Sprecher does German beers extremely well, and this is easily the brewery's best. It's an award-winning dark lager for those who really like their malts. Creamy, smooth, and delicious.
 
Pumpkin ale, 7.5%
Point has been around forever, and it hasn't always been brewing great beers. But the Whole Hog series is pretty good, and Whole Hog Pumpkin is a perfect example. The beer is pumpkin pie in a bottle, mixing pumpkin, spices, and moderate sweetness. And, at 7.5%, it serves as a nice autumn warmer.
 
Brown ale, 5.8%
Barrel-aged beers have earned a well-deserved reputation as being big bold sippers. Rocky's Revenge is just partially aged in bourbon barrels, which means that it's way more drinkable than the big 10% barrel-aged stouts out there. Consider it a gateway to becoming a barrel-aged junkie.
 
Light lager, 4.2%
Honey Light is an old standby from Milwaukee's first brewpub, which showed up on the Water St strip long before the hordes of buzzed 21-year-olds and unwitting tourists. The crisp brew has been a light and refreshing way to spend quality time at Water Street Brewery for more than 25 years.
Sign up here for our daily Milwaukee email and be the first to get all the food/drink/fun in the Brew City.